IV Therapy For Dummies
ISBN: 978-1-118-11644-9
408 pages
November 2012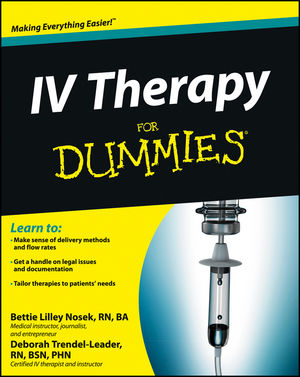 The fast and painless way to ace your IV Therapy course
Are you an aspiring nurse, nurse practitioner, or physician's assistant struggling with IV therapy? Help is here! IV Therapy For Dummies tracks to a typical IV therapy course and gives you current, easy-to-follow guidance on everything you'll encounter in class, such as delivery methods, flow rates, legal issues, profession standards, and documentation.
IV Therapy For Dummies also discusses the necessary components of peripheral and central venous therapy, including access sites, equipment, preparation, maintenance, and the discontinuation of therapy. Plus, you'll get the 4-1-1 on the administration of IV medications, including special considerations for pediatric, elderly, and home care patients.
Tracks to a typical IV Therapy course
Provides current, comprehensive information in plain English
If you're enrolled in an IV Therapy course or a healthcare worker looking for a refresher on this important form of medical treatment, IV Therapy For Dummies has you covered.
See More
Introduction 1
Part I: Tapping Into IV Therapy 7
Chapter 1: Introducing IV Therapy: A Purpose-Driven Practice 9
Chapter 2: Keeping within the Letter of the Law 23
Chapter 3: Tools of the Trade 41
Part II: What's Your Type? Components of IV Therapy 69
Chapter 4: Medications Made to Order: Pharmacological IV Therapy 71
Chapter 5: Beefi ng Up on Blood Component Therapy Basics 93
Chapter 6: Chemotherapy 101 107
Chapter 7: Maintaining Equilibrium with Fluids and Electrolytes 121
Chapter 8: Serving Up Parenteral Nutrition 157
Part III: Getting Down to IV Therapy Business 169
Chapter 9: Documenting Diligently: The Backbone of Infusion Therapy 171
Chapter 10: Calculation Central: Figuring Drug Dosages,
Drips, and Flow Rates 183
Chapter 11: Gravity, Pumps, and Syringes: The Many Ways to Deliver IV Therapy 193
Chapter 12: Going for the Hand or Arm: Peripheral IV Essentials 203
Chapter 13: The ABCs of the CVAD 227
Part IV: Administering IV Therapy 255
Chapter 14: Practical Pharmacological IV Administration 257
Chapter 15: Transfusing Blood Components 269
Chapter 16: Infusing Chemotherapy with Caution 283
Chapter 17: A Balancing Act: Administering Fluids and Electrolytes 297
Chapter 18: Making Every Calorie Count: Parenteral Nutrition 309
Part V: Considering Unique Populations 329
Chapter 19: A Little Dab'll Do Ya: IV Therapy for Infants and Children 331
Chapter 20: When Aging Is an Issue: IV Therapy for the Elderly 343
Chapter 21: There's No Place Like Home: IV Therapy for the Homebound Patient 355
Part VI: The Part of Tens 367
Chapter 22: Ten Things You Need to Know in IV Therapy 369
Chapter 23: Ten Tricks of the Trade for Starting IVs 373
Index 377
See More
Bettie Lilley Nosek, RN, BA, is a published author, inventor of a patented medical device, and former instructor of accredited nursing programs. Deborah Trendel-Leader, RN, BSN, PHN, is a registered nurse and freelance medical journalist with certifications in critical care, IV therapy, public health, and advanced cardiac life support.
See More