E-book
What School Leaders Need to Know About Digital Technologies and Social Media
ISBN: 978-1-118-11672-2
224 pages
September 2011, Jossey-Bass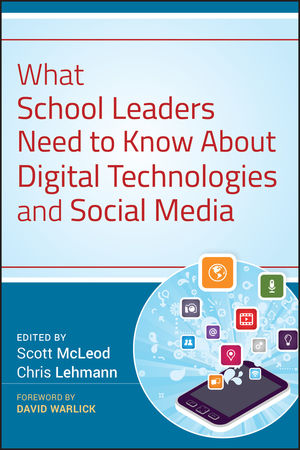 Facebook, Twitter, Google...today's tech-savvy students are always plugged in. However, all too often their teachers and administrators aren't experienced in the use of these familiar digital tools. If schools are to prepare students for the future, administrators and educators must harness the power of digital technologies and social media.
With contributions from authorities on the topic of educational technology, What School Leaders Need to Know About Digital Technologies and Social Media is a compendium of the most useful tools for any education setting. Throughout the book, experts including Will Richardson, Vicki Davis, Sheryl Nussbaum-Beach, Richard Byrne, Joyce Valenza, and many others explain how administrators and teachers can best integrate technology into schools, helping to make sense of the often-confusing world of social media and digital tools. They offer the most current information for the educational use of blogs, wikis and podcasts, online learning, open-source courseware, educational gaming, social networking, online mind mapping, mobile phones, and more, and include examples of these methods currently at work in schools. As the book clearly illustrates, when these tools are combined with thoughtful and deliberate pedagogical practice, it can create a transformative experience for students, educators, and administrators alike.
What School Leaders Need to Know About Digital Technologies and Social Media reveals the power of information technology and social networks in the classroom and throughout the education community.
See More
Foreword vii

David Warlick
Introduction 1
1 Blogs 3
Kristin Hokanson and Christian Long
2 Wikis 13
Stephanie Sandifer and Vicki A. Davis
3 Podcasts and Webinars 25
Steve Dembo and Wesley Fryer
4 RSS and RSS Readers 37
Will Richardson and Karl Fisch
5 Digital Video 45
Mathew Needleman
6 Virtual Schooling 53
Michael Barbour and Richard E. Ferdig
Interlude: Social Media Is Changing the Way We Live and Learn 67
Sheryl Nussbaum-Beach
7 One- to- One Computing 75
Chris Lehmann and Pamela Livingston
8 Free and Open Source Software 83
Tom Hoffman
9 Educational Gaming 93
John W. Rice
10 Social Bookmarking 101
Dean Shareski and Mary Beth Hertz
11 Online Mind Mapping 107
Carl Anderson and Richard Byrne
12 Course Management Systems 117
Scott S. Floyd and Miguel Guhlin
Interlude: See Sally Research: Evolving Notions of Information Literacy 123
Joyce Kasman Valenza and Doug Johnson
13 Online Tool Suites 137
Diana Laufenberg and Mark Wagner
14 Twitter 147
Alec Couros and Kevin Jarrett
15 Online Images and Visual Literacy 153
Kimberly Cofino and David Jakes
16 Mobile Phones and Mobile Learning 159
Liz Kolb and Sharon Tonner
17 Social Networking 173
Ewan McIntosh and Jeff Utecht
Afterword 183
Christopher D. Sessums
About the Editors 189
About the Contributors 191
Index 203
See More
Scott McLeod
is an associate professor of educational leadership at the University of Kentucky in Lexington, Kentucky. McLeod created the first graduate program built specifically to prepare tech-savvy school leaders at the University of Minnesota. A recognized expert on K-12 school technology leadership issues, McLeod works with corporate and non-profit institutions to move schools into the 21st century. McLeod also serves as the founding director of the UCEA Center for the Advanced Study of Technology Leadership in Education (CASTLE) and writes the popular education blog, Dangerously Irrelevant (dangerouslyirrelevant.org).
Chris Lehmann is the founding principal of the Science Leadership Academy in Philadelphia, Pennsylvania. This groundbreaking school, which integrates technology throughout classrooms and administration, has been recognized as an Apple Distinguished School and was named one of the "Ten Most Amazing Schools" in Ladies Home Journal. Lehmann was named one of the "30 Most Influential People in EdTech" by Tech & Learning magazine in June 2010 and has received several other distinctions and awards throughout his career. He is a regular speaker and the author of the Practical Theory blog (www.practicaltheory.org).
Visit techtoolsforschools.org for additional resources, interviews with chapter authors, and more!
See More