Series 7 Exam For Dummies, Premier 2nd Edition
ISBN: 978-1-118-11757-6
384 pages
December 2012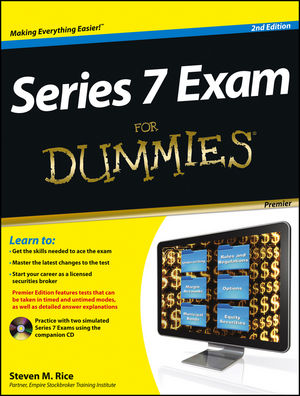 The fast and easy way to score high at exam time
Series 7 Exam For Dummies, Premier Edition includes all the help you need to pass your Series 7 exam and to reach your goal of being a stockbroker and selling securities. But the road to stock broker success isn't easy. First, you must first pass the Series 7 exam—a 6-hour, 250-question monstrosity. Unlike many standardized tests, the Series 7 exam is harder than it seems.
Luckily, there's Series 7 Exam For Dummies Premier—the perfect guide that not only shows you how to think like a financial advisor but also like the test designers. This Premier Edition of our Series 7 test guide includes 4 full-length practice exams (2 more than our standard edition).
Rather than an all-encompassing, comprehensive textbook, this guide covers only what's on the test, offering formulas, tips, and basic info you need to study. It empowers you with the ability to think each problem through and get to the bottom of what's being asked, providing you with everything you need and want to know.
Distribution of profits
Types of securities offerings
Investing in all types of stock
Bond types, prices, yields, and risks
Handling margin accounts
Characteristics of different investment companies
Direct Participation Programs and other types of partnerships
Option selling, buying, and trading
Security analysis and security markets
Whether you're preparing to take the test for the first time or the fourth time, Series 7 For Dummies is the book for you!
CD-ROM/DVD and other supplementary materials are not included as part of the e-book file, but are available for download after purchase.
See More
Introduction 1
Part I: Gearing Up for the Series 7 Exam 5
Chapter 1: So You Want to Sell Securities: Introducing the Series 7 Exam 7
Chapter 2: Preparing for the Series 7 Exam 17
Chapter 3: Examining and Mastering Question Types 29
Chapter 4: Surviving Test Day 41
Part II: Mastering Basic Security Investments 47
Chapter 5: Underwriting Securities 49
Chapter 6: Corporate Ownership: Equity Securities 61
Chapter 7: Debt Securities: Corporate and U.S. Government Loans 73
Chapter 8: Municipal Bonds:Local Government Securities 93
Part III: Delving Deeper: Security Investments with a Twist 109
Chapter 9: Borrowing Money and Securities: The Long and Short of Margin Accounts 111
Chapter 10: Delivering Diversification with Packaged Securities 127
Chapter 11: Working with Direct Participation Programs 141
Chapter 12: Options: The Right to Buy or Sell at a Fixed Price 151
Part IV: Playing Nicely: Serving Your Customers
and Following the Rules 181
Chapter 13: Doing a Little Market Research: Portfolio and Securities Analysis 183
Chapter 14: Going to Market: Orders and Trades 199
Chapter 15: Making Sure the IRS Gets Its Share 213
Chapter 16: No Fooling Around: Rules and Regulations 225
Part V: Putting Your Knowledge to Good Use: A Practice Exam 247
Chapter 17: Bring It On: Practice Exam Part I 249
Chapter 18: Answers and Explanations to Practice Exam Part I 269
Chapter 19: Nothing but Net: Practice Exam Part II 287
Chapter 20: Answers and Explanations to Practice Exam Part II 309
Part VI: The Part of Tens 325
Chapter 21: Ten Series 7 Exam Traps to Avoid 327
Chapter 22: Ten Ways to Start Your Career Off Right 331
Part VII: Appendixes 335
Appendix A: Memorizing Important Figures and Formulas 337
Appendix B: About the CD 339
Index 343
See More
Steven M. Rice is a partner and instructor at the Empire Stockbroker Training Institute, one of the largest and most successful securities training schools in the country.
See More