Wrestling For Dummies
ISBN: 978-1-118-11797-2
384 pages
April 2012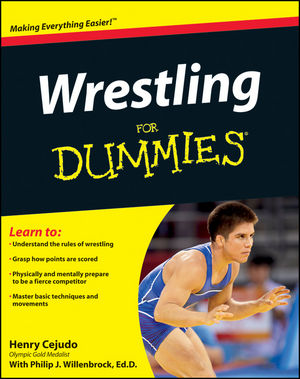 The fast and easy way to pin down the sport of wrestling
Wrestling is a fast-paced sport with many technicalities, rules, and ways to score points—making it difficult for spectators to follow the score and understand whistles and restarts. In Wrestling For Dummies, author and 2008 Olympic Gold medalist Henry Cejudo explains the scoring system and unique rules of wrestling to new competitors, confused parents, and fans of this ancient and captivating sport.
Wrestling For Dummies also explains the rich history of the sport and covers the six styles of competitive wrestling and their distinction from the modern entertainment-based "pro wrestling."
Covers Greco-Roman and freestyle wrestling
Plain-English explanations of wrestling rules
Details the history of wrestling
Whether you're just getting started as a wrestler or enjoy it as a spectator sport, Wresting For Dummies makes this sport accessible and easy to understand.
See More
Introduction 1
Part I: Wrestling 101: Understanding the Ins and Outs of the Sport 7
Chapter 1: Getting Familiar with Wrestling Before You Sign Up for the Sport 9
Chapter 2: Identifying What Wrestling Is 21
Chapter 3: Being Equipped to Wrestle 33
Part II: Creating a Solid Wrestling Foundation before Your First Match 43
Chapter 4: Knowing What Happens during a Wrestling Match 45
Chapter 5: Staying Healthy, Safe, and in Shape 67
Chapter 6: The Mental Aspect: Wrestling in the Right Mindset 93
Chapter 7: Grappling with the Fundamentals and Basic Movements 109
Part III: Hitting the Mat and Using Your Moves 135
Chapter 8: On Your Mark, Get Set: Starting Positions 137
Chapter 9: Breaking Down Breakdowns and Escapes 147
Chapter 10: Reversing Your Fortune: Reversals 167
Chapter 11: Taking Down Your Opponent: Attacks and Counterattacks 187
Chapter 12: Putting It All Together: Pinning Combinations 221
Part IV: The Adults behind You: Coaches and Parents 241
Chapter 13: Coaching 101: Being the Best Coach You Can Be 243
Chapter 14: Running a Productive Practice with Key Drills 265
Chapter 15: Knowing How to Be a Supportive Parent 307
Part V: The Part of Tens 323
Chapter 16: Ten Tips For Wrestling Success 325
Chapter 17: Ten (Plus One) Wrestling Camps You Should Consider Attending 333
Index 343
See More
Henry Cejudo won a gold medal in freestyle wrestling at the 2008 Beijing Olympics. In so doing, he became the youngest American — at the age of 20 — to ever win a gold medal in wrestling.
See More