Multimedia Information Extraction: Advances in Video, Audio, and Imagery Analysis for Search, Data Mining, Surveillance and Authoring
ISBN: 978-1-118-11891-7
496 pages
September 2012, Wiley-IEEE Computer Society Press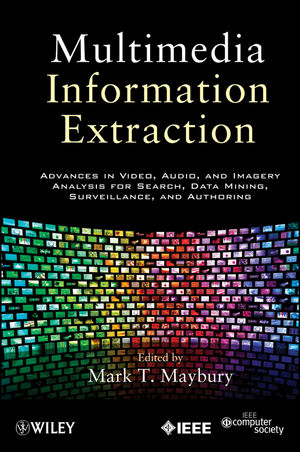 The advent of increasingly large consumer collections of audio (e.g., iTunes), imagery (e.g., Flickr), and video (e.g., YouTube) is driving a need not only for multimedia retrieval but also information extraction from and across media. Furthermore, industrial and government collections fuel requirements for stock media access, media preservation, broadcast news retrieval, identity management, and video surveillance.  While significant advances have been made in language processing for information extraction from unstructured multilingual text and extraction of objects from imagery and video, these advances have been explored in largely independent research communities who have addressed extracting information from single media (e.g., text, imagery, audio).  And yet users need to search for concepts across individual media, author multimedia artifacts, and perform multimedia analysis in many domains.
This collection is intended to serve several purposes, including reporting the current state of the art, stimulating novel research, and encouraging cross-fertilization of distinct research disciplines. The collection and integration of a common base of intellectual material will provide an invaluable service from which to teach a future generation of cross disciplinary media scientists and engineers. 
See More
FOREWORD ix
Alan F. Smeaton
PREFACE xiii
Mark T. Maybury
ACKNOWLEDGMENTS xv
CONTRIBUTORS xvii
1 INTRODUCTION 1
Mark T. Maybury
2 MULTIMEDIA INFORMATION EXTRACTION: HISTORY AND STATE OF THE ART 13
Mark T. Maybury
SECTION 1 IMAGE EXTRACTION 41
3 VISUAL FEATURE LOCALIZATION FOR DETECTING UNIQUE OBJECTS IN IMAGES 45
Madirakshi Das, Alexander C. Loui, and Andrew C. Blose
4 ENTROPY-BASED ANALYSIS OF VISUAL AND GEOLOCATION CONCEPTS IN IMAGES 63
Keiji Yanai, Hidetoshi Kawakubo, and Kobus Barnard
5 THE MEANING OF 3D SHAPE AND SOME TECHNIQUES TO EXTRACT IT 81
Sven Havemann, Torsten Ullrich, and Dieter W. Fellner
6 A DATA-DRIVEN MEANINGFUL REPRESENTATION OF EMOTIONAL FACIAL EXPRESSIONS 99
Nicolas Stoiber, Gaspard Breton, and Renaud Seguier
SECTION 2 VIDEO EXTRACTION 113
7 VISUAL SEMANTICS FOR REDUCING FALSE POSITIVES IN VIDEO SEARCH 119
Rohini K. Srihari and Adrian Novischi
8 AUTOMATED ANALYSIS OF IDEOLOGICAL BIAS IN VIDEO 129
Wei-Hao Lin and Alexander G. Hauptmann
9 MULTIMEDIA INFORMATION EXTRACTION IN A LIVE MULTILINGUAL NEWS MONITORING SYSTEM 145
David D. Palmer, Marc B. Reichman, and Noah White
10 SEMANTIC MULTIMEDIA EXTRACTION USING AUDIO AND VIDEO 159
Evelyne Tzoukermann, Geetu Ambwani, Amit Bagga, Leslie Chipman, Anthony R. Davis, Ryan Farrell, David Houghton, Oliver Jojic, Jan Neumann, Robert Rubinoff, Bageshree Shevade, and Hongzhong Zhou
11 ANALYSIS OF MULTIMODAL NATURAL LANGUAGE CONTENT IN BROADCAST VIDEO 175
Prem Natarajan, Ehry MacRostie, Rohit Prasad, and Jonathan Watson
12 WEB-BASED MULTIMEDIA INFORMATION EXTRACTION BASED ON SOCIAL REDUNDANCY 185
Jose San Pedro, Stefan Siersdorfer, Vaiva Kalnikaite, and Steve Whittaker
13 INFORMATION FUSION AND ANOMALY DETECTION WITH UNCALIBRATED CAMERAS IN VIDEO SURVEILLANCE 201
Erhan Baki Ermis, Venkatesh Saligrama, and Pierre-Marc Jodoin
SECTION 3 AUDIO, GRAPHICS, AND BEHAVIOR EXTRACTION 217
14 AUTOMATIC DETECTION, INDEXING, AND RETRIEVAL OF MULTIPLE ATTRIBUTES FROM CROSS-LINGUAL MULTIMEDIA DATA 221
Qian Hu, Fred J. Goodman, Stanley M. Boykin, Randall K. Fish, Warren R. Greiff, Stephen R. Jones, and Stephen R. Moore
15 INFORMATION GRAPHICS IN MULTIMODAL DOCUMENTS 235
Sandra Carberry, Stephanie Elzer, Richard Burns, Peng Wu, Daniel Chester, and Seniz Demir
16 EXTRACTING INFORMATION FROM HUMAN BEHAVIOR 253
Fabio Pianesi, Bruno Lepri, Nadia Mana, Alessandro Cappelletti, and Massimo Zancanaro
SECTION 4 AFFECT EXTRACTION FROM AUDIO AND IMAGERY 269
17 RETRIEVAL OF PARALINGUISTIC INFORMATION IN BROADCASTS 273
Björn Schuller, Martin Wöllmer, Florian Eyben, and Gerhard Rigoll
18 AUDIENCE REACTIONS FOR INFORMATION EXTRACTION ABOUT PERSUASIVE LANGUAGE IN POLITICAL COMMUNICATION 289
Marco Guerini, Carlo Strapparava, and Oliviero Stock
19 THE NEED FOR AFFECTIVE METADATA IN CONTENT-BASED RECOMMENDER SYSTEMS FOR IMAGES 305
Marko TkalÈiÈ, Jurij TasiÈ, and Andrej Košir
20 AFFECT-BASED INDEXING FOR MULTIMEDIA DATA 321
Gareth J. F. Jones and Ching Hau Chan
SECTION 5 MULTIMEDIA ANNOTATION AND AUTHORING 347
21 MULTIMEDIA ANNOTATION, QUERYING, AND ANALYSIS IN ANVIL 351
Michael Kipp
22 TOWARD FORMALIZATION OF DISPLAY GRAMMAR FOR INTERACTIVE MEDIA PRODUCTION WITH MULTIMEDIA INFORMATION EXTRACTION 369
Robin Bargar
23 MEDIA AUTHORING WITH ONTOLOGICAL REASONING: USE CASE FOR MULTIMEDIA INFORMATION EXTRACTION 385
Insook Choi
24 ANNOTATING SIGNIFICANT RELATIONS ON MULTIMEDIA WEB DOCUMENTS 401
Matusala Addisu, Danilo Avola, Paola Bianchi, Paolo Bottoni, Stefano Levialdi, and Emanuele Panizzi
ABBREVIATIONS AND ACRONYMS 419
REFERENCES 425
INDEX 461
See More
MARK T. MAYBURY, PhD, is an Executive Director at MITRE, a federally funded research and development center. In 2010, Dr. Maybury took a leave of absence from MITRE when appointed to the role of Chief Scientist of the United States Air Force. He is a former member of the board of directors of the Object Management Group and the Air Force Scientific Advisory Board. An IEEE Fellow, Dr. Maybury is a member of the ACM Intelligent User Interface Steering Committee and has served on the Advanced Visual Interfaces Program Committee for over ten years. He holds several patents and has edited, coedited, or coauthored a number of books on information retrieval and related topics.
See More