E-book
Transmembrane Dynamics of Lipids
ISBN: 978-1-118-12010-1
E-book
400 pages
September 2011
US $119.99

Purchase This E-book
This price is valid for United States. Change location to view local pricing and availability.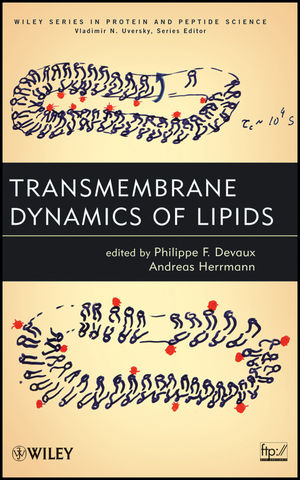 Adobe e-books are read using Adobe Digital Editions. Install Adobe Digital Editions on your PC in order to read or transfer your e-book.
Introduction
List of Contributors.
Part I: ASSESSING TRANSMEMBRANE MOVEMENT AND ASYMMETRY OF LIPIDS.
1. Methods for the Determination of Lipid Transmembrane Distribution and Movement in Biological Membranes (Philippe F. Devaux and Andreas Herrmann).
2. Detection and Measurement of Unlabeled Lipid Transmembrane Movement(Iván López-Montero, Marisela Vélez and Philippe F. Devaux).
Part II: LIPID ASYMMETRY IN CELL MEMBRANES.
3. New Insights in Membrane Lipid Asymmetry in Animal and Plant Cells (Alain Zachowski).
4. Sphingolipid Asymmetry and Transmembrane Translocation in Mammalian Cells (Gerrit van Meer, Sylvia Neumann, and Per Haberkant).
5. Transbilayer Movement and Distribution of Cholesterol (Peter Müller, Anna Pia Plazzo, and Andreas Herrmann).
Part III. ENERGY-INDEPENDENT PROTEIN-MEDIATED TRANSMEMBRANE MOVEMENT OF LIPIDS.
6. Phospholipid Flip-Flop in Biogenic Membranes (Anant K. Menon and Andreas Herrmann).
7. Phospholipid Scramblase: When Phospholipid Asymmetry Goes Away (Edouard M. Bevers and Patrick L. Williamson).
Part IV: ENERGY-DEPENDENT LIPID TRANSPORT ACROSS MEMBRANES.
8. Flip or Flop: Mechanism and (Patho)Physiology of P4-ATPase-Catalyzed Lipid Transport (Patricia M. Verhulst, Joost C.M. Holthuis, and Thomas G. Pomorski).
9. Coupling Drs2p to Phospholipid Translocation, Membrane Asymmetry, and Vesicle Budding (Xiaoming Zhou, Paramasivam Natarajan, Baby-Periyanayaki Muthusamy, Todd R. Graham, and Ke Liu).
10. Substrate Specifi city of the Aminophospholipid Flippase (Shelley M. Cook and David L. Daleke).
11. The Flippase Delusion? (Naomi L. Pollock, Petra H.M. Niesten, and Richard Callaghan).
Part V: RELEVANCE OF LIPID TRANSMEMBRANE DISTRIBUTION FOR MEMBRANE PROPERTIES AND PROCESSES
12. Membrane Lipid Asymmetry and Permeability to Drugs: A Matter of Size (Adam Blanchard and Cyril Rauch).
13. Endocytosis and Lipid Asymmetry (Nina Ohlwein, Andreas Herrmann, and Philippe F. Devaux).
Part VI: APOPTOSIS AND DISEASES: CONSEQUENCES OF DISRUPTION TO LIPID TRANSMEMBRANE ASYMMETRY
14. Membrane Lipid Asymmetry in Aging and Apoptosis (Krishnakumar Balasubramanian and Alan J. Schroit).
15. Phosphatidylserine Exposure in Hemoglobinopathies (Frans A. Kuypers and Eric Soupene).
16. Scott Syndrome: More Than a Hereditary Defect of Plasma Membrane Remodeling (Florence Toti and Jean-Marie Freyssinet).
17. ABCA1, Tangier Disease, and Lipid Flopping (Ana Zarubica and Giovanna Chimini).