E-book
Everyone Leads: Building Leadership from the Community Up
ISBN: 978-1-118-12074-3
336 pages
November 2011, Jossey-Bass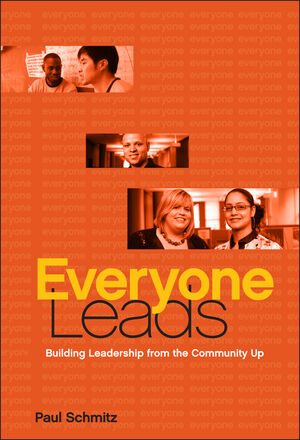 Praise for Everyone Leads
"If America is going to continue to thrive in the twenty-first century, we must strengthen our sense of community. In Everyone Leads, Schmitz lays out the challenges for those of us who have a passion to make a difference and, more important, the strategies to spark lasting change from the grassroots up. His unique perspective and experience make this a must-read for community activists."—Geoffrey Canada, president and CEO, Harlem Children's Zone
"This moment in history demands that we stop waiting for others—especially others living in Washington, D.C.—to solve the problems and right the wrongs of our times. Now, more than ever, we must mine the most underutilized resource available to us: We the People. Everyone Leads shows us how."—Arianna Huffington, president and executive editor, Huffington Post Media Group
"Social change has always come from the leadership of the many, not the few. Everyone Leads shows us how we can all step up and contribute to social change."—Tavis Smiley, author, broadcaster, philanthropist
"Every nonprofit can learn from Public Allies' example that the leadership we need to solve problems exists within our communities. Everyone Leads is a guide to inclusion, collaboration, and community building that will inspire readers to see leadership and opportunity in places we don't usually look."—Sterling Speirn, CEO, W.K. Kellogg Foundation
"Schmitz has produced the road map we need for this 'all hands on deck' moment when we need a new spirit of collaborative leadership and action to face the problems of our day. Reading this book, we are not surprised that Michelle Obama learned from Public Allies how to build leaders and build communities."—Harris Wofford, former United States Senator, and CEO of the Corporation for National and Community Service under President Bill Clinton
Register at www.josseybass.com/emailfor more information on our publications, authors, and to receive special offers.
See More
Preface vii
Acknowledgments ix
Introduction xv
Part One: About Public Allies and the Concept That Everyone Leads 1
1. Coming to the Conviction That Everyone Leads 3
2. My Leadership Journey 35
3. The Tradition and Future of the Concept That Everyone Leads 63
4. The Responsibility of Leadership 91
Part Two: The Five Core Public Allies Leadership Values 121
5. Recognizing and Mobilizing All of a Community's Assets 123
6. Connecting Across Cultures 155
7. Facilitating Collaborative Action 187
8. Continuously Learning and Improving 213
9. Being Accountable to Ourselves and Others 243
Afterword 269
Notes 271
The Author 289
Public Allies 291
Index 295
See More
Paul Schmitz is the CEO of Public Allies, which advances leadership to strengthen communities, nonprofits, and civic participation across the country. He is recognized as one of America's most influential nonprofit leaders; writes and speaks frequently on social innovation, civic participation, diversity, and community building; and has served on President Obama's transition team and the White House Council on Community Solutions.
See More