Child and Adolescent Psychopathology, 2nd Edition
ISBN: 978-1-118-12094-1
800 pages
January 2013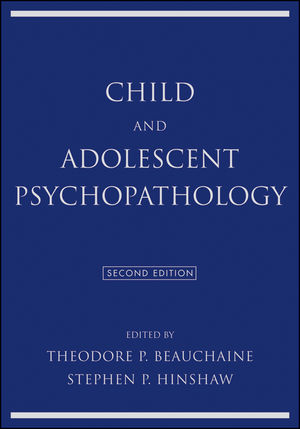 Child and Adolescent Psychopathology, Second Edition is the only comprehensive text on childhood and adolescent disorders that addresses genetic, neurobiological, and environmental factors within a developmental perspective. The new edition includes more on epigenetics, classification, culture and context and emphasizes how, when, and why disorders emerge among young people and in what ways symptom profiles change at different stages of development.
See More
Foreword vii
Preface xi
List of Contributors xv
Part I THE DEVELOPMENTAL PSYCHOPATHOLOGY APPROACH TO UNDERSTANDING MENTAL ILLNESS
1 Developmental Psychopathology as a Scientific Discipline 3
Stephen P. Hinshaw
2 Developmental Psychopathology and the Diagnostic and Statistical Manual of Mental Disorders 29
Theodore P. Beauchaine, Daniel N. Klein, Nora L. Erickson, and Alyssa L. Norris
3 Genetic and Environmental Influences on Behavior 111
Theodore P. Beauchaine and Lisa M. Gatzke-Kopp
Part II VULNERABILITIES AND RISK FACTORS FOR PSYCHOPATHOLOGY
4 Risk and Resilience in Child and Adolescent Psychopathology 143
Bruce E. Compas and Charissa Andreotti
5 Child Maltreatment and Risk for Psychopathology 171
Sara R. Jaffee and Andrea Kohn Maikovich-Fong
6 Impulsivity and Vulnerability to Psychopathology 197
Emily Neuhaus and Theodore P. Beauchaine
7 Behavioral Inhibition as a Temperamental Vulnerability to Psychopathology 227
Jerome Kagan
8 Beyond Allostatic Load 251
Bruce J. Ellis, Marco Del Giudice, and Elizabeth A. Shirtcliff
9 Exposure to Teratogens as a Risk Factor for Psychopathology 285
Nicole A. Crocker, Susanna L. Fryer, and Sarah N. Mattson
10 Brain Injury as a Risk Factor for Psychopathology 317
Katherine E. Shannon Bowen and Lisa M. Gatzke-Kopp
11 Emotion Dysregulation as a Risk Factor for Psychopathology 341
Pamela M. Cole, Sarah E. Hall, and Nastassia J. Hajal
Part III EXTERNALIZING BEHAVIOR DISORDERS
12 Attention-Deficit/Hyperactivity Disorder 377
Joel Nigg
13 Oppositional Defiant Disorder, Conduct Disorder, and Juvenile Delinquency 411
Irwin D. Waldman and Benjamin B. Lahey
14 Development of Adult Antisocial Behavior 453
Thomas J. Dishion and Kristina Hiatt Racer
15 Substance Use Disorders in Adolescence 489
Sandra A. Brown, Kristin Tomlinson, and Jennifer Winward
Part IV INTERNALIZING BEHAVIOR DISORDERS
16 Anxiety Disorders 513
Carl F. Weems and Wendy K. Silverman
17 Depressive Disorders 543
Daniel N. Klein, Autumn J. Kujawa, Sarah R. Black, and Allison T. Pennock
18 The Development of Borderline Personality and Self-Inflicted Injury 577
Sheila E. Crowell, Erin A. Kaufman, and Mark F. Lenzenweger
Part V OTHER DISORDERS
19 Bipolar Disorder 613
Joseph C. Blader and Gabrielle A. Carlson
20 Autism Spectrum Disorders 649
Susan Faja and Geraldine Dawson
21 Childhood Schizophrenia 685
Robert F. Asarnow
22 Eating Disorders 715
Eric Stice and Cara Bohon
Author Index 739
Subject Index 765
See More
"This is an important addition to the field of child and adolescent mental health. It coalesces concepts from a number of historically based endeavors from a wide variety of disciplines including embryology, genetics, and the neurosciences, as well as psychoanalysis, psychiatry, and psychology, and provides examples of the synergistic contributions from previously disparate fields that have resulted in the emergence of this new discipline of developmental psychopathology."  (Doody's, 30 August 2013)
In this second edition, Beauchaine and Hinshaw have once again presented a state-of-the field compendium on developmental psychopathology.
The equal emphasis on specific vulnerability and risk factors that cut across disorders as well as the more traditional focus on specific disorders provides readers with two important ways to assimilate knowledge in this growing and fast-changing field.
A primary strength of this new edition continues to be its strong emphasis on multiple levels of analysis, with a significant focus on genetic and other biological vulnerabilities and their interactions with environmental risk factors and contextual influences.
This volume is a "must have" for anyone interested in a developmental psychopathology approach to child psychopathology, whether they be graduate students at the start of their careers or senior researchers and clinicians.
—
Robert J. McMahon
, Ph.D., Simon Fraser University and the Child & Family Research institute
The second edition of Child and Adolescent Psychopathology brings together the work of leading researchers who use a modern developmental approach to psychopathology, elucidating basic processes and developmental experiences that, when they go awry, produce psychopathology. In addition to familiarizing the reader with the disorders, they update them on our current understanding of several mental conditions from which children suffer. Editors Beauchaine and Hinshaw have compiled a text that is invaluable to researchers, clinicians, and students concerned with youth mental health.
—Susan Nolen-Hoeksema, Professor and Chair, Department of Psychology, Yale University
See More
Learn more about