E-book
Motorola XOOM For Dummies
ISBN: 978-1-118-12164-1
352 pages
June 2011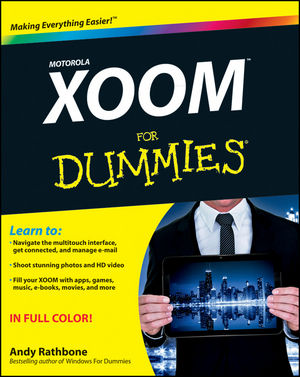 Zoom into the next generation of mobile pad technology with Xoom
The buzz on Motorola's new Xoom tablet is that it's made of some pretty powerful hardware and boasts a larger screen, higher resolution, and a more powerful, dual-core CPU than other tablets on the market. On top of that, it runs on Android 3.0—the latest operating system designed specifically for tablets. Get thoroughly up to speed on the unique Motorola Xoom and take advantage of all the amazing things it can do with Motorola Xoom For Dummies.
This full-color book is packed with practical how-tos, Xoom features, smart techniques, and even insider info on the device, thanks to author Andy Rathbone's deep expertise. Learn how to browse the web, download apps, access social networks, customize your Xoom, track down the handiest accessories, and more.
Gets you up to speed on the Motorola Xoom tablet
Clarifies the basics of how to use it, how the technology works, how to configure everything, and which ten free apps and ten paid apps you absolutely must have
Delivers a full slate of features, tips, tricks, and techniques, all in full color
Walks you through basic training, browsing the web, sending and receiving e-mail, accessing social networks, downloading apps, using all the fun multimedia features—music, movies, photos, and books—and more
Explores how to maintain and customize your Xoom and includes a handy list of Ten Tips 'n Tricks
Get the very most out of the exciting Motorola Xoom. This jam-packed, full-color For Dummies guide makes it easy.
See More
Introduction.
Part I: Introducing the Motorola Xoom.
Chapter 1: Start Here.
Chapter 2: Setting Up Your Motorola Xoom.
Chapter 3: A Casual Walkthrough.
Chapter 4: Touching, Typing, and Talking to Your Xoom.
Part II: Staying Connected.
Chapter 5: Connecting to the Internet, PCs, Cellphones, HDTVs, and More.
Chapter 6: Walkin' the Web.
Chapter 7: Endless E-Mail.
Chapter 8: People and Appointments.
Chapter 9: All About Apps.
Chapter 10: The Social.
Part III: Digesting Media.
Chapter 11: Pics and Flicks.
Chapter 12: And There Was Music.
Chapter 13: Books, Magazines, and Newspapers.
Chapter 14: Maps and Navigation.
Part IV: Tweaks.
Chapter 15: Settings.
Chapter 16: Maintenance and Troubleshooting.
Chapter 17: Customizing Your Xoom.
Part V: The Part of Tens.
Chapter 18: Ten Essential Free Apps.
Chapter 19: Ten Essential Tips 'n' Tricks.
Chapter 20: Ten Handy Accessories.
Index.
See More
Andy Rathbone is the author of all editions of Windows For Dummies, the bestselling computer reference book of all time. He's been writing about computers and technology since the mid-1980s, and has more than 15 million books in print, including Upgrading & Fixing Computers Do-It-Yourself For Dummies.
See More