The Clash of the Cultures: Investment vs. Speculation
ISBN: 978-1-118-12277-8
Hardcover
384 pages
August 2012
US $29.95

Add to Cart
This price is valid for United States. Change location to view local pricing and availability.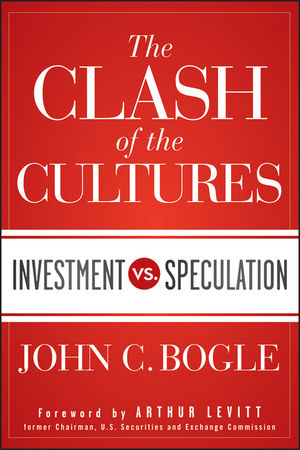 Other Available Formats:
E-book
August 13, 2012
The Clash of the Cultures
Connect with Wiley Publicity
The Clash of the Cultures: Investment vs. Speculation
By John C. Bogle
NEW YORK – John C. Bogle, the founder of the Vanguard Group, is back with a new book about how short-term speculation has crowded out a focus on prudent long-term investment and intrinsic value.
In The Clash of the Cultures (Wiley, $29.95, August 2012; Hardcover), Bogle hones in on the clash that has become more pronounced and extreme – to the detriment of long-term investors while generating short-term profit for official market activity speculators – that is fundamentally changing capital markets and capitalism.
During the last five years, the United States financial system has raised $250 billion a year on average in IPOs and secondary offerings, while trading volume came to an astounding $33 trillion. That means that over 99.2 percent of stock market activity is speculative, and 0.8 percent is invested. Bogle recommends a return to the traditional standards of long-term investment and a commitment to trusteeship to turn that around.
The Clash of the Cultures reflects Bogle's more than 60 years of experience working on behalf of investors. He describes the culture of mutual funds when he started in 1951 as one of stewardship, where professionals acted in the best interest of owners. Today the culture is dominated by salesmanship, with fund managers placing their own interests ahead of their shareholders. "Most mutual fund managers have failed to live up to their responsibilities of corporate citizenship," Bogle writes.
Bogle exposes the "happy conspiracy" of our "dual-agency society." Money manager/agents and corporate manager/agents have developed an unhealthy, symbiotic relationship that lies at the heart of our financial system's problems. Institutional investors, who own 70 percent of all shares in U.S. corporations, are too focused on evanescent stock prices rather than intrinsic corporate values.
A chapter on America's Retirement System lays out Bogle's ideas for how to make retirement savings work. He wants to fix Social Security, and to move defined contribution savings plans towards viable retirement plans. He wants to minimize investing costs in the plans and limit the risk of outliving policies through mandatory low-cost annuities.
Bogle also calls for a federal statute of fiduciary duty, which would require fiduciaries place the interest of clients ahead of their own. Conflicts of interest that are all too common at money management conglomerates would be disallowed. The statute would outline the rights and responsibilities of corporate governance, foster prudent investment policies focused on long-term intrinsic values, and put the interests of fund shareholders ahead of the interest of fund managers and of the conglomerate's public shareholders.
Bogle encourages readers to "become part of the army of investors who will stand up and be counted, deal with the powerful challenges that await our society, and serve our great nation in the years ahead."
Using a mixture of history, case studies and statistics, Bogle dissects the current culture of the financial markets and offers solutions on how practices can be improved for the future, making The Clash of the Cultures a must-read for everyday investors as well as Wall Street professionals.