Adobe InDesign CS6 Digital Classroom
ISBN: 978-1-118-12406-2
498 pages
September 2012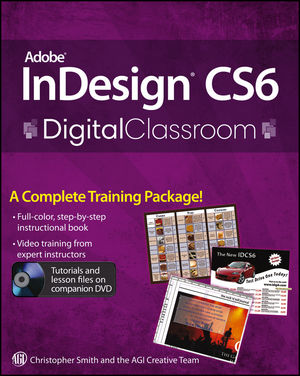 Expert book-and-video package helps you conquer Adobe InDesign CS6
Whether you want to create sophisticated page layouts for print or electronic books or produce dazzling brochures and other publications, chances are Adobe InDesign is the design and page layout tool you'll call upon. Now you can enhance your creativity and discover all the ways to use Adobe InDesign with this book-and-DVD training package. Thirteen self-paced lessons teach you how to design, produce, and develop streamlined workflows for page layout. Each lesson is accompanied by a video tutorial that clearly demonstrates techniques and further explains concepts.
A complete Adobe InDesign book-and-video training package from the expert instructors at the AGI Creative Team
Thirteen self-paced lessons allow you to absorb the material at your own pace
Includes short, downloadable videos that demonstrate techniques and further illustrate and explain concepts
Covers the basics, the essentials, and seasoned techniques, as well as new features of InDesign CS6
Adobe InDesign CS6 Digital Classroom is like having your own personal instructor guiding you through each unique lesson.
Note: The DVD and other supplementary materials are not included as part of the e-book file. These materials are available for download upon purchase.
See More
Starting up
Prerequisites 1
System requirements 2
Starting Adobe InDesign CS6 3
Resetting the InDesign workspace and preferences 4
Loading lesson files 4
Working with the video tutorials 6
Setting up for viewing the video tutorials 6
Viewing the video tutorials with the Adobe Flash Player 6
Additional resources 7
Lesson 1: InDesign CS6 Essential Skills
Starting up 9
InDesign tools 10
The InDesign workspace 11
The document window 11
Using guides 13
Viewing modes 14
Working with panels 15
The Tools panel 15
Managing panels 17
Saving your workspace 19
Working with the Control panel 20
Navigating through an InDesign document 20
Using the Pages panel 20
Changing the magnification of your document 22
Working with type 24
Entering and formatting type 24
Placing and formatting type 26
Flowing type 27
Using styles 29
Applying paragraph styles 29
Applying character styles 30
Apply styles across a story using Find/Change 30
Applying object styles 32
Working with graphics 34
Placing graphics 34
Positioning graphics within a frame 36
Applying text wrap 39
Understanding layers 40
Applying effects 42
Resources for additional help 44
Self study 46
Review 46
Lesson 2: Building Documents with Master Pages
Starting up 47
Planning your document 48
Creating custom page sizes 48
Creating a new custom-sized document 48
Creating and formatting master pages 51
Formatting master pages 52
Adding automatic page numbers 53
Using text variables 55
Basing master pages on other master pages 59
Overriding master page items 60
Adding layout pages 64
Placing formatted text 69
Creating the classified page 71
Adding images and text to the master frames 73
Applying master pages to multiple pages 75
Self study 76
Review 76
Lesson 3: Working with Text and Type
Starting up 77
Adding text to your document 78
Creating a text frame 78
Changing character attributes 80
Changing font and type styles 80
Adjusting size 81
Adjusting line spacing 82
Adjusting character spacing: kerning and tracking 82
Using a baseline shift 83
Changing paragraph attributes 84
Horizontally aligning text 84
Changing the spacing before and after paragraphs 84
Using tabs 85
Adding rules above or below paragraphs 89
Changing text color 90
Creating drop caps 92
Finding and changing text 92
Finding and changing text and text attributes 92
Finding and changing text using GREP 94
Checking and correcting spelling 98
Checking spelling 98
Adding words to the dictionary 99
Checking spelling as you type 100
Automatically correcting spelling 102
Editing text using the Story Editor 103
Using Track Changes 104
Drag-and-drop text editing 106
Special characters and glyphs 107
Using the Glyphs panel and glyph sets 109
Text frame options 110
Adjusting text inset 110
Vertically aligning text 111
Importing text 112
Flowing text manually 113
Threading text between frames 114
Using semi-autoflow to link several text frames 115
Adobe InDesign CS6 Digital Classroom
Changing the number of columns in a text frame 117
Baseline grid 120
Viewing and changing the baseline grid 120
Adding story jumps 122
Using styles to format text 123
Creating a headline and applying a style 123
Importing styles from other documents 125
Redefining styles 125
Placing text on a path 127
Importing text from Microsoft Word 129
Missing fonts 133
Finding and fixing missing fonts 133
Self study 135
Review 135
Lesson 4: Working with Styles
Starting up 137
Style types 138
Paragraph styles 139
Defining paragraph styles 139
Applying paragraph styles 141
Character styles 142
Defining character styles 142
Applying character styles 143
Using nested styles 144
Updating styles 146
Loading styles from another InDesign document 147
Quick Apply 149
Organizing styles into groups 151
Object styles 152
Creating object styles 152
Applying an object style 154
Changing an object style 155
Finishing up 156
GREP Styles 157
Self study 159
Review 159
Lesson 5: Working with Graphics
Starting up 161
Understanding how InDesign handles graphics 162
Locating missing images 162
Working with the Links panel and the Link badge 163
Customizing the Links panel 167
Adding graphics to your layout 168
Fitting an image within an existing frame 172
Auto Fitting 175
Using Adobe Bridge to import graphics 176
Placing multiple graphics using Mini Bridge 178
Using object styles for images 181
Wrapping text around images 185
Wrapping text around the bounding box 185
Using graphics with clipping paths and alpha channels 186
Removing an image background using InDesign 189
Using anchored objects 191
Advanced importing 196
Importing layered Photoshop files 196
Importing InDesign layouts as graphics 198
Self study 200
Review 200
Lesson 6: Creating and Using Tables
Starting up 201
Creating a table 202
Creating new tables 203
Copying and pasting table information 204
Converting text to a table and a table to text 208
Importing a table 209
Editing tables and table options 211
Changing row height 211
Editing the border 213
Formatting rows and columns 214
Using fills 217
Formatting cells and text 219
Resetting the cell styles within a table 219
Text alignment and inset within a cell 221
Formatting text within a cell and saving paragraph styles 222
Formatting text in tables by column 227
Working with tables in Story Editor 229
Merging cells 230
Defining a header cell 230
Setting column and row dimensions 236
Setting a fixed row height 236
Setting column width 238
Using graphics in tables 239
Placing graphics in cells 239
Cell styles and table styles 243
Cell styles 243
Applying cell styles 246
Creating table styles 247
Applying table styles 249
Self study 251
Review 251
Lesson 7: Using Color in Your Documents
Starting up 253
Applying colors to frames and text 254
Applying color to text 255
Applying color to frames 256
Applying Live Corner Effects 257
Creating and saving a new swatch 260
Applying strokes to text 262
Creating a tint reduction 265
Making a dashed stroke 267
Creating and saving gradients 269
Linear gradients 270
Saving a gradient 272
Adjusting fill opacity 273
Radial gradient 274
Adjusting the direction of a radial gradient 274
One-click edits 276
Using the Eyedropper tool to copy frame attributes 276
Applying colors to multiple objects 277
Updating and editing colors 278
Using and saving spot colors 280
Colorizing a grayscale image 281
Self study 283
Review 283
Lesson 8: Using Effects
Starting up 285
Creative effects 286
Applying opacity to objects 287
Apply effects to stroke or fill only 289
Drop shadow 290
Adjusting effects for objects 293
Bevel and Emboss 294
Object styles with effects 296
Using Find/Change to apply object styles 297
Basic Feather 298
The Gradient Feather tool 301
Converting text to a path 302
Applying blending modes to objects 305
The Screen blending mode 306
The Multiply blending mode 307
Working with imported files that use transparency 309
Applying an alpha channel selection 311
Applying a path selection 314
Self study 316
Review 316
Lesson 9: Advanced Document Features
Starting up 317
Adding text variables 318
Creating a book from multiple files 321
Defining pagination and document order 322
Synchronizing attributes across a book file 325
Creating Captions 330
Creating a Table of Contents 333
Building an index 338
Adding topics 339
Adding cross-references 342
Generating the index 343
Creating PDFs and printing from the Book panel 344
Creating PDFs 344
Printing 345
Self study 346
Review 346
Lesson 10: Preflighting, Printing and Creating PDFs from InDesign
Starting up 347
Package inventory 348
Preflight checks 351
Packaging your document 355
Creating an Adobe PDF 359
Separation preview 363
Printing a proof 366
Self study 368
Review 368
Lesson 11: Introduction to Digital Documents
Starting up 369
InDesign as your Digital Publication Hub 370
Interactive design considerations 370
Importing multimedia content 371
Adding a Hyperlink 374
Creating a Multi-State Object 375
Creating buttons to control multimedia content 377
Adding buttons to control a multi-state object 378
Creating page transitions 381
Creating animations 383
Previewing your document 385
Exporting your document 386
Creating an interactive PDF 386
Creating a SWF file 388
New layout features 391
Auto-Size Text Frames 392
Flexible Width Text Frames 393
Layout adjustments 395
Liquid Layout 395
Alternate Layouts 397
Linked Content 400
The Content tools 404
Creating PDF Forms 406
Adding a Combo Box 408
Creating a Submit button 409
Creating the PDF Form 411
Self study 413
Review 413
Lesson 12: Creating Digital Books
Starting up 415
Preparing your InDesign document for ePub conversion 417
Using styles 417
Controlling Object Export Settings 418
Adding interactive links 419
Adding hyperlinks 419
Creating an interactive Table of Contents 420
Adding document metadata 423
Creating an ePub 424
Specifying Object Export Order 424
Using anchored objects to control object placement 425
Specifying the cover 426
ePub export settings 427
Testing your ePub 432
ePub viewers 432
Distributing ePub files 434
Self study 435
Review 435
Lesson 13: Adobe InDesign CS6 New Features
Starting up 437
About the new features in InDesign CS6 438
Content Collector 439
Linked content 440
Liquid layouts 441
Alternate layouts 443
PDF forms 445
Primary text frame 446
ePub enhancements 447
See More
Christopher Smith is President of American Graphics Institute (www.agitraining.com). Involved with InDesign since its introduction, he has delivered InDesign training to thousands of creative professionals and helped develop the Adobe Certified Expert exams. The AGI Creative Team develops and delivers training programs through the American Graphics Institute.
See More
September 13, 2012
InDesign CS6 Digital Classroom
Connect with Wiley Publicity
In this video lesson from InDesign CS6 Digital Classroom, learn how to create both paragraph and character styles to format text in a document
See More
Learn more about