E-book
The 2012 Pfeiffer Annual: Consulting
ISBN: 978-1-118-12465-9
320 pages
October 2011, Pfeiffer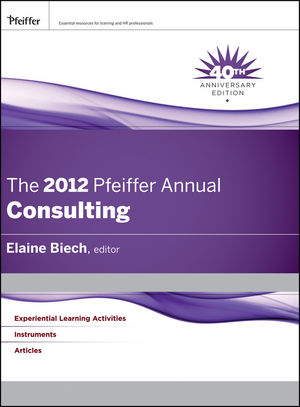 The Leader in Resources for Training & HR Professionals for the Past Four Decades
For 40 years, The Pfeiffer Annuals have helped consultants, experts, and academics in the field to stay informed and ahead of the curve.
The 2012 Pfeiffer Consulting Annual is a toolkit of ideas, methods, techniques, and models that support your work as an internal or external organizational consultant. It addresses the broad range of topics that are of most interest to professionals in the field. The materials provide accessible means of interacting with a diverse variety of systems and processes—from collaborative workflows and executive coaching to strategic planning and organizational development.
This Annual presents a "Learning in the Moment" theme. It addresses today's hectic world of immediate need and urgent access and includes information on teams and groups, leadership, communication, organizations, and problem solving.
Experiential Learning Activities (ELAs) cover a broad range of consulting topics. The activities are presented as ready-to-use designs for working with groups: facilitator instructions and all necessary handouts are included. ELAs showcasing the theme cover storytelling, leadership, change management, and diversity.
The Inventories, Questionnaires, and Surveys section contains tools to help respondents take an objective look at themselves or their organizations and determine how a particular theory applies to their situations. Don't miss the Cultural Readiness Scale for WEB 2.0 in this section.
The articles section presents the current thinking about workplace communications, leadership, and individual development. Travis L. Russ, Jean Lamkin, Mohandas Nair, Linda Raudenbush, and Leonard Goodstein have contributed must-read articles. And while the article by Jennifer Labin is a part of the theme, the topic of engagement is a part of discussions in almost every organization.
Year after year, the Consulting Annual has provided thousands of professionals with up-to-date information and tools to make organizations more effective. Delve into this volume and you will understand why it is the most reliable source for practical, professional, performance-boosting tools and fresh ideas.
Discover more at www.pfeiffer.com
See More
Website Contents xi
Preface xv
The Difference Between Training and Consulting: Which Annual to Use? xxi
Introduction to The 2012 Pfeiffer Annual: Consulting xxv
Experiential Learning Activities
Introduction to the Experiential Learning Activities Section 1
Experiential Learning Activities Categories 5
Movie Memories: Using Cinema as a Doorway to Emotional Exploration 15
Moisés Sznifer, Rea Dennis, and Luciana Medeiros
The Rant: Turning Complaints into Solutions 23
Nancy Jackson
Tweet at Me: Learning About Twitter 29
Allison Michels and Kris Taylor
**Get Unstuck: Using Storytelling for Group Problem Solving 35
Karen Dietz and Lori L. Silverman
The Human Flowchart: Understanding Work as a Process 39
M.K. Key
Who's Got the Power? Experiencing Unequal Resources 45
Terry Murray
EarthWars: Simulating a Negotiation 55
Noam Ebner and Yael Efron
Everything But the Kitchen Sink: Multi-Tasking as a Team 71
Ron Roberts
**Our Uniqueness: Finding What We Share 79
Linda M. Bedinger and Charlotte S. Waisman
Company Merger: Solving Group Problems 91
Rajinder Kaur Sokhi, Devesh Nath Tripathi, and Mitu Mandal
Teamwork Toolkit: Leading More Effective Teams 97
Peter R. Garber
Coach Me: Practicing Practical Coaching Skills 105
Lily Cheng and Peter Cheng
Questionable Questioner: Using the Power of Expectations 109
Cindy Lee Hall
Self-Care as a Strategy: Increasing Leadership Performance 115
Patricia Johnson and Michael Kroth
**My Ideal Leader: Exploring Leadership Development 123
Diane Hamilton
Pleasures and Pains: Understanding Employees' Perceptions of the Organization 129
Parth Sarathi
**One-Minute Speeches: Practicing Change Messages 133
Antoine Gerschel and Lawrence Polsky
Editor's Choice
Introduction to the Editor's Choice Section 139
**Connect to the Values 141
Deborah Thomas
Investing Energy in Career Enrichment 145
Beverly Kaye and Sharon Jordan-Evans
Inventories, Questionnaires, and Surveys
Introduction to the Inventories, Questionnaires, and Surveys Section 149
† Cultural Readiness Scale (CuReS) for Web 2.0 151
Sacip Toker and James L. Moseley
Assessing Your Organizational Performance Management 169
Cynthia Solomon
Articles and Discussion Resources
Introduction to the Articles and Discussion Resources Section 181
Managing in a Multicultural Environment 183
Barbara Pate Glacel
**Conducting a 361 191
Travis L. Russ
**Effective Use of Assessments 201
Jean G. Lamkin
Managing Your Needs Assessment: A Checklist for Planning and Implementation 205
Ryan Watkins and Maurya West-Meiers
**Developing Management Skills: A Process of Continuous Adaptation 213
Mohandas Nair
**The True Story of a Fantastically Successful Team-Building Experience! 223
Linda Raudenbush
Process-Based Role Analysis and Design 233
Avinash Kumar Srivastav
**Coaching: Learning in the Moment 251
Leonard D. Goodstein
Transform Your Firm's Position by Transforming Your Perspective 259
Ramona Riley
Trust or Performance Appraisals: Choose One 267
Wally Hauck
†Five Steps to Engagement: Simple and Practical Methods for Implementing an Employee Engagement Initiative 277
Jennifer Labin
Contributors 285
Contents of the Companion Volume,
The 2012 Pfeiffer Annual: Training 291
†Cutting-Edge Topics
**Learning in the Moment Topics
See More
Elaine Biech is president and managing principal of ebb associates inc, a strategic implementation, leadership development, and experiential learning consulting firm. She is the author and editor of over four dozen books including The Business of Consulting and Training for Dummies. She is also a recipient of the Gordon M. Bliss Award, the highest honor bestowed by ASTD (American Society of Training and Development).
See More