E-book
Manual Drafting for Interiors
ISBN: 978-1-118-12998-2
160 pages
December 2011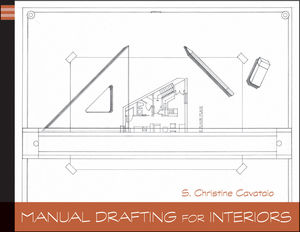 The interior designer's guide to effective hand drafting
The kinesthetic act of completing a manually drafted drawing gives interior designers a greater understanding of the space they're designing, time to reflect on their work, and the skills needed to quickly draw freehand for presentations and design concept developments.
Manual Drafting for Interiors is an essential reference for interior designers learning how to manually draft scaled floor plans, elevations, sections, and three-dimensional drawings. Clearly explaining techniques and methods, it begins with an explanation of drafting tools and their various uses, and then presents instructions and illustrations that indicate how to complete increasingly more difficult drafting conventions. Additionally, readers will learn drawing techniques for indicating various materials, symbols for coordinating related drawings, and architectural lettering.
Complemented with extensive drawings, inspiring examples, and tips for developing your own style of graphic expression, Manual Drafting for Interiors arms readers with essential skills they'll use throughout their career as a designer.
See More
Preface vii
Acknowledgments ix
C H A P T E R 1 : Before Beginning 1
Key Terms and Phrases 1
About This Text 1
Chapter Descriptions 2
Drafting versus Freehand Drawing 4
What Skills Are Needed to Draft by Hand? 6
Why Learn Manual Drafting? 6
Three Critical Concepts 8
Expectations and Frustration 9
Assignments 11
C H A P T E R 2 : Getting Started 13
Key Terms and Phrases 13
Recommended Drafting Equipment and Supplies 14
Care of Tools 22
Setting Up the Drafting Surface and Starting Practice 23
Line Weights and Line Types 27
Assignments 29
C H A P T E R 3 : Understanding Orthographic Drawings 31
Key Terms and Phrases 31
Defining Orthographic Drawing 32
Orthographic Views for Interior Spaces 33
Understanding Orthographic Projection 40
Considerations for Creating Orthographic Views 40
Drafting Conventions 49
Assignments 51
C H A P T E R 4 : Learning Architectural Lettering 53
Key Terms and Phrases 53
Guidelines 53
Numbers 54
Letter Spacing 54
Line Spacing 55
Lettering With a Triangle 56
Stylistic Differences 57
Composing the Drawing Sheet 58
Assignments 61
C H A P T E R 5 : Adding Details 63
Key Terms and Phrases 63
Material Symbols 64
Line Weights for Details 66
Upholstered Furniture in Plan 67
Adding the Human Figure 67
Plants in the Interior 70
Windows in Elevation 70
Poché 71
Assignments 73
C H A P T E R 6 : Adding Dimensions and Notes 75
Key Terms and Phrases 75
Parts of a Dimension Line 75
Drawing Dimension Lines 77
Placement of Dimension Numbers 78
Dimensioning Variations 79
Notes in Drawings 80
Coordinating Dimensions and Notes 81
Assignments 83
C H A P T E R 7 : Developing a Set of Drawings 85
Key Terms and Phrases 85
Working Drawings 85
What Makes Multiple Sheets of Drawings a Set? 87
List of Drawings for Construction of an Interior 87
Symbols for Set Coordination 89
Making Elevation and Section Symbols 91
Steps to Developing a Set 92
Checking the Drawing Set 93
Assignments 94
C H A P T E R 8 : Drafting Three- Dimensional Drawings 97
Key Terms and Phrases 97
Types of Paraline Views 98
See More
S. CHRISTINE CAVATAIO, IDEC, LEED AP, NCIDQ, is Associate Professor of Interior Design at Newbury College in Brookline, Massachusetts. A professional interior designer for thirty years, she has also taught at Mount Ida College and Boston Architectural College, and was an interior design program advisor at BAC and RISD.
See More