The Procurement and Supply Manager's Desk Reference, 2nd Edition
ISBN: 978-1-118-13009-4
400 pages
July 2012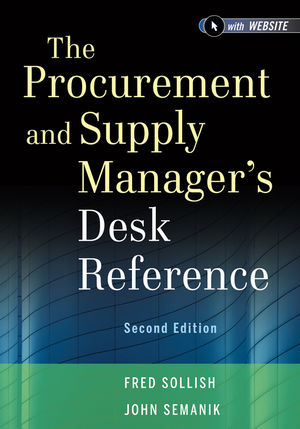 Every supply manager's essential desktop tool with in-depth, authoritative coverage of each topic
Leaving no stone unturned in covering all aspects of the procurement and sourcing functions, The Procurement and Supply Manager's Desk Reference, Second Edition is filled with everything every organization needs to know about the key roles and responsibilities of a procurement professional. Presented logically to match the flow of the procurement and sourcing functions, the book is filled with practical aids such as step-by-step guides to each segment of the process, as well as checklists and customizable forms. The new edition of this essential book provides an easy-to-use road map for the procurement and supply manager in the new millennium.
Coverage on how to select suppliers and measure performance
Reveals the easiest way to drive continuous improvement in the supply base
Features tips on providing value to the organization
Helps you identify those strategies that will work best for your business for years to come
Written for the worldwide profession of procurement and supply management, The Procurement and Supply Manager's Desk Reference, Second Edition offers detailed coverage and tips with an eye toward incorporating proactive strategies and best practices.
See More
Preface to the Second Edition xi
Acknowledgments xiii
CHAPTER 1 Procurement and Best Business Practices 1
Understanding Procurement 1
Understanding and Conveying Requirements 2
Creating Strategic Plans and Tactics 4
Finding Innovative Methods and Exploring Alternatives 5
Providing Procurement Services 6
Accepting Orders 7
Placing Orders 10
Mastering Procurement and Business Tactics 13
Budgets and Expense Allocation 13
Internal Control Systems 14
Establishing Procurement Methods 15
Internal Cost-Related Analysis Tools 18
Keeping Supplier Information 22
Summary 23
CHAPTER 2 Sourcing Management 25
Establishing Requirements 25
Creating and Organizing Requirements 25
Developing Specifications and Formats 27
Statement of Work 31
Terms and Conditions 32
Specification Traps 32
Locating and Developing Sources of Supply 33
Types of Competition 36
Locating Suitable Suppliers 37
Market Analysis: Determining Changing Marketplace Factors 39
Obtaining Bids and Proposals 41
Bidding Guidelines 41
Formulating the Bid or Proposal Type 42
Managing Sourcing Data 45
Categories of Existing Sources 45
Maintaining Sourcing Lists 47
The Strategic Sourcing Plan 47
Operational Sourcing Strategy 54
Summary 57
CHAPTER 3 Solicitation of Bids and Proposals 59
Solicitation Planning 59
Solicitation Methods 66
Summary 68
CHAPTER 4 Supplier Selection Criteria 69
Selecting the Supplier and Awarding the Contract 69
Operational Measures and Measures of Efficiency 75
Applying Selection Criteria 77
Administering the Contract 86
Summary 87
Note 88
CHAPTER 5 Contracts and the Legal Aspects of Procurement 89
Contract Essentials 89
Contract Requirements 91
Contract Types 92
Other Contract Types 98
Methods of Exchange 99
Other Contract Elements 100
Legal Authority and the Buyers' Responsibilities 101
Reviewing Contracts for Legal Requirements 103
Aligning Contracts and Practices with Policy 105
Maintaining Procurement Documents and Records 107
Summary 108
CHAPTER 6 Supplier Diversity 109
Diversity Programs 110
U.S. Small Business Support 112
The U.S. Small Business Administration (SBA) 112
Contracting 113
The Business Case for Diversity 115
Supplier Diversity Best Practices 116
Global Supplier Diversity 118
Diversity Advocacy Organizations 119
Summary 123
CHAPTER 7 Risk Management 125
The Nature of Risk 125
Why Is Understanding Risk Important? 125
Risk Management Principles 126
Resources for Additional Information 134
Summary 136
CHAPTER 8 Sustainability 137
Issues in Sustainability 137
Guidelines 146
Lean Six Sigma 149
Criteria for Supplier Evaluation 150
Institute for Supply Management's Principles of Sustainability and Social Responsibility 151
Examples of Corporate Sustainability Efforts 152
Summary 154
Notes 154
CHAPTER 9 Negotiation 155
Assessing the Negotiating Environment 155
Gathering Information and Analysis 158
Preparing for the Negotiation 161
Conducting the Negotiation 167
Summary 172
CHAPTER 10 Contract Formation and Administration for Optimum Supplier Performance 173
Managing Contract Compliance 173
Tracking and Expediting Deliveries 179
Handling Supplier-Related Deviations 181
Summary 188
CHAPTER 11 Project Management 189
The Five Project Management Processes 189
Stage One: Initiating a Project 191
Stage Two: Project Planning 193
Stage Three: Project Execution 199
Stage Four: Project Controlling 203
Stage Five: Project Closeout 206
A Key Knowledge Area: Project Procurement Management 207
Using a Matrix Model for Project Staffing 210
Summary 212
Notes 212
CHAPTER 12 Quality 215
Managing Quality Performance 215
Ensuring Quality Performance 220
Summary 226
CHAPTER 13 The Procurement Function's Internal Relationships 227
Understanding Key Departmental Roles 227
Developing Good Working Relationships 233
Participating in Cross-Functional Operations 237
Reengineering Supply Management 240
Summary 245
CHAPTER 14 Supplier Relationship Management (SRM) 247
Managing Productive Supplier Relationships 247
Developing Continuous Improvement 254
Pricing Factors and Supply 257
Representing the Organization 261
Summary 265
Note 265
CHAPTER 15 Leveraging Computer Systems 267
Using Basic Information Technology Processes 268
Using Software for Procurement 271
Sourcing Supply Management Tools 279
Summary 281
CHAPTER 16 Financial Decisions for Sourcing 283
Performing Make-or-Buy Analysis 283
Performing Lease-or-Buy Analysis 288
Formulating Financial Strategies 291
Summary 296
CHAPTER 17 Source to Settle 297
Why Source to Settle? 297
Implementing an S2S Process 303
Managing the S2S Process 307
Outsourcing the S2S Process 308
Summary 309
CHAPTER 18 Material Management and Supply Operations 311
Inventory Control and Management Systems 311
Physical Management and Inventory Accounting 321
Disposition of Surplus Assets 323
Summary 326
CHAPTER 19 Logistics 327
The Logistics Process 327
Modes of Transportation 332
Traffic Management 335
Customs 336
Logistics in the Context of International Trade 339
Supplemental Information 345
Links 347
Summary 348
Notes 349
CHAPTER 20 Regulatory Compliance 351
Regulatory Factors Governing Procurement 351
Government Organizations and Roles, Regulations, and Controls 358
Tax Laws 363
FASB 364
Conformance to Law 364
Preventing Workplace Discrimination and Harassment 364
Summary 368
Note 368
About the Authors 369
About the Website 371
Index 373
See More
FRED SOLLISH, MS, C.P.M. (San Francisco, CA), is the Managing Director of eParagon, LLC, a consulting firm specializing in providing training and working tools for the supply chain management profession. He is a working professional in supply chain management and procurement with over 30 years' experience as a manager. Fred is former president and CEO of the Institute for Supply Management (ISM) Silicon Valley affiliate. He is also an instructor for sourcing and procurement–related courses.
JOHN SEMANIK, MBA, C.P.M. (San Jose, CA), is cofounder and Director of eParagon, LLC. He has served in senior corporate supply chain positions at leading-edge companies such as Hewlett-Packard and Sun Microsystems. He is the former Managing Director and instructor for San Jose State University's Professional Development curriculum in Supply Chain Management and Purchasing, and former CEO of the Institute for Supply Management (ISM) Silicon Valley affiliate.
See More
Instructors Resources
Request a print evaluation copy
Contact us

See More
See Less
Buy Both and Save 25%!
The Procurement and Supply Manager's Desk Reference, 2nd Edition (US $105.00)
-and- Strategic Global Sourcing Best Practices (US $65.00)
Total List Price: US $170.00
Discounted Price: US $127.50 (Save: US $42.50)
Cannot be combined with any other offers. Learn more.
Learn more about