Textbook
Autodesk 3ds Max 2013 Essentials
ISBN: 978-1-118-13055-1
400 pages
June 2012, ©2012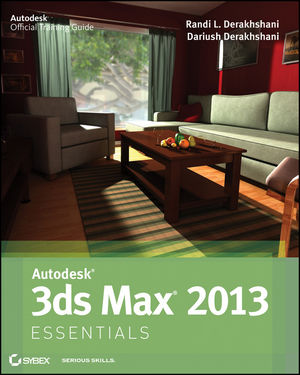 A four-color, task-based Autodesk Official Training Guide covering the core features of 3ds Max
Beginning users of this popular 3D animation and effects software will find everything they need for a thorough understanding of the software's key features and functions in this colorful guide. The authors break down the complexities of learning 3D software and get you going right away with interesting, job-related projects. You'll learn the basics of modeling, texturing, animating, lighting, visualization, and visual effects with 3ds Max, exploring the methods and why they are used as they are.
An Official Training Guide endorsed by Autodesk and ideal for those new to 3D software
Written by CG professionals, featuring hands-on, real-world projects that offer realistic, job-related professional challenges
Teaches the basics of modeling, texturing, animating, lighting, visualization, and visual effects, explaining the entire program to help you learn about the entire production pipeline
Covers everything a beginner needs to know for a solid foundation in 3ds Max, with illustrated tutorials and full-color screen shots
Companion website features starting and ending files for the exercises and additional learning tutorials available for download
Autodesk 3ds Max Essentials
is the ideal beginner's guide to the exciting world of 3D software.
See More
Introduction xiii
Chapter 1 The 3ds Max Interface 1
Chapter 2 Your First 3ds Max Project 21
Chapter 3 Modeling in 3ds Max: Architectural Model Part I 53
Chapter 4 Modeling in 3ds Max: Architectural Model Part II 75
Chapter 5 Animating a Bouncing Ball 101
Chapter 6 Animating a Thrown Knife 119
Chapter 7 Character Poly Modeling: Part I 131
Chapter 8 Character Poly Modeling: Part II 155
Chapter 9 Character Poly Modeling: Part III 175
Chapter 10 Introduction to Materials: Interiors and Furniture 191
Chapter 11 Textures and UV Workflow: The Soldier 215
Chapter 12 Character Studio: Rigging 243
Chapter 13 Character Studio: Animation 269
Chapter 14 Introduction to Lighting: Interior Lighting 291
Chapter 15 3ds Max Rendering 317
Chapter 16 mental ray and HDRI 343
Index 375
See More
Randi L. Derakhshani teaches 3D animation at The Art Institute of California and has worked as a digital artist and technical director for games and movie projects with Gizmo Games, RJB Enterprises, and Sony.
Dariush Derakhshani is an award-winning visual effects supervisor, author, and educator. He has worked on movies such as The Fantastic Four and Pan's Labyrinth, the South Park TV series, and numerous commercials and music videos. He teaches 3D animation and is the author of all of Sybex's Introducing Maya books. Dariush and Randi are coauthors of all of Sybex's Introducing 3ds Max books, as well as Autodesk 3ds Max 2012 Essentials.
See More
Do you think you've discovered an error in this book? Please check the list of errata below to see if we've already addressed the error. If not, please submit the error via our Errata Form. We will attempt to verify your error; if you're right, we will post a correction below.
Chapter
Page
Details
Date
Print Run
2
24-5
Text correction: Errors in Exercise "Modeling the Top"
Step 7: the reference to Figure 2.5 in the first sentence should be to Figure 2.4.

Step 8: 1st sentence, "...click the Extrude settings box to the right of the Bevel button..." should read:
"...click the Bevel settings arrow, which is below the Bevel button..."
10/2/12
1st
2
38
Text correction: Error in Exercise "Modeling the Bottom"
Step 7: The inline icons for the Modify tab and the Vertex icon are reversed.
10/2/12
See More
Instructors Resources
Contact your Wiley Representative
Find Your Rep

See More
See Less
Learn more about