Mastering Autodesk Maya 2013
ISBN: 978-1-118-13058-2
1008 pages
June 2012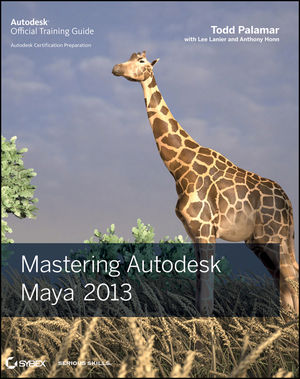 Provides hands-on intermediate-to-advanced coverage of the leading 3D software
Maya is the industry-leading 3D animation and effects software used in movies, visual effects, games, and other genres. For intermediate and advanced users who already know Maya basics, this official Maya guide provides the detailed coverage you need to unlock the software's more complex features. Elevate your skills in modeling, texturing, animation, and visual effects, and gain proficiency in high-level techniques for film, television, game development, and more.
Artists who are already proficient in Maya basics can elevate their skills and increase their marketability with the techniques in this official Maya guide
This fully updated book brings you up to speed on Maya's latest features and expands your skills with advanced instruction on cloth, fur, and fluids
Offers intermediate-level projects on Dynamics, Maya Muscle, Stereo Cameras, Assets, rendering with mental ray, and more
Offers challenging tutorials and real-world scenarios from some of the leading professionals in the industry
Provides valuable insight into the entire CG production pipeline
Mastering Autodesk Maya gives the serious Maya student a head start toward a successful career in 3D animation.
See More
Introduction xxiii
Chapter 1 Working in Autodesk Maya 1
Chapter 2 Virtual Filmmaking 55
Chapter 3 Modeling I 109
Chapter 4 Modeling II 185
Chapter 5 Animation Techniques 245
Chapter 6 Animating with Deformers 313
Chapter 7 Rigging and Muscle Systems 369
Chapter 8 Paint Effects 439
Chapter 9 Lighting with mental ray 491
Chapter 10 mental ray Shading Techniques 549
Chapter 11 Texture Mapping 595
Chapter 12 Rendering for Compositing 647
Chapter 13 Introducing nParticles 711
Chapter 14 Dynamic Effects 781
Chapter 15 Fur, Hair, and Clothing 833
Chapter 16 Maya Fluids 889
Appendix A The Bottom Line 925
Appendix B Autodesk Maya 2013 Certification 947
Index 953
See More
Todd Palamar began his career creating traditional special effects for low-budget horror movies and quickly gravitated to computer animation, first working on numerous straight-to-video movies and then switching to the video game industry. He has written several Maya books, including Maya Studio Projects: Photorealistic Characters and Maya Studio Projects: Dynamics.
See More
Learn more about