E-book
Digital Learning: Strengthening and Assessing 21st Century Skills, Grades 5-8
ISBN: 978-1-118-13107-7
240 pages
December 2011, Jossey-Bass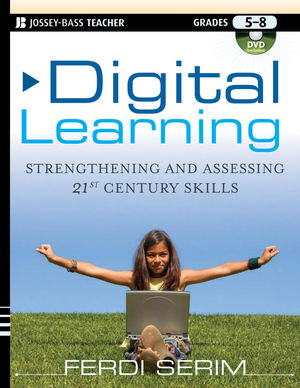 An essential resource for teaching and assessing student's use of technology
This comprehensive book offers a practical pathway for developing twenty-first-century skills while simultaneously strengthening content-area learning. Digital Learning contains a wealth of research-based practices to integrate the International Society for Technology in Education (ISTE) National Education Technology Standards (NETS) for both students and teachers. Each of the suggested project-based learning examples (in Language Arts, Mathematics, Science and Geography) can be used successfully as stand-alone units, but are even more effective when approached in a cross-disciplinary way.
Provides detailed descriptions of each of the NETS, how to teach them, and how to know if students are meeting them
Includes dozens of activities that integrate the NETS with each content area and align with Common Core standards
Gives clear instruction on teaching twenty-first-century skills
Includes a complementary DVD with video interviews and project maps to help see how students are progressing
The digital learning described in this book has been created to meet the diverse needs of students in a variety of situations.
See More
Foreword by Monica M. Beglau xv
Preface: Digital Age Learning Requires Digital Age Skills xvii
1 Digital Age Learning: Why Now? Why Me? 1
2 Rethinking Best Practices and Digital Age Learning 23
3 The Digital Learning Process 33
4 Do Try This at Home! Checking Your Digital Age Teaching
and Learning Tool Kit 53
5 Eyes on the Prize! 58
6 Walking the Talk: Evolving Your Practice with NETS for Teachers 141
Appendix A: Connect Your Classroom and Real Life: Career Clusters 156
Appendix B: Multidisciplinary Project: Our Community Fifty Years from Now 165
Appendix C: How to Use the DVD 169
Notes 174
Index 176
DVD Contents
1 English Projects
English 01 Who's Selling Us Now?
English 02 Who's Telling the Truth? Whose Truth Is Being Told?
English 03 Web Reader's Guide
English 04 Learning to Swim in a Sea of Data
English 05 Literature Circles Meet Web 2.0
2 Math Projects
Math 01 Same Problems, Different Answers?
Math 02 How to Lie with Statistics
Math 03 Making Math Meaning, in Teams
Math 04 Down the Drain
Math 05 Redesign Your School in Green
3 Science Projects
Science 01 Do You Hear What I Hear?
Science 02 Troubled Waters
Science 03 On Solid Ground?
Science 04 If Habitats Could Talk
Science 05 Be Earth's Biographer
4 Geography Projects
Geography 01 Nominate Local Landmarks
Geography 02 Map Your Community!
Geography 03 Lands Like Ours
Geography 04 Invent to Save Lives!
Geography 05 Inform Your Local Leaders
5 Resources
Digital Learning Trends Template (spreadsheet)
Digital Learning Trends Sample (spreadsheet)
PrePost NETS S Assessment
TPACK Activity Types (spreadsheet)
Notes (DVD version in Word)
6 Video Clips
1 Chris Dede Interviews
1 Intro Chris Dede.mov
2 Chris Dede—Vision.mov
3 Chris Dede—Team Learning.mov
4 Chris Dede—Connected Teaching Model.mov
2 David Thornburg Interviews
1 David Thornburg—Online Learning.mov
2 David Thornburg Creativity.mov
3 David Thornburg Math Projects.mov
4 David Thornburg Science and Career Clusters.mov
5 David Thornburg STEM.mov
3 Digital Learning and TPACK Activity Types
4 Doug Johnson Interview
5 Kari Stubbs Interview
6 Margaret Riel Interview
7 MultiDisciplinary Project Videos
8 Tina Rooks Interviews
See More
Ferdi Serim is an educator who has served as a board member of the International Society for Technology in Education, the Consortium for School Networking, and the advisory board for the Partnership for 21st Century Skills. He consults with leading organizations, districts, and ministries of education focused on transforming learning.
See More