E-book
Audel Multi-Craft Industrial Reference
ISBN: 978-1-118-13133-6
160 pages
February 2012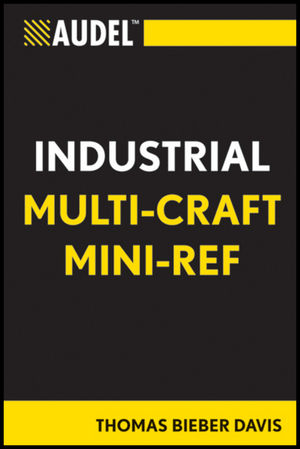 An essential, pocket-sized manual for industrial craftspeople from a brand relied on for more than a century
The Audel™ Industrial Trades Multi-Craft Reference Manual is aimed at the industrial mechanic, millwright, machinist, plumber, pipefitter, welder, carpenter, sheet metal mechanic, and other skilled craftspeople who need quick, no-nonsense access to dependable information—fast. Including up-to-date focus on "green" thinking and industrial sustainability, this handy, compact guide serves as an ideal on-the-job reference on topics such as pump facts, bearing information, motor facts, wood and carpentry, pipefitting, welding, blacksmithing, and much more.
New Audel book from bestselling author Tom Davis
Topics searchable by machine, device, or material
Heavily illustrated and designed with lay-flat binding for ease of use on the job
Includes worked-out examples when math is presented to accelerate learning
Building on a rich legacy of titles from the celebrated Audel brand, this new addition to their esteemed lineup continues the tradition of delivering trusted content skilled workers reach for the most.
See More
Preface v
Chapter 1 Machining 01
Drilling 01
Drill Press Troubleshooting 02
Drill Sharpening 03
Drill Sizes and Decimal Equivalents 06
Screw Threads 09
Drilling and Tapping a Hole 12
Calculating a Tap Drill Size without a Table 15
Screw Thread—Drill and Tap Chart (UNC and UNF) 16
Taper Pipe—Drill and Tap Chart (NPT) 17
Screw Thread—Drill and Tap Chart (UNEF) 17
Metalworking Lubricants 18
Chapter 2 Metals 19
Thermal Expansion of Metals 19
Linear Expansion for Various Materials 21
Chapter 3 Repairs and Rebuilding 24
Stub Shaft Repair 24
Freeing Frozen Bolts 28
Removing Broken Bolts 30
Chapter 4 Machinery Inspection and Measurement 32
Reading a Micrometer 32
Using a Strobe Light 39
Vibration Measurement 44
Simple Vibration Severity Test 56
Vibration Calibration 57
Detecting a Bad Bearing 58
Chapter 5 Lubrication 59
Prepacking a Bearing with Grease 59
Calibration of a Grease Gun 60
How Much Grease to Add to a Bearing 62
Grease Relubrication Interval 64
Chapter 6 Bearings 69
Bearing Identification Numbers 69
Bearing Dimension Tables 74
Bearing Installation 78
Fitting of Antifriction Bearings 81
Bearing Bore and Shaft Seat Dimensions 83
Bearing OD and Housing Dimensions—100 Series 84
Bearing OD and Housing Dimensions—200 Series 85
Bearing OD and Housing Dimensions—300 Series 86
Bearing OD and Housing Dimensions—400 Series 87
Chapter 7 Shaft Alignment 88
Rough Shaft Alignment 88
Correcting Soft Foot 90
Shim Chart 93
Straightedge and Feeler Gage Alignment 94
Chapter 8 V-Belt Drives 95
V-Belt Drives 95
V-Belt Sheave Inspection 97
Sheave Speed Ratio Calculation 98
V-Belt Tensioning—Force Deflection Method 101
V-Belt Tensioning—Percent Elongation Method 105
Belt Length Calculation 108
Standard V-Belt Lengths 110
Chapter 9 Mechanical Bushings 113
Mechanical Bushings 113
Mechanical Bushings—QD Installation 114
Mechanical Bushings—Taper Lock Installation 117
Chapter 10 Electricity 118
The Laws of Electricity 118
Chapter 11 Electric Motors 122
Understanding and Troubleshooting Industrial Induction Motors 122
Improving Motor Bearing Life 125
Electric Motor Insulation Values 128
Industrial Motor Dimension Charts 129
Electric Motor Sleeve Bearing Wear 134
Industrial Motor Keyseat Dimensions and Horsepower Ratings 135
Adding a Wire to a Conduit 136
Chapter 12 Centrifugal Pumps 138
Understanding and Troubleshooting Centrifugal Pumps 138
Packing a Pump 144
Centrifugal Pump Affinity Laws Explanation 146
Chapter 13 Industrial Fans 155
Understanding and Troubleshooting Industrial Fans 155
Balancing a Fan 164
Chapter 14 Welding 174
Oxyacetylene Gas Welding 174
Chapter 15 Miscellaneous Information 178
See More
Thomas Bieber Davis is a mechanical engineer and industrial educator who specializes in multi-craft training for both the electrical and mechanical trades. Tom is the bestselling author of the Audel Millwrights and Mechanics Guide, Fifth Edition and the Audel Mechanical Trades Pocket Manual, Fourth Edition.
See More