E-book
Don't Forget to Write for the Elementary Grades: 50 Enthralling and Effective Writing Lessons (Ages 5 to 12)
ISBN: 978-1-118-13229-6
288 pages
October 2011, Jossey-Bass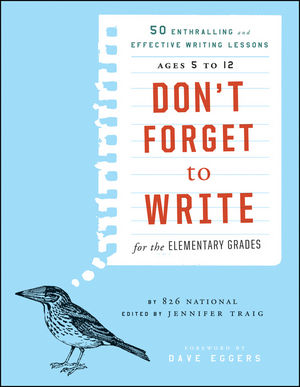 Creative strategies for getting young students excited about writing
Don't Forget to Write for the Elementary Grades offers 50 creative writing lesson plans from the imaginative and highly acclaimed 826 National writing labs. Created as a resource to reach all students (even those most resistant to creative writing), the lessons range from goofy fun (like "The Other Toy Story: Make Your Toys Come to Life") to practical, from sports to science, music to mysteries. These lessons are written by experts, and favorite novelists, actors, and other celebrities pitched in too. Lessons are linked to the Common Core State Standards.
A treasure trove of proven, field-tested lessons to teach writing skills
Inventive and unique lessons will appeal to even the most difficult-to-reach students
826 National has locations in eight cities: San Francisco, New York, Los Angeles, Ann Arbor, Chicago, Seattle, Boston, and Washington DC
826 National is a nonprofit organization, founded by Dave Eggers, and committed to supporting teachers, publishing student work, and offering services for English language learners.
See More
FOREWORD XV
ACKNOWLEDGMENTS XVII
THE AUTHORS XIX
THE CONTRIBUTORS XXIII
LESSON PLANS
1 TRAGIC LOVE TALES (BY 6-YEAR-OLDS)  1
by Joan Kim and Roberto Carabeo
Just what it sounds like.
2 WRITING FOR PETS  6
by Jennifer Traig
Students gain confidence in their language skills by writing a short story for a pet, then reading it to a pet audience. Ideal for very young writers, kindergarten through fourth grade.
3 FORT PARTY!  9
by Maggie Hanks
In this workshop, students build forts using tables, couches, sheets, clamps, whatever you have around. They then go into the forts and do writing exercises. Best for grades two and up.
4 MAKE-BELIEVE SCIENCE  14
by Amie Nenninger
Facts take a backseat to fi ction in this incredibly inventive workshop. Students compose their own wacky faux-science journal. A great way to get more science-minded students interested in creative writing. Ideal for students fi fth grade and younger.
5 OH, YOU SHOULDN'T HAVE, REALLY . . . (OR, HOW TO WRITE A JON SCIESZKA PICTURE BOOK)  22
by Jon Scieszka
Students learn how a master children's book author gets his ideas, and are invited to create their own. Great for grades two through four.
6 SPACE EXPLORATION FOR BEGINNERS: WHAT TO DO WHEN YOU MEET AN ALIEN  29
by Moira Cassidy
Junior Space Explorers get the opportunity to "travel" to other worlds, record their experiences in their personal Space Exploration Logs, and make a scale model of one of the alien creatures they meet on their journey. NO SPACE TRAVEL EXPERIENCE NECESSARY. Ideal for grades two through four.
7 MAGIC REALISM  34
by Aimee Bender
What if sneezes brought good luck? What if you wrote about it? Our favorite magic realist invites students to imagine a world that's just slightly off . Ideal for older writers, fifth grade and up.
8 RECYCLED ELVES: FAIRY TALE DO-OVERS  36
by Lucas Gonzalez and Chris Molnar
Rewriting fairy tales. Good for grades three to six.
9 CREATING A GUIDE TO MODERN GIRLHOOD  40
by Meghan Adler
Learn how to write your autobiography, using a variety of techniques and styles popular in best-selling books for girls. We will do numerous drawing and writing activities. Best for grades fi ve and up.
10 HOW TO WRITE A HOW-TO  47
by Jory John
Author Jory John teaches students how to write incredibly useful howtos, like "How to Avoid a Bath or Shower for as Long as Possible, and Maybe Even Longer." Ideal for grades four and up.
11 TALKING TRASH!  51
by Holly M. Dunsworth and Juliet Weller Dunsworth
Students learn the basics of artifact/trash interpretation and create their own fascinating descriptions of found objects and "trash" artifacts. Neanderthals welcome. Ideal for grades three to six.
12 WHY DID THE CHICKEN CROSS THE LESSON PLAN? WRITING JOKES AND RIDDLES  59
by Marcy Zipke
This introduction to writing jokes and puns encourages language play. Ideal for the very youngest writers—third grade and younger.
13 SPY SCHOOL  62
by Kate Pavao and Jennifer Traig
This intensive spy-training program encourages descriptive writing, code wordplay, and imaginative reporting. Best for slightly older writers, fourth grade through sixth.
14 LITERARY MASH-UPS  72
by Susan Voelker and Susan Meyer
Kids write genre mash-ups (like a romantic horror story). Best for grades five and up.
15 BRAIN SPELUNKING  76
by Scott Beal
Using Rorschach blots, picture prompts, and automatic writing techniques, we will plumb the inner depths of our minds and see what comes of it. Best for grades five and up.
16 PJ PARTY  80
by Amy Sumerton, Jason DePasquale, and Chloe Durkee
Students learn to craft expert bedtime stories. Trust us: wearing pajamas helps. Good for grades two through five.
17 ANY WHICH WAY: CHOOSING YOUR OWN ADVENTURE  82
by Lindsey Plait Jones
Students learn about the basic elements of telling a story, then create their own multichoice adventures. For grades two through six.
18 LIFE-SIZE BOARD GAME!  89
by Katherine Fisher and Jessica Morton
In this workshop, we use a life-size game board—where we are the moving pieces. We start off by creating the writing-inspired rules together. Once we've collectively thought up the most amazing board game that will soon sweep the nation, we play it together. Best for grades three and up.
19 BRAINS! OR, WRITING WITH ZOMBIES  91
by Brad Brubaker
Students interview a real-life zombie, then use what they learn to write their own zombie stories. BRAINS! Good for grades two through five.
20 HOW TO WRITE A COMIC  95
by Todd Pound and Jennifer Traig
Students learn to tell stories in both written and visual media. Ideal for students who think they don't like to write. Th is class is designed for students in fourth grade and higher.
21 THE MEANING OF LIFE (THE SHORT ANSWER): WRITING BIG, LARGE, AND SMALL!  105
by Elizabeth Alexander and Kathleen Goldfarb
In this workshop, we bravely identify our own big questions and explore them in stories that are both goofy and serious. Best for grades three and up.
22 HOW TO SURVIVE ANY THING 108
by Rebecca Wasley
What do you tell your teacher when you forgot your homework? How can you get out of doing your chores? How do you stop aliens from taking over the planet? It's about time someone put together a book of how to survive absolutely anything—and that someone is you! Good for grades three and up.
23 VINDICATED V ILLAINS  112
by Nicholas Decoulos
Telling stories from the bad guy's point of view. Good for grades three through five.
24 ONO-MATO-WHAT-NOW?  114
by Katherine Hunt and Pardis Parsa
How do you capture the sound of a candy wrapper being torn open for the fi rst time or your shiny new jacket rubbing against itself? In this lesson students explore everyday sounds to write a fabulous story. Best for grades three through five.
25 ALL-STAR SPORTS STORIES  120
by Aaron Devine and Karen Sama
Students learn about underdogs, dramatic moments, and other factors that make sports and storytelling great. Good for grades four and up.
26 I WROTE A GUIDEBOOK AND ALL I GOT WAS THIS LOUSY T-SHIRT: TRAVEL WRITING  124
by Susie Nadler and Laura Scholes
Th e entire class collaborates to create a guidebook for their town and learn to observe and describe in the process. Good for grades five and up.
27 COOKING FOR CRYPTIDS: THE DEFINITIVE CRYPTOZOOLOGICAL COOKBOOK  128
by Shannon DiGregorio
Students carefully consider the palates of the wild unknown and cater to the likes of Bigfoot and the Chupacabra with an original short cookbook. Ideal for grades one through four.
28 SCIENCE CLUB: ICE CREAM!  131
by Elaine M. Palucki
In this workshop, students explore a scientific issue—here, the science of ice cream—then write about it. Ideal for grades one through four.
29 STICKY WORDS  139
by Maya Shugart and Ryan Smith
Why should the ears have all the fun when it comes to poetry? Students write original poems and collage them into art for readers' eyes and ears to enjoy in harmony. Good for grades three through five.
30 MADDENING MAD LIBS  142
by Dan Gershman
Students write their own Mad Libs and learn some grammar in the process.
31 IF I WERE A KING OR QUEEN: CREATING YOUR OWN COUNTRY  147
by J. Ryan Stradal and Robert Jury
Imagination gets a thorough workout as students are invited to imagine their own country, from geography to government. Anything goes. Ideal for writers from second grade through sixth.
32 HOW TO BE A DETECTIVE  150
by Amie Nenninger
Th is dynamic lesson invites students to solve a real-life mystery, then write about it. Students really get into it. Best for fourth grade and older.
33 HARRY POTTER SPIDER-MAN VS. THE EVIL ZOMBIE NINJAS  157
by Eric Canosa
Students learn the basics of conflict in a supernatural showdown between good guys and bad guys. Good for grades two and up.
34 OUT THERE: DRAWING AND WRITING NEW WORLDS: AN INTERDISCIPLINARY ART AND WRITING LESSON  160
by Meghan McCook
Create your own 2-D piece of artwork using lots of texture, shape, and color. Then write a description or "sketch" of the universe only YOU could imagine! Best for grades five and up.
35 WHINING EFFECTIVELY; OR, HOW TO PERSUADE YOUR PARENTS 163
by Taylor Jacobson and Abigail Jacobs
Students learn the basics of persuasive writing by writing about things they're really invested in—like later bedtimes. Best for slightly older writers, fifth and sixth grade.
36 FOR THE BIRDS!  167
by Scarlett Stoppa
Students work together to create never-before-discovered birds and create short adventures for their character through these feathered flights of fancy. Ideal for grades two through four.
37 THERE'S POETRY IN AN ATOM: WRITING CREATIVELY ABOUT SCIENCE  170
by Nicole Moore and Ryan Moore
This class seeks to make the sciences less esoteric for those who like to write, and to make writing more manageable for those who love science. Best for grades four and up.
38 GUERRILLA POETRY  175
by Becky Eidelman
This lesson helps students fi nd poems that speak to them and discover ways of inserting them, unexpectedly, into other peoples' lives. Ideal for grades four and up.
39 FRANKENFILMS  177
by Lindsey Robinson and Jon Zack
In this lesson, students take some well-loved recent movies, write in new characters, and completely redo the endings. Best for grades four and up.
40 THE RULES OF MAGIC  179
by Julius Diaz Panoriñgan
This inventive lesson plan uses the conventions of fantasy and magic to guide some very creative storytelling. Best for fifth grade and up.
41 AND NOW I WILL PERFORM AN INTERPRETIVE DANCE: KINETIC WRITING  182
by Angela Hernandez
This lesson translates physical storytelling to the page. Great for students who need to get up and move. Ideal for grades second through sixth.
42 NOTE TO SELF: WRITING AUTOBIOGRAPHY  184
by Tania Ketenjian
This workshop invites you to take a close look at yourself and share it with the world. Good for grades three and up.
43 SMELL THIS STORY, TASTE THIS POEM  186
by Gabriela Pereira
A story/poetry writing workshop that focuses on using the fi ve senses for inspiration. Best for grades four and up.
44 GRAMMARAMA: HOMONYM STAND-OFF  198
by Margaret Mason
Can grammar be fun? Yes. It's an extreme grammar challenge. One will win! All will learn! For grades five and up.
45 HOW TO BE THE NEXT PRESIDENT OF THE UNITED STATES! OR, HOW TO WRITE A REALLY, REALLY, REALLY GOOD LETTER  204
by Jenny Howard
In this lesson plan inspired by the 826 book Th anks and Have Fun Running the Country: Kids' Letters to President Obama, students learn how to compose meaningful letters for the president and other people they admire. Good for grades three and up.
46 CHARACTER ASSASSINATION!  208
by Eric Canosa
In this lesson, students learn to fl esh out their characters with all the details that make them feel real. We start by killing them off (sort of), using a brief obituary to really figure out what's important in the character's life. Good for grades four and up.
47 SONNETS WITH SUPERPOWERS 211
by Sarah Green
Do you want to write poems that can: see in the dark, travel invisibly, breathe underwater, or fl y faster than light? In this workshop, we look at the basics of the sonnet form, and learn how to craft creative new sonnets the likes of which you've never seen. Best for grades four and up.
48 BEST IMAGINARY VACATION EVER!  214
by Micah Pilkington
Where would you go if you could go anywhere? What would you do? This lesson plan invites students to imagine their dream vacation and turn their fantasy into a compelling story. Good for any age, but especially for fifth grade and younger.
49 WHAT'S THE SCOOP? HOW TO GET THE REAL STORY  218
by Mark de la Viña
In this lesson students learn the basics of journalism and try out their newly acquired interview skills. Best for grades five and up.
50 THE ILLUSTRATED BOOK REPORT  221
by Rebecca Stern and Brad Wolfe
In this inventive lesson plan, students respond to books through comic panels. Best for grades four and up.
APPENDIX
EVALUATION RUBRIC 225
SELF-ASSESSMENT CHECKLIST 226
COMMON CORE CURRICULUM STANDARDS 227
826 CENTERS AND STAFF 255
See More
826 National
is a nonprofit tutoring, writing, and publishing organization with locations in eight cities across the country. Our goal is to assist students ages 6 to 18 with their writing skills, and to help teachers get their classes excited about writing. Our work is based on the understanding that great leaps in learning can happen with one-on-one attention, and that strong writing skills are fundamental to future success.
Jennifer Traig is the author of the memoirs Devil in the Details and Well Enough Alone, and the editor of The Autobiographer's Handbook.
See More