Windows 8 For Dummies Quick Reference
ISBN: 978-1-118-13243-2
264 pages
November 2012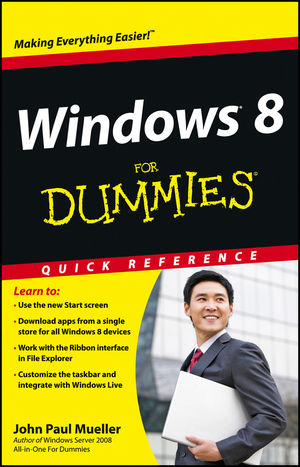 The handy and fast reference for mastering Windows 8
This quick and easy reference is designed for all users (newbies and seasoned) who are comfortable with the Windows OS  and need a fast reference to solve a problem or navigate a new feature without context or explanation.  It will be the must-have reference for anyone using Windows 8.
Offers quick answers and solutions so readers can read less and do more
Includes new elements such as Control Panel guide, icon glossary, shortcuts and other tools users can leverage to move quickly and efficiently though Windows 8
Get the completely updated and overhauled edition of this bestselling book with a newly refreshed easy-to-use format.
See More
The Big Picture: Windows 8  7
Part 1: Navigating the Start Screen  29
Part 2: Navigating the Desktop Interface 59
Part 3: Using the Standard Applications 79
Part 4: Working with Gadgets 97
Part 5: Using Internet Explorer 109
Part 6: Configuring Your System 137
Part 7: Interacting with External Devices 163
Part 8: Accessing the Network 181
Part 9: Performing Administrative Tasks 201
Index 227
See More
John Paul Mueller, a technical writer and editor, has authored more than 300 articles and 79 books. His work has appeared in various tech publications, including DevSource and SQL Server Professional.
See More