Finish Your Dissertation, Don't Let It Finish You!
ISBN: 978-1-118-13303-3
208 pages
November 2013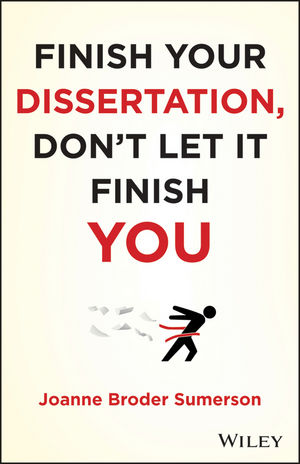 An all-inclusive, practical guide to help you design, conduct, and finish your academic dissertation—with minimal drama
Sharing the secrets for successfully navigating through the dissertation and thesis process while maintaining your sanity, Finish Your Dissertation, Don't Let It Finish You! presents comprehensive coverage of the entire dissertation process, from selecting a committee and choosing a research topic to conducting the research and writing and defending your dissertation.
Joanne Broder Sumerson follows the sequential flow of a dissertation, to help you move through the process in a logical, step-by-step manner, with an abundance of practical examples and useful tips on:
Proper dissertation etiquette—smarts and strategies for managing the committee
Breaking ground on your study
The anatomy of the five chapters of your dissertation
Making a compelling argument for why your study should be done
Creating an exemplary literature review
The best practices in research design
Getting official approval from the Institutional Review Board
Organizing your freshly collected data
Concluding your dissertation
Presenting a smooth oral defense
See More
Acknowledgments ix
Introduction xiii
Chapter one
The Secret Handshake 1
Chapter two
Breaking Ground on Your Study 13
Chapter three
Anatomy of a Dissertation 29
Chapter four
Rolling Out the Red Carpet for Your Study:
The Strong Introduction 39
Chapter five
Literature Review Made Simple 45
Chapter six
Data Scavenger Hunt: Methodology 57
Chapter seven
The Institutional Review Board (IRB) 83
Chapter eight
Making Sense of the Data Collection
Scavenger Hunt: Results 91
Chapter nine
I Am Listening, Data: Discussion 107
Chapter ten
Your Data's Next Chapter After the
Dissertation Write-Up and Graduation 115
Appendix A
Summary Chart of Statistics, What to Report,
Abbreviations, and Suggested Syntax 127
Appendix B
Anatomy of a Dissertation in Context 139
Appendix C
Sample Dissertation Rubric 157
Appendix D
The Juicers 163
References 167
About the Author 171
Author Index 173
Subject Index 175
See More
Joanne Broder Sumerson, PhD, is a research psychologist dedicated to closing the gap between research and practice. Her research processes were developed from over 20 years' experiences as a research practitioner, program evaluator, academic, and, of course, former student. She has worked with a multitude of private and public organizations in topics such as group process, leadership, emotional intelligence, social media, and wellness. She is a research professor and advisor at Saint Joseph's University in Philadelphia, Pennsylvania, a co-founding editor of Psychology of Popular Media Culture, published by the APA, and writes a blog, Research Notes, for Psychology Today Magazine.
See More