Stop the Retirement Rip-off: How to Keep More of Your Money for Retirement, 2nd Edition
ISBN: 978-1-118-13304-0
222 pages
November 2011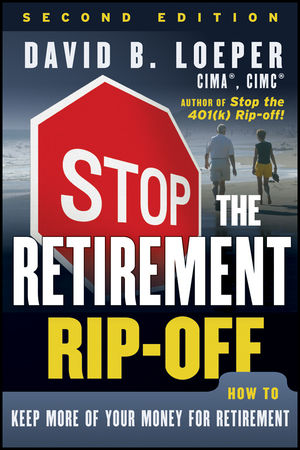 A detailed guide for avoiding the pitfalls of retirement funding
In Stop the Retirement Rip-Off, author David Loeper provides the necessary tools for investors to take action and make the most of their retirement plans. It offers a road map for employees to understand the fees and costs associated with their plans; document the excesses in a presentation to management; then organize themselves to protest and, if necessary, bring the documentation to the Labor Department in a complaint.
Written in a straightforward and accessible style, this book is filled with sensible strategies for making the most of retirement funds and putting future retirees back on the right financial track.
Filled with strategies that can help employees stand up and secure their financial future
Addresses how to make the most of your money, and your life, after fixing your retirement plan
Outlines a practical approach to understanding your organization's retirement plan and overcoming its potential inefficiencies
This important book contains the much-needed information that employees need to plan for retirement and ensure a secure financial future.
See More
Preface xi
Acknowledgments xvii
Introduction Make the Most of Your Life! 1
Chapter 1 Why Fees Matter—The Coming "Retirement Plan Sticker Shock" 11
Chapter 2 Types of Expenses Dragging Down Your Retirement Funds 25
Chapter 3 The Price to Your Lifestyle of Needless Expenses 39
Chapter 4 Complaining Without Sounding Like a Complainer 55
Chapter 5 Rallying Your Troops—Just One Coworker Can Help 63
Chapter 6 What Happens If My Employer Ignores Us? 69
Chapter 7 Now That My Retirement Plan Is Fixed, How Can I Make the Most of My Life? 79
Chapter 8 Resources, Investment Selection, Asset Allocation, Tools, and Advice 91
Chapter 9 How Much is That Guarantee in the Window? 121
Chapter 10 Hidden Expenses in Government Union and Some 403(b) Plans 131
Chapter 11 Summary 137
Appendix A Lifestyle Prices of Excessive Retirement Plan Expenses 139
Appendix B ABC Plan-401(k) Plan Fee Disclosure Form 205
About the Author 217
Index 219
See More
David B. Loeper is the CEO of Financeware, Inc. Prior to founding Financeware in 1999, Loeper was managing director of strategic planning for the retail brokerage division of Wheat First Union and served on the Investment Advisory Committee of the almost $30 billion Virginia Retirement System. Loeper has been active in several industry associations, including the Investment Management Consultants Association (IMCA). He has also been a featured speaker at numerous industry events and often contributes to industry publications, as well as appearing on CNBC, Bloomberg TV, Fox Business, CNN, and Yahoo! FinanceVision.
See More