Stop the Investing Rip-off: How to Avoid Being a Victim and Make More Money, 2nd Edition
ISBN: 978-1-118-13306-4
197 pages
November 2011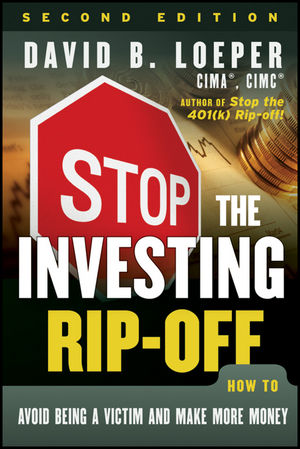 The questions every investor should ask before parting with their hard-earned cash
This book serves as an advocate of the consumer and brings to light what insiders know about the side of the sales pitches that consumers don't, but need to hear. Stop the Investing Rip-Off reveals the questions every investor should ask during a financial sales pitch before they pull the trigger and buy the next mutual fund, stock, advisory service, or other investment product.
Based on David Loeper's nearly twenty-five years of experience of seeing the inner workings of the industry, this updated edition of his classic book offers new strategies based on the performance of the stock market over the past two years.
Sheds light on the oft unseen deceit of the financial services industry
An updated and revised edition of the bestselling Stop the Investing Rip-Off
Written by David Loeper who is regularly quoted in Kiplinger's Money and Investment News and regularity contributes to Forbes Intelligent Investing
Stop the Investing Rip-Off, Revised and Updated is filled with advice for investors who want to avoid becoming victims of smooth talking salespeople and the effective advertising and marketing campaigns designed to evade reality and prey on your emotional desires.
See More
Preface ix
Acknowledgments xix
Chapter 1 Major Brokerage Firms 1
Chapter 2 Investment Advisers 19
Chapter 3 Hybrids—Advisory Services Provided through Brokerages 27
Chapter 4 Discount Brokers 33
Chapter 5 Financial Planners and Wealth Managers 43
Chapter 6 The Financial Press 49
Chapter 7 The Broadcast Media 55
Chapter 8 Authors, Self-Help Books, and Financial Celebrities 61
Chapter 9 Mutual Funds and ETFs 73
Chapter 10 Insurance Agents (and Insurance Companies) 87
Chapter 11 Your Company-Endorsed Retirement Plan Adviser 119
Chapter 12 Banks and Trust Companies 123
Chapter 13 Software, Web Sites, and Financial Educators 127
Chapter 14 Pitches They All Use to Sacrifice Your Life 139
Chapter 15 Resources to Protect Yourself 161
Conclusion 179
Appendix A The Other Millionaire You Make with 2.5 Percent Excess Fees 181
Appendix B The Other Millionaire You Make with 1.5 Percent Excess Fees 185
About the Author 189
Index 191
See More
David B. Loeper is the CEO of Financeware, Inc. Prior to founding Financeware in 1999, Loeper was Managing Director of Strategic Planning for the retail brokerage division of Wheat First Union and served on the Investment Advisory Committee of the almost $30 billion Virginia Retirement System. Loeper has been active in several industry associations, including the IMCA (Investment Management Consultants Association). He has also been a featured speaker at numerous industry events and often contributes to industry publications, as well as appearing on CNBC, Bloomberg TV, Fox Business, CNN, and Yahoo! FinanceVision.
See More