It's Your Money, Honey: A Girl's Guide to Saving, Investing, and Building Wealth at Every Age and Life Stage
ISBN: 978-1-118-13328-6
304 pages
February 2012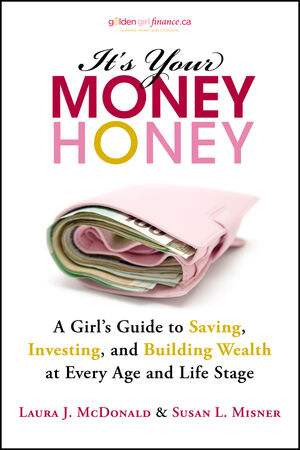 Turning smart girls golden; the women's guide to personal finance
Rebranding finance with a feminine spin, It's Your Money, Honey is designed to encourage women of all ages to take a greater interest—and play a greater role—in the financial issues that affect their everyday lives and financial futures. Conversational, irreverent, and intelligent, this guide to wealth creation, wealth management, and financial protection as it relates to women and their families provides exactly the kind of advice that smart women today need to know in order to take charge of their finances.
Organized by decade and the events—from childrearing to retirement—that need to be planned for, presently enjoyed, or recovered from, It's Your Money, Honey is packed with expert information in the no-nonsense style of a girlfriend who knows her stuff. Finances aren't that hard, you just have to deal with them yourself.
Finally, a book that understand that every woman needs to make time for a personal finance education
Highly accessible, the book is designed to be read whenever you find yourself with a spare second, providing important information in bite sized chunks
Helps women prepare for major life events with the help of real life stories, helpful checklists, and easy-to-apply Golden Rules
Born out of the notion that too many smart women let their financial situations be ignored, swept under the rug, or dictated by others, It's Your Money, Honey is everything you need to know about money but were too busy to ask.
See More
Preface: Why We Wrote This Book ix
Introduction: Turning Smart Girls Golden: Finance and Females 1
Chapter 1: The First Taste of Freedom: Finance and Starting Out 11
Chapter 2: Love, Relationships, and Money: Finance and Relationships 33
Chapter 3: For the Love of Those Little Cost Creatures: Finance and Kids 65
Chapter 4: Building Your Dream Career: Finance and Work 97
Chapter 5: So Crazy, It Just Might Work: Finance and Business 127
Chapter 6: The Big-Ticket Items of Life: Finance and Major Purchases 159
Chapter 7: Making Your Money Work For You: Finance and Investing 191
Chapter 8: The Best Third of Your Life: Finance and Retirement 223
Chapter 9: Ready to Launch: Finance and Next Steps 245
Golden Girl Finance Club: Meeting Discussion Guide 257
About Golden Girl Finance 273
About the Authors 275
About the Expert Contributors 277
Index 281
See More
Laura J. McDonald and Susan L. Misner are the founders of GoldenGirlFinance.ca. Their mission is to make finance real, relevant, and relatable for women so they are better able to accumulate, grow, and protect their wealth.
See More