E-book
How to Buy Bank-Owned Properties for Pennies on the Dollar: A Guide To REO Investing In Today's Market
ISBN: 978-1-118-13356-9
256 pages
October 2011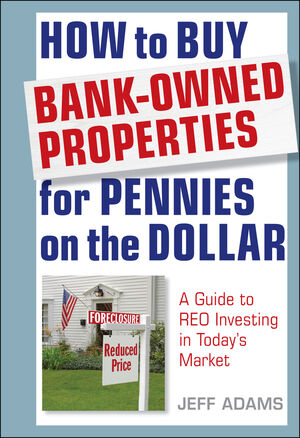 Buy bank-owned properties at fire-sale prices!
Banks and lending institutions today own more than one million foreclosed properties, more are in the foreclosure pipeline. Banks desperately want to get these properties off their balance sheets, but there aren't enough buyers. The result is a soft real estate market with prices investors and homeowners may not see again in their lifetime.
In recent years many bargain-hunting investors and homebuyers made the mistake of trying to get foreclosure prices via short sales and pre-foreclosure-- before the bank reclaimed the property. They've been burned by endless delays and uncertainty of the messy foreclosure process. With bank-owned properties, that's over. You deal directly with a motivated seller—the bank—and get the foreclosure price without the hassles and complexity of a short sale or pre-foreclosure.
This book shows you how to negotiate the best possible terms with the real estate owned (or REO) department of a bank or lender, including step-by-step instructions and no-nonsense advice on finding great deals, estimating fair market value, and closing the deal. You don't need a ton of cash, because REO investing at fire-sale prices is affordable for almost any investor or homebuyer.
Provides detailed, step-based guidance on buying REO properties
Written by a super-successful REO investor with fifteen years of experience
See More
Part I
The Investing Opportunity That Won't Come Again in Your Lifetime 1
Chapter 1 The Perfect Nightmare for Bankers—A Dream Come True for Investors 3
Chapter 2 Why REO Investing Saves Time, Hassle, and Money Compared with Traditional Preforeclosure and Short Sale Investing 15
Chapter 3 How to Overcome Your Fear, Set Goals, and Get Started 27
Chapter 4 Overview of the REO Deal 43
Part II REO Deals, Step by Step 51
Chapter 5 Where to Get the Money 53
Chapter 6 How to Research Your Market, Create an Investing Plan, and Develop an Exit Strategy 69
Chapter 7 How to Get Ready for Your First Deal and Build Credibility 81
Chapter 8 Where to Find the Best REOs in Your Market 99
Chapter 9 The Importance of REO Agents: Finding the Best and Getting Them on Your Side 119
Chapter 10 Buying REO Properties at Auction 129
Chapter 11 The Right Way to Evaluate Deals and Price a Property 141
Chapter 12 How to Make an Offer and Negotiate with Banks 159
Chapter 13 Getting the Paperwork Right 175
Chapter 14 How to Avoid the Most Common Mistakes Investors Make 189
Part III Exit Strategies 199
Chapter 15 Wholesale Your Property to Another Investor 201
Chapter 16 Fixing Up and Selling the Property at Retail 209
Chapter 17 Buying and Holding: Renting the Property for a Positive Monthly Cash Flow 217
Addendum: Understanding Buying Formulas 225
Glossary 233
About the Author 243
Bonus Offer Just for You! 244
Index 248
See More
JEFF ADAMS is the nation's leading expert in in foreclosure and REO investing. His automated internet-based systems for attracting buyers, sellers, and investors have enabled him to be involved in hundreds of transactions since 1995, and during many of those years he worked as a full-time firefighter!
See More