E-book
Effective Inclusive Schools: Designing Successful Schoolwide Programs
ISBN: 978-1-118-13365-1
276 pages
January 2012, Jossey-Bass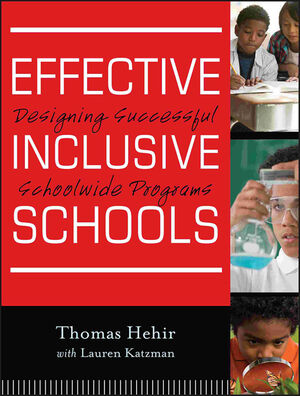 How to raise the achievement of all kids, from gifted to those with severe disabilities
This book presents lessons learned from in-depth case studies of some of our most effective inclusive public schools. The authors conclusively demonstrate that schools can educate students with mild and severe disabilities in general education classrooms by providing special education services that link to and bolster general education instruction. This goes beyond complying with Special Education law; having a truly inclusive environment raises the achievement level for all students and results in more committed and satisfied teachers.
Insights shared from teachers, school leaders, parents, and the students themselves provide a path forward for anyone striving to Improve special education services. The authors reveal what these exemplary schools do that makes them so successful, and provide advice for readers who want to incorporate these practices themselves.
Hehir, former U.S. Office of Special Education (OSEP) Director, is a leading name in Special Education
Highlights the important relationships between administrators, teachers, and parents to foster maximum collaboration between general and special education
Includes information on committing to Universal Design for Learning (UDL) and Positive Behavior Supports
This vital resource zeroes in on what excellent public schools do differently to ensure all students succeed.
See More
About the Authors  vii
Preface: On Ableism  ix
Acknowledgments  xv
Introduction  xvii
PART ONE THE SCHOOLS AND THEIR LEADERS 1
Chapter 1 The Schools   3
Chapter 2 The Leaders   23
PART TWO WHAT THEY DO DIFFERENTLY   55
Chapter 3 Collaborative Problem-Solving Organizations   57
Chapter 4 Relationships, School Culture, and Accountability 77
Chapter 5 Universally Designed Schools   99
PART THREE HOW TO CREATE MORE INCLUSIVE SCHOOLS  125
Chapter 6 Making Schools More Inclusive: Lessons for Educators and Parents   127
PART FOUR THE BIG PICTURE OF SPECIAL EDUCATION 157
Chapter 7 How Education Policy Affects Our Schools   159
Chapter 8 Where Special Education Needs to Go   179
Afterword Transitioning to a Full Adult Life 201
Appendix A Questions for Discussion   205
Appendix B Information on the Research Study   209
Notes  225
Index  237
To Dr. William Henderson: Teacher, mentor, and friend
See More
Thomas Hehir
, Ed.D., professor of Practice at Harvard's Graduate School of Education, is a leading scholar and advocate for children withdisabilities. He served as director of the U.S. Department of Education'sOffice of Special Education Programs under President Clinton from 1993–1999.
Lauren I. Katzman, Ed.D., is executive director of Special Education for the New York City Department of Education. Previously, she served as associate professor of Special Education at Boston University and as a special educator in New York, New Jersey, and Missouri.
See More