Graphic Design School: The Principles and Practice of Graphic Design, 5th Edition
ISBN: 978-1-118-13441-2
208 pages
August 2013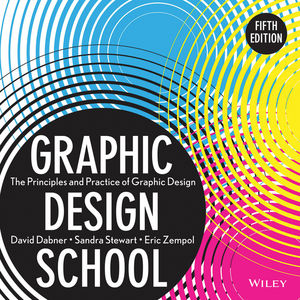 Graphic Design School allows students to develop core competencies while understanding how these fundamentals translate into new and evolving media. With examples from magazines, websites, books, and mobile devices, the Fifth Edition provides an overview of the visual communications profession, with a new focus on the intersection of design specialties. A brand-new section on web and interactivity covers topics such as web tools, coding requirements, information architecture, web design and layout, mobile device composition, app design, CMS, designing for social media, and SEO.
See More
Introduction 6
PART ONE: PRINCIPLES 8
UNIT ONE: RESEARCH AND CONCEPTS
Basics of research 10
Linear reasoning/lateral thinking 14
Exploratory drawing 16
Visualizing ideas 18
Theories of image and text 20
Audiences, markets, and concepts 24
Scheduling, organizing, and finalizing 26
Unit 1: Assignments and questions 30
UNIT TWO: FUNDAMENTALS OF COMPOSITION
Basics of composition 32
Form and space 36
Symmetry/asymmetry 38
Basic principles of design layout 40
Styles of layout 44
Pace and contrast 46
Size and format 50
Identity and extended systems 52
Photography and illustration 56
Unit 2: Assignments and questions 60
UNIT THREE: FUNDAMENTALS OF TYPOGRAPHY
Typography and meaning 62
The anatomy of type 64
Understanding and selecting typefaces 66
Spacing 72
Readability and legibility 76
Typographic emphasis and hierarchy 78
Typographic rules/boxes and ornaments 82
Text as image 84
Unit 3: Assignments and questions 86
UNIT FOUR: FUNDAMENTALS OF COLOR
Color terminology 88
Color legibility, contrast, and harmony 92
Color associations 94
Color as information 96
Unit 4: Assignments and questions 98
PART TWO: PRACTICE 100
UNIT FIVE: TOOLS AND TECHNOLOGIES
Photography basics and sourcing images 102
Page assembly programs 106
Photoshop 110
Illustrator 114
Flash/After Effects 118
Unit 5: Assignments and questions 120
UNIT SIX: PRINT PRODUCTION AND PRESENTATIONS
Preparing files for print 122
Creating a convincing presentation 126
Paper stocks and finishing 128
Printed color 130
Print media 132
Digital printing 134
Correcting color proofs and press check 136
Unit 6: Assignments and questions 138
UNIT SEVEN: WEB DESIGN BASICS
Project development process overview 140
Project structures 146
Web tools 148
Initial consultations 152
Information architecture (IA) 154
Flowcharts and wireframes 156
Common elements of a web layout 160
Designing for the web 162
App design 168
Working with content management systems 171
Banner ad design 174
Search engine optimization (SEO) 176
Online portfolios 178
Unit 7: Assignments and questions 182
UNIT EIGHT: EXPERT PATHS AND COLLABORATIONS 184
Resources 198
Glossary 200
Index 204
Bibliography 206
Acknowledgments 208
See More
David Dabner teaches at the renowned London College of Printing.
Sandra Stewart is the Associate Dean for Academics at Drexel University's Westphal College of Media Arts & Design.
Eric Zempol is a Philadelphia-based graphic designer who is also an instructor at Drexel University.
See More
Instructors Resources
Request a print evaluation copy
Contact us

See More
See Less
Learn more about