E-book
The Greatest Trades of All Time: Top Traders Making Big Profits from the Crash of 1929 to Today
ISBN: 978-1-118-13464-1
208 pages
September 2011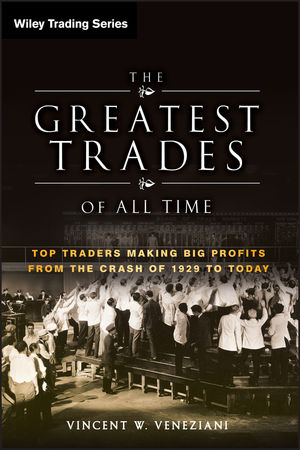 How top traders made huge profits during the most momentous market events of the past century
Financial and commodity markets are characterized by periodic crashes and upside explosions. In retrospect, the reasons behind these abrupt movements often seem very clear, but generally few people understand what's happening at the time. Top traders and investors like George Soros or Jesse Livermore have stood apart from the crowd and capitalized on their unique insights to capture huge profits.
Engaging and informative, The Greatest Trades of All Time chronicles how a select few traders anticipated market eruptions?from the 1929 stock market crash to the 2008 subprime mortgage meltdown?and positioned themselves to excel while a majority of others failed. Along the way, author Vincent Veneziani describes the economic and financial forces that led to each market cataclysm and how these individuals perceived what was happening beforehand and why they decided to place big bets, often at great risk and in opposition to consensus opinion at the time.
Traders discussed include George Soros, Jesse Livermore, Paul Tudor Jones, John Templeton, and John Paulson
Provide contemporary traders and investors with insights on how great traders make great trades
Offers insights on market forecasting, mass psychology, and the importance of personal conviction in trading
At a time when many investors are looking to the past for answers to the future, this book brings important historical moments in the financial markets to life.
See More
Acknowledgments xiii
About the Author xv
Introduction xvii
CHAPTER 1 J. Kyle Bass: Timing Is Everything 1
The Back Story 1
A Few Definitions 2
Bass Asks Why 4
Learning from the Past 6
Shorting Subprime Loans 7
The Best Position 8
The Effects of Abuse 11
Who Was Watching? 13
Re-creating Bass's Trading Strategies 17
Bass's Top Traits 17
CHAPTER 2 James Chanos: The Real King of Enron 21
Enter Enron 21
Really Looking at Enron 23
The Best Position 26
Recreating Chanos's Trading Strategies 28
A More Recent Example 28
Chanos's Top Traits 30
CHAPTER 3 Paul Tudor Jones II: Legendary Global Macro Trader 31
Following a Genius 31
The Path of Greatness 32
Starting Out 33
Knowing All the Markets 35
Global Macro Trading 36
Elliot Wave Theory 38
More Keys to Jones's Success 40
Success beyond Trading 43
Recreating Jones's Trading Strategies 43
Jones's Top Traits 44
CHAPTER 4 John Templeton: Legendary Mutual Fund Manager 47
What Made Templeton Famous 47
Templeton's Life before Investing 49
Educational Aspirations 50
The Married Life 52
Templeton's Big Move 53
Back to New York 54
Looking to the Future, and the Templeton Growth Fund 55
Templeton's Second Marriage and Fund 56
The Bahamas 57
Recreating Templeton's Trading Strategies 58
Templeton's Top Traits 59
CHAPTER 5 Jesse Livermore: Legendary Speculator 61
Livermore's History 61
At Home in New York 63
Fame and Fortune 63
The Panic of 1907 64
The Crash of 1929 65
Livermore's Tragic End 66
An Example of Livermore's Influence Today 68
Recreating Livermore's Trading Strategies 69
Livermore's Top Traits 69
CHAPTER 6 John Paulson: The Greatest Trade of All Time 73
Paulson's Early Career 73
Paulson & Co. 74
The Greatest Trade 74
Recreating Paulson's Trading Strategies 79
Paulson's Top Traits 81
CHAPTER 7 George Soros: From Humble Beginnings to World Trader 83
Soros's Famous Trades 84
The Hardships of a Trading Genius 87
Going to School in London 88
Work in New York 90
Joining the Big Leagues 91
Finding Himself 93
Crashing from Success 95
A New Prot´eg´e 97
Onto the World Stage 98
The Backlash 100
A Conflicted Mind 101
A New Era 101
Recreating Soros's Trading Strategies 102
Soros's Top Traits 103
CHAPTER 8 David Einhorn: A Company's Worst Nightmare 105
Allied Is Not an Ally 105
Lucky Lehman 108
The Great Beyond 110
Recreating Einhorn's Trading Strategies 111
Einhorn's Top Traits 112
CHAPTER 9 Martin Schwartz: From Amateur to Superstar 115
Start Small, Go Big 115
Trading Like a Rock Star 117
Winding Down 118
Recreating Schwartz's Trading Strategies 120
Schwartz's Top Traits 121
CHAPTER 10 John Arnold: Master of Energy 123
Success at Enron 123
Centaurus Energy 124
The Explosion 126
Recreating Arnold's Trading Strategies 127
Crude Oil 127
Natural Gas 128
Arnold's Top Traits 130
CHAPTER 11 More Great Trades: Phillip Falcone, David Tepper, Andrew Hall, Greg Lippmann 131
Phillip Falcone 131
Recreating Falcone's Trading Strategies 134
David Tepper 135
Recreating Tepper's Trading Strategies 136
Andrew Hall 138
Recreating Hall's Trading Strategies 139
Greg Lippmann 141
Recreating Lippmann's Trading Strategies 143
In Summary 144
Notes 147
Glossary 149
References 151
Helpful Web Sites 157
Index 161
See More
Vincent Veneziani is a trader and writer on markets, financial news, hedge funds, and??economics for financial publisher Markets Media. He has also appeared on CNBC, Russia Today, and the BBC as a commentator. Previously, Veneziani worked at Business Insider covering Wall Street and the economy. He has also written in the past for Gawker Media, AOL, the New York Daily News, Popular Mechanics, and TechCrunch. Veneziani currently resides in New York City.
See More
More in this series