The Power in a Link: Open Doors, Close Deals, and Change the Way You Do Business Using LinkedIn
ISBN: 978-1-118-13467-2
169 pages
December 2011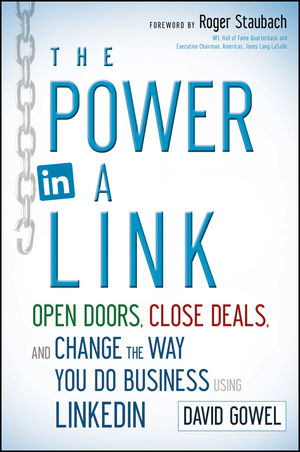 Make your LinkedIn account work for you and your business
LinkedIn is not just another social media tool. It's the world's largest professional online network, with over 120 million users in over two hundred countries. The Power in a Link shows you how to employ this remarkable yet misunderstood resource to execute networking strategies and processes for your business, secure deals, and use (not abuse) your existing relationships.
Author David Gowel, the man the Boston Globe has called the "LinkedIn Jedi," delivers the understanding necessary to map networks, stimulate word of mouth, and leverage unparalleled business intelligence to close deals. Arguing that LinkedIn is not social media at all, but instead belongs in a category all of its own, the book cuts through the noise in the crowded social media world with practical applications and explains why all professionals should embrace it in order to achieve success faster through relationships. This book:
Advises readers how to spur effective network growth by projecting the right message online
Demonstrates how to build and enhance readers' online presence
Shows readers how to seek targeted introductions to the connections that matter most
Explains why LinkedIn has been misunderstood and therefore misused by many users as well as how to correct past LinkedIn mistakes
Partly conceptual, partly autobiographical, and partly technical, The Power in a Link includes success stories from Gowel and other professionals that demonstrate the effectiveness of his techniques.
See More
Foreword by Roger Staubach vii
Preface ix
About the Author xii
Introduction xiii
Part 1 Why Wake Up? 1
1 Engaging in the Social Capital Trade 3
2 LinkedIn-a-Nutshell 17
3 Social Network Analysis 27
4 A Search That Is Truly Advanced 37
Part 2 From Army Ranger to LinkedIn Jedi 47
5 A Lesson in the Power of the Network 49
6 Well-Connected Connections 59
7 When Recommendations Are Powerful 65
8 Make Better Introductions 77
9 In Like a Ranger, Out Like a Rockefeller 87
Part 3 Getting Technical 97
10 Disrupting Your Privacy and Security 99
11 Projecting the Right Message 111
12 Effective Network Growth 127
13 Business Tools 145
14 The World at Your Fingertips 155
Notes 161
Acknowledgments 163
Index 165
See More
DAVID GOWEL is the CEO of RockTech, a software company that allows professionals to quickly adopt new technologies, with offices in Cambridge and New York City. He cofounded the marketing firm Clearly Creative, where his successes earned him the title of "LinkedIn Jedi" in the Boston Globe. David taught at MIT as an assistant professor of military leadership after serving in Iraq as an Army Ranger and combat platoon leader. He is currently a board member of the East End House Community Center and a founding member of the Kendall Square Association in Cambridge, Massachusetts.
See More