E-book
Nanotechnology For Dummies, 2nd Edition
ISBN: 978-1-118-13688-1
360 pages
July 2011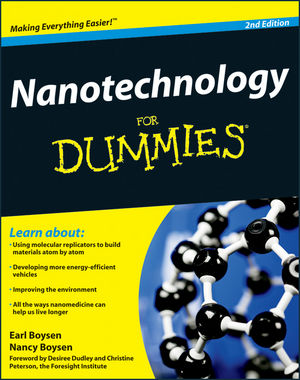 The bestselling introductory guide on nanotechnology?now revised and updated
The world of nanotechnology is ever changing and evolving; this fun and friendly guide demystifies the topic for anyone interested in how molecule-sized machines and processes affect our everyday lives. The authors begin with explaining the background of nanotechnology and then examine industries that are affected by this technology. Aiming to educate and simultaneously dispel common myths, the book explores the many nanotechnology-enabled consumer products available on the market today, ranging from socks to face lotion to jet skis to floor cleaners, to name a few.
Serves as a fun and friendly introduction to the fascinating topic of nanotechnology
Discusses the various issues involving nanotechnology in the areas of environment, medicine, defense, and others
Provides real-world examples of everyday nanotechnology use such as floor cleaners, flash memory drives, face lotion, computer processors, and more
Written in the accessible, humorous For Dummies style, Nanotechnology For Dummies, 2nd Edition provides an easy-to-understand overview of nanotechnology and its real-world implementation.
See More
Foreword xxi
Introduction 1
Part I: Nanotechnology Basics 5
Chapter 1: Introduction to Nanotechnology Concepts 7
Chapter 2: Who's Doing What? 19
Chapter 3: Building Blocks: Nanomaterials 37
Chapter 4: Nano Tools 59
Chapter 5: Putting Nanotechnology to Work 77
Part II: Nano Applications 93
Chapter 6: Nanoscale Electronics 95
Chapter 7: Nanotechnology in Your House and Car 113
Chapter 8: When Nano Gets Personal 133
Chapter 9: Changing the Way We Do Medicine 159
Chapter 10: Saving Energy with Nano 181
Chapter 11: Improving the Environment 197
Chapter 12: Star Wars: Nano in Space and Defense 213
Part III: Nanotechnology and People 229
Chapter 13: Nano Ethics, Safety, and Regulations 231
Chapter 14: Making Nano Work for You: Education and Careers 245
Part IV: The Part of Tens 259
Chapter 15: Top Ten Nano Web Sites 261
Chapter 16: Ten Nano Universities 273
Chapter 17: Ten Interesting Nano Research Labs 287
Glossary 307
Index 313
See More
Earl Boysen
is the founder of UnderstandingNano.com and was an engineer in the semiconductor industry for 20 years. He coauthored the first edition of this book as well as
The All-New Electronics Self-Study Guide
.
Nancy Boysen has written more than 60 books on technology. She is senior editor for UnderstandingNano.com and runs TechSmartSenior.com.
See More