Architecture of First Societies: A Global Perspective
ISBN: 978-1-118-14210-3
672 pages
October 2013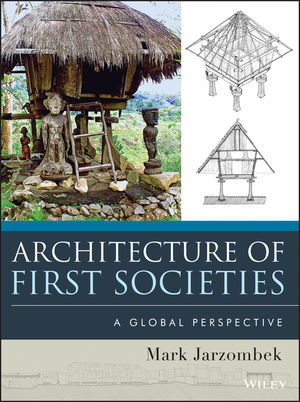 "This book is the most comprehensively global and critically sensitive synthesis of what we now know of the material and socio-cultural evolution of the so-called First Societies. Written by a distinguished architectural historian and theorist, this truly remarkable and indispensable study shows how the material culture of our forebears, from building to clothing, food, ritual and dance, was inextricably bound up with the mode of survival obtained in a particular place and time…It is a study that will surely become required reading for every student of material culture."—Kenneth Frampton
Starting with the dawn of human society, through early civilizations, to the pre-Columbian American tribes,
Architecture of First Societies: A Global Perspective
traces the different cultural formations that developed in various places throughout the world to form the built environment. Looking through the lens of both time and geography, the history of early architecture is brought to life with full-color photographs, maps, and drawings. Drawing on the latest research in archaeological and anthropological knowledge, this landmark book also looks at how indigenous societies build today in order to help inform the past.
See More
Acknowledgments vii
Introduction ix
Part One: Foundations 1
Chapter 1: The Human World 3
Chapter 2: Late Pleistocene—Early Holocene Societies 49
Chapter 3: Savanna and Forest Peoples Today 87
Chapter 4: The Great Northern Continuum: Part I 117
Chapter 5: The Great Northern Continuum: Part II 151
Chapter 6: The Mound and Plaza Societies of the Americas 191
Chapter 7: Plants, Animals, and Rituals 225
Chapter 8: The First Agro-Pastoral Perspectives 263
Part Two: Transitions 297
Chapter 9: Village and Chiefdom Worlds 299
Chapter 10: Expansion into Europe 315
Chapter 11: Emergence of Central and South American Agriculture Societies 397
Chapter 12: Cattle-Tending Societies 451
Chapter 13: The World of Portable Architecture 477
Chapter 14: The Oceanic Horticultural Continuum 515
Chapter 15: African Transformations 549
Chapter 16: Agro-Centrism in North America 575
Coda: Encounters with Modernity 637
Index 643
See More
MARK JARZOMBEK is Associate Dean of the School of Architecture and Planning and Professor of the History and Theory of Architecture at MIT. He is the author of several books, and coauthor with Francis D.K. Ching and Vikramaditya Prakash of A Global History of Architecture, Second Edition.
See More
Instructors Resources
Request a print evaluation copy
Contact us

See More
See Less
Learn more about