Practical Golf Course Maintenance: The Magic of Greenkeeping, 3rd Edition
ISBN: 978-1-118-14374-2
272 pages
November 2012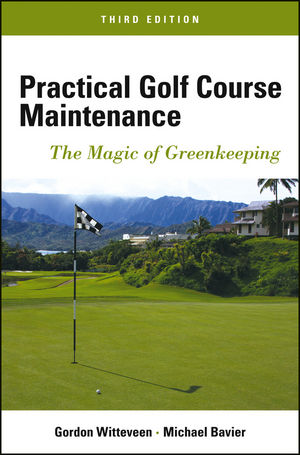 The revised, bestselling resource of practical, nontechnical advice for maintaining and operating a golf course
Practical Golf Course Maintenance, Third Edition presents the latest information and techniques for providing first-rate upkeep and management operations for any golf course. This book's, clear, step-by-step coverage, unencumbered by technical language, includes critical advice on maintaining consistent bunkers, sand top-dressing and aerifying, pesticide storage, and other emerging technologies, as well as mowing techniques for greens, fairways, and tees—and much more!
This updated Third Edition offers reliable, state-of-the-art guidance and hundreds of helpful tips with:
Major revisions throughout to address the latest information on computer- operated irrigation systems, new equipment for all aspects of course maintenance, water quality and conservation issues, and managing people
A clear approach that avoids technical language and scientific citations while delivering practical advice that can be immediately applied on the course
Coverage of all aspects of course maintenance from tee to green, along with guidance on managing the course for the rules of the game and managing the business aspects of course management and maintenance
Practical Golf Course Maintenance, Third Edition is a valuable tool for golf course owners, architects, builders, golfers, golf professionals, club managers, and superintendents, as well as greens committee members, irrigation specialists, field managers, turfgrass specialists, real estate developers, and landscape architects.
See More
Foreword ix
Preface xi
Acknowledgments xiii
1 Greens 1
2 Tees 26
3 Fairways 34
4 The Rough 45
5 Bunkers and Their Maintenance 54
6 Water 70
7 Fertilizer 82
8 Topdressing 91
9 Aerating, Spiking, and Verticutting 101
10 Spraying 117
11 Seeding, Sodding, and Sprigging 127
12 Drainage 144
13 Trees 157
14 Landscaping 168
15 Traffic and Paths 174
16 Changing Cups, Flagsticks, and Tee Markers 184
17 Rules of Golf That Affect Maintenance 195
18 Budgeting for Machinery and Tools 201
19 The Grounds Maintenance Facility 208
20 Managing People 218
21 Greenkeeping Common Sense 227
22 Job Descriptions 235
Index 247
About the Authors 254
See More
The late GORDON WITTEVEEN started the Canadian Golf Superintendents Association in 1965 and served as its first secretary. He served on the Board of Directors of the Golf Course Superintendents Association of America and was a past recipient of the GCSAA's Distinguished Service Award and the Leo Feser Award. He started The Green Masters magazine and served as its editor for five years.
MICHAEL BAVIER (retired) was the longtime superintendent of Inverness Golf Club near Chicago. During his career, he served as president of the Golf Course Superintendents Association of America and was a past recipient of the GCSAA's Distinguished Service Award. He is a frequent speaker on the Turf Conference Tour, both in North America and overseas.
See More
Learn more about