Becoming a Fashion Designer
ISBN: 978-1-118-14382-7
320 pages
March 2013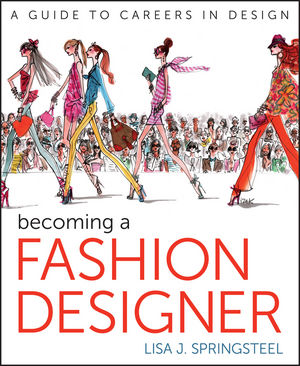 The complete guide to the fashion industry, featuring interviews with top designers who explain the intricacies of the world of fashion design
Anyone who has ever tried to launch a fashion design career knows how grueling it can be. The fashion industry is a highly prominent field, yielding a competitive environment that is greatly guarded, secretive, and difficult to infiltrate. Becoming a Fashion Designer provides all the information, resources, and tools you need to help you navigate these obstacles and successfully launch a career in fashion design.
Of the various job opportunities available in the fashion industry, the career path of a fashion designer consistently ranks as the most popular position in the field, making the competition even greater. The book pays special attention to this and demonstrates several ways in which an aspiring fashion designer can stand out from the competition. A dynamic and comprehensive career guide, this book imparts insider tips from top fashion designers and executives based around the world. Expert advice includes an introduction to a career in fashion design, educational requirements, career opportunities, the design process, portfolio creation, preparation for getting hired, steps to start and run one's own fashion design business, as well as a forecast of the future of the fashion industry.
Features original interviews from top designers and high-profile fashion executives, including Ralph Rucci, Reem Acra, Peter Som, Anna Sui, Nanette Lepore, Kay Unger, Stuart Weitzman, Dennis Basso, Randolph Duke, Zang Toi, Pamella Roland, Robert Verdi and Daymond John
Includes cases in point and insider tips throughout
Includes illustrations, drawings, sketches, and photographs demonstrating various aspects of working in fashion design, with special contributions from renowned illustrator, Izak Zenou and legendary fashion photographer, Nigel Barker
Offers in-depth resources to assist you on your journey to becoming a fashion designer
Whether a student, recent college graduate, industry professional or career changer, you'll learn everything you need to know to successfully develop a fashion design career.
See More
FOREWORD vii
by Nanette Lepore
PREFACE ix
ACKNOWLEDGMENTS xv
1 An Introduction to a Career in Fashion Design 1
What Is Fashion Design? 4
What Do Fashion Designers Do? 32
History of Fashion Design: Then and Now 59
The Worldwide Fashion Industry by the Numbers 76
Embracing the World of Fashion 87
Finding Balance 109
2 The Education for a Fashion Design Career 111
Choosing a Collegiate Educational Program 111
Undergraduate Education 112
The Value of Internships 128
Studying Abroad 136
Postgraduate Education 137
Continuing Education 138
3 The Job Market 141
Determing Your Design Specialty 141
Personal Branding 152
Portfolio Development 155
Creating a Résumé that Pops 166
Networking Your Way to a Job Offer 171
Tried-and-True Job Search Strategies 176
Perfecting the Job Interview 180
Negotiating the Job Offer 201
4 The Fashion Design Process 207
Conceptual Development 208
Patternmaking 211
Sample Creation 214
Finalization, Presentation, and Hand-Off 215
5 Launching Your Own Fashion Collection 217
Writing a Business Plan 218
Choosing Type of Ownership 218
Defining Your Brand 223
Protecting Your Designs 231
Creating Accounting, Budgeting, and Bookkeeping Systems 236
Hiring Employees, Contractors, and Interns 237
Developing a Marketing Plan 239
Establishing a Sales and Order Fulfillment Strategy 251
6 Strategic Business Trends in the Fashion Industry 261
Outsourcing and Globalization 261
Corporate Social Responsibility 262
APPENDIX 281
Professional Organizations, Associations, and Councils 281
Fashion Industry Networking Websites 283
Professional Networking Websites 284
Social Networking Websites 284
Professional Trade Publications 285
Online Portfolio Websites 285
Color and Trend Forecasting Companies 286
Broadcast and Cable Television Programming with a Fashion Theme 287
Full-Feature Movies with a Fashion Theme 288
Documentaries with a Fashion Theme 289
Major Fashion Magazines 290
INDEX OF INTERVIEWS 293
INDEX 295
See More
LISA J. SPRINGSTEEL is a twenty-year veteran of the fashion industry who has worked for luxury design firms such as Ralph Lauren and Marc Jacobs, and apparel powerhouses Phillips-Van Heusen and Limited Brands in a variety of capacities, from fashion design to global fabric sourcing, research, and development. Her experience extends to the media world, where she covered New York Fashion Week runway shows, interviewed top designers, and wrote numerous magazine and newspaper articles on fashion, beauty, and health. She has been featured in the Sean Combs MTV documentary, If I Were King and on America Live with Megyn Kelly on Fox News.
See More