E-book
Intellectual Property Operations and Implementation in the 21st Century Corporation
ISBN: 978-1-118-14392-6
384 pages
September 2011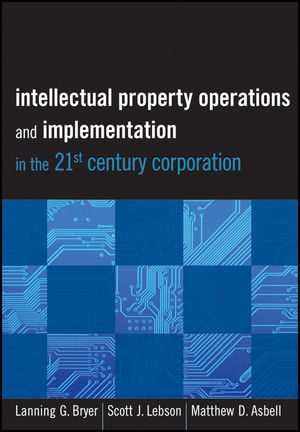 A practical approach to corporate IP operations and implementation
Intellectual Property Operations and Implementation helps executives, attorneys, accountants, managers, and owners, understand the legal, technological, economic, and cultural changes that have affected corporate IP ownership and management.
Page by page, it provides practical examples and advice from seasoned and enduring professionals who have adopted new and streamlined methods and practices whether as in-house or outside counsel, or service providers.
Timely and relevant in view of the substantially global economic recession amidst rampant technological development and the resulting changes in law, practice, and culture
Examines the decision making processes, activities, and changes of significant corporate intellectual property owners in today's new economy
Important and timely, this book provides a global approach to corporate IP management.
See More
Preface xiii
Acknowledgments xix
CHAPTER 1 Conflicts: Causes, Prevention, and Controlling Counterfeiting 1
In-House Enforcement Strategies on the Internet 2
Partnering with Outside Legal Counsel 6
Conclusion 11
Notes 12
CHAPTER 2 Electronic Discovery in Intellectual Property Cases 15
Electronic Discovery Process 16
Conclusion 31
Notes 31
CHAPTER 3 Controlling Patenting Costs 37
Defining the Objective 37
Deciding Where to File 39
Delaying Costs 42
Alternative Means of Protection 42
Proper Preparation 45
Logistics of Filing 47
PCT Formality Advantages 49
Avoiding Duplication of Effort 50
Prosecution Issues 51
Particular Issues in the United States 52
Particular Issues in the EPO 53
Particular Issues in Japan 54
Pruning the Portfolio 54
Licenses of Right 54
Conclusion 56
Notes 56
CHAPTER 4 Trademark Costs: Trimming the Sails in Rough Economic Waters 61
Evaluating and Organizing a Trademark Portfolio 63
Selecting and Clearing a New Trademark 66
Filing and Pursuing Trademark Registrations 71
Using and Enforcing Trademark Rights 79
Conclusion 80
Notes 80
CHAPTER 5 Domain Names 85
An Overview of the Internet 85
Domain Names 86
Conclusion 98
Notes 99
CHAPTER 6 Creating, Perfecting, and Enforcing Security Interests in Intellectual Property 103
U.S. Securitization of Intellectual Property 104
Perfection of Security Interests in Trademarks in the United States 107
Perfection of Security Interests in Patents in the United States 109
Perfection of Security Interests in U.S. Copyrights 110
Perfection of Security Interests in Domain Names 112
Attempts to Harmonize Perfection Laws in the United States as It Relates to Intellectual Property 112
Default 113
International Creation and Perfection of Security Interests 114
Conclusion 116
Notes 117
CHAPTER 7 Strategic and Legal View of Licensing Patents 121
Nomenclature 122
State of the Law 124
Basic Principles for Licensing 125
How Does One Go About Licensing Out Patents, and What Are Some Strategic Considerations? 127
Some Legal Considerations for a Patent Licensor 132
Strategic and Legal Considerations for a Patent Licensee 133
Royalty Audits 133
Conclusion 134
Notes 136
CHAPTER 8 Monetizing IP Rights: Licensing In and Out 139
Grant of Rights 140
Key Defined Terms 141
Quality Control 143
Term and Termination 144
Confidentiality 146
Managing Costs: Insurance, Indemnifications, Reps, and Warranties 147
Conclusion 148
Notes 148
CHAPTER 9 Working with Government 151
The Big Picture 152
Commercial or Noncommercial 154
Commercial Item 154
Changes to COTS Using Government Funding 154
Noncommercial Item 155
Noncommercial Item Development 156
Noncommercial Item Development Funding 157
Noncommercial Item License Rights to the Government 157
Noncommercial Item Doctrine of Segregability 158
Noncommercial Item Assertions Table 159
Marking 160
Deferred Ordering 160
Beware the Prototype 161
Inventions and Patents in Noncommercial Contract Effort 161
Noncommercial Item Effort Impact 162
Private Funding and Government Funding 163
Reuse Prohibitions 163
Treatment of Subcontractors 164
Outsourcing of Government Work 164
IP Owner's Rights Relative to Government Activity 165
Conclusion 165
Notes 165
CHAPTER 10 Valuation, Monetization, and Disposition in Bankruptcy 169
IP and the Bankruptcy Context 169
Quality, Hierarchy, and Value 171
The Valuation Process 172
Value Extraction: Monetization and Disposition 176
Lessons: Due Diligence and Marketing 178
IP Monetization in the 21st Century 179
Conclusion 180
Notes 180
CHAPTER 11 Outsourcing of Branding and Marketing 183
Brand Naming Project Dynamics 184
Brand Naming Compared to Reference Naming 185
The Descriptive Brand Name Problem 186
The Unique Brand Name Value 187
A Memorable Brand Name? 187
Common Misguided Brand Name Criteria 188
Six Criteria for Effective Brand Names 189
The Supporting Role of a Descriptive Phrase 191
The Graphic Realization of a Brand Name 192
The Value of Graphic Realizations 193
Comparing ''Logotypes'' and ''Mark Plus Logotypes'' for Brand Development Powers 194
The Criteria for Graphic Signature Effectiveness 196
Evolving Influence of the Internet on Brand Naming and Graphics 198
Digital Facilitation of Content 199
Conclusion 199
Notes 200
CHAPTER 12 Trademark Searches 203
The Trademark Search Process 204
Trademark Search and Risk 206
Use of a Professional Search Firm 207
Working with the Search Firm In-House or through Outside Counsel 208
Questions to Ask Before a Search Is Conducted 211
Information to Keep in Mind 215
Strength of Mark and Its Effect on the Search 216
What a Clearance Search Can Provide 219
Importance of Online Platform and Tools in Clearance 221
Online Screening Uses and Options 222
Comprehensive Search (United States and Canada) 224
Specialized Search Services 224
Global Search Options (non–United States and Canada) 225
Conclusion 228
Notes 229
CHAPTER 13 Investigations: Considerations for Selecting and Directing Outside Investigators 231
Why Hire Outside Investigators 232
What to Expect from Your Investigators 237
Special Considerations for Attorneys 240
How to Find IP Investigators 243
Other Services that Investigators Can and Should Be Able to Provide 244
International Investigations 246
Conclusion—The Future 248
Notes 248
CHAPTER 14 Model Intellectual Property Internship Programs: Internship Programs within the Scope of Employment Law 251
Benefits and Drawbacks of Using Legal IP Interns 251
Employment Law Issues 252
Sources and Screening of Potential Interns 254
Structure of the Internship Program 255
Retaining and Maximizing the Benefits of Postinternship Relationships 257
A Model IP Law Internship Program 258
The Current Trend in Internship Programs 259
Conclusion 259
Notes 259
CHAPTER 15 Maximizing ''Green'' Brand Exposure and Minimizing Perceptions of Greenwashing 263
Green Branding 264
Conclusion 278
Notes 279
CHAPTER 16 The Financial Reporting Impact of Intellectual Property Activity 291
IP Activity 291
Relevant IP Accounting Guidance 292
Accounting for IP Business Activities 296
Future Transition to International Financial Reporting Standards 303
Conclusion 304
Notes 304
About the Editors 307
About the Contributors 309
Index 313
See More
LANNING G. BRYER is a Partner in the New York office of Ladas & Parry LLP and is Director of the firm's Mergers, Acquisitions, and Licensing Group. He is coauthor of Intellectual Property Assets in Mergers and Acquisitions, published by Wiley.
SCOTT J. LEBSON is a Partner in the Mergers, Acquisitions, and Licensing Group of Ladas & Parry LLP, focusing primarily on counseling clients with respect to the acquisition, sale, licensing, and securitization of intellectual property rights and related technology.
MATTHEW D. ASBELL is an Associate in the New York office of Ladas & Parry LLP, primarily practicing in the area of domestic and international trademark law.
See More