E-book
Cheese For Dummies
ISBN: 978-1-118-14552-4
408 pages
August 2012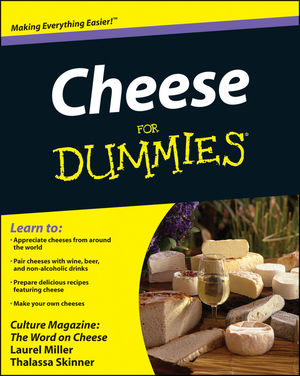 An accessible guide to selecting, cooking with, and making cheese
From a pungent Gorgonzola to the creamiest Brie, the world of cheese involves a vocabulary of taste second only to wine.  With the rise of artisanal cheeses, this once humble food made from curdled milk is now haute cuisine. And to make the new world of cheese less intimidating, Laurel Miller and Thalassa Skinner have created a handy primer to selecting cheese, pairing cheese with wine, cooking with cheese, and making cheese. In Cheese For Dummies, everyday cheese lovers will learn how to become true cheese connoisseurs.
Not only will readers get a look at how different cheeses are made around the world, in Cheese For Dummies, they'll develop enough of a palate to discern which cheese is right for them.
Explains how to assemble the perfect cheese plate
Includes recipes for cooking with cheese
Details how to make five cheeses, including Mozzarella, Chevre, and Ricotta
Supplemented with a 16-page photo insert
With artisanal and imported cheeses now common to mainstream grocery stores, the everyday cheese lover needs more than simply his nose to make the best choice. Offering wise (and delicious!) advice on every page, Cheese For Dummies is a guide for anyone interested in making every mealtime with cheese a special occasion.
See More
Foreword xxi
Introduction  1
Part I: Getting to Know Cheese 7
Chapter 1: A Crash Course in Cheese 9
Chapter 2: Tracing Cheese from Farm to Table 17
Chapter 3: A Hard Look at Soft Cheeses 39
Chapter 4: Grate Tastes: Hard Cheeses 59
Part II: Choosing and Serving Cheese 73
Chapter 5: Using the Senses to Taste and Learn about Cheese 75
Chapter 6: Purchasing Pointers 85
Chapter 7: Serving and Storing Cheese 95
Part III: Cheese Around the World 109
Chapter 8: The Americas 111
Chapter 9: The British Isles and Ireland 135
Chapter 10: France 147
Chapter 11: Italy 165
Chapter 12: Spain, Portugal, and Other Mediterranean Countries 179
Chapter 13: The Rest of Europe 197
Chapter 14: Off-the-Map Cheesemaking 213
Part IV: Eating, Drinking, and Cooking with Cheese 229
Chapter 15: Making Cheese the Life of the Party 231
Chapter 16: Having a Drink with Your Cheese 245
Chapter 17: Cooking with Cheese, Pt. 1: Appetizers, Salads, and Sides 263
Chapter 18: Cooking with Cheese, Pt. 2: Main Dishes and Desserts 289
Chapter 19: Making Cheese at Home 317
Part V: The Part of Tens 331
Chapter 20: Ten of the World's Most Bizarre Cheeses 333
Chapter 21: Ten of America's Most Influential Artisanal Cheesemakers 339
Chapter 22: Ten Cheese Festivals You Shouldn't Miss 345
Chapter 23: Ten Cheese Festivals You Shouldn't Miss 351
Appendix: Metric Conversion Guide 357
Index 361
See More
culture magazine
(www.culturecheesemag.com) covers everything to do with cheese, including travel, pairings, recipes, and DIY cheese.
Laurel Miller is a food and travel writer based in the Western U.S., contributing editor at culture, and culinary educator and owner of The Sustainable Kitchen.
Thalassa Skinner is co-founder of culture and a cheesemonger in Napa Valley, CA, where she is passionately involved with the local cheese, food, wine, and beer scene.
See More