Software
Mass Spectra of Pesticides with Retention Indices
ISBN: 978-1-118-14582-1
November 2011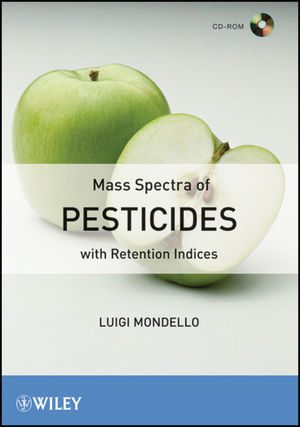 The Purest Samples Make the Best Pesticides Library
Mass Spectra of Pesticides contains 925 pesticides and 33 saturated hydrocarbons (C7-40) spectra with retention indices. All the spectra, registered with official CAS information, have been acquired from the injection of pure chemicals. All the retention indices reported have been verified with data reported in the specific literature, and tested for repeatability. The compounds had been tested three times during a six-month period.
The mass spectra and retention indices registered in the Mass Spectra of Pesticides library were obtained using the Shimadzu GCMS- QP2010 by the Mondello group of the University of Messina in Italy using the SLB-5ms.
Compound Coverage Verification
Labs can verify compound coverage by visiting Compound Search.
Available Formats
Formats included on the disc include Agilent Chemstation and Masshunter, ACD/Labs MS Manager, NIST software (compatible with JEOL, Leco, Bruker, Thermo xCalibur), PerkinElmer TurboMass, Thermo Spectral ID, Waters TurboMass.
Shimadzu
Shimadzu GCMS Solution format is available exclusively from Shimadzu.
See More
Professor Dr. Luigi Mondello is a prominent figure in the flavors and fragrances research industry as the author of Mass Spectra of Pesticides with Retention Indices, Flavors and Fragrances of Natural and Synthetic Compounds, and FAMEs Fatty Acid Methyl Esters: Mass Spectral Database, as well as the Editor of the Journal of Separation Science published by John Wiley & Sons and Editor in Chief of the Journal of Essential Oil Research published by Taylor & Francis. He received a degree in Chemistry from the University of Messina, Italy in 1991 and is now a Full Professor of Analytical Chemistry in the Department of Chemistry Science, Biological Science, Pharmaceutical Science and Environmental Science for the University. Prof. Mondello is currently the author of 292 scientific papers, 63 book chapters, and 25 reviews. His research interests include chromatography techniques and the advancement of coupled techniques such as LC-GC-MS, GC-GC, GCxGC, LCxLC, LCxGC and their applications in the study of natural and synthetic complex matrices.
See More
Learn more about