Software
Mass Spectra of Pesticides with Retention Indices
ISBN: 978-1-118-14582-1
November 2011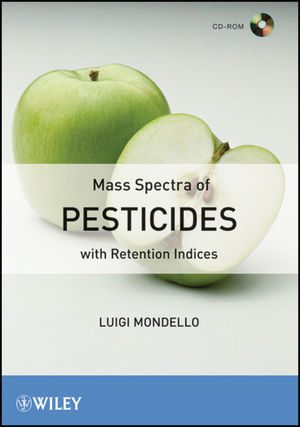 The Purest Samples Make the Best Pesticides Library
Mass Spectra of Pesticides contains 925 pesticides and 33 saturated hydrocarbons (C7-40) spectra with retention indices. All the spectra, registered with official CAS information, have been acquired from the injection of pure chemicals. All the retention indices reported have been verified with data reported in the specific literature, and tested for repeatability. The compounds had been tested three times during a six-month period.
The mass spectra and retention indices registered in the Mass Spectra of Pesticides library were obtained using the Shimadzu GCMS- QP2010 by the Mondello group of the University of Messina in Italy using the SLB-5ms.
Compound Coverage Verification
Labs can verify compound coverage by visiting Compound Search.
Available Formats
Formats included on the disc include Agilent Chemstation and Masshunter, ACD/Labs MS Manager, NIST software (compatible with JEOL, Leco, Bruker, Thermo xCalibur),  PerkinElmer TurboMass, Thermo Spectral ID, Waters TurboMass.
Shimadzu
Shimadzu GCMS Solution format is available exclusively from Shimadzu.
See More
Learn more about