E-book
The Mobile Academy: mLearning for Higher Education
ISBN: 978-1-118-14605-7
112 pages
September 2011, Jossey-Bass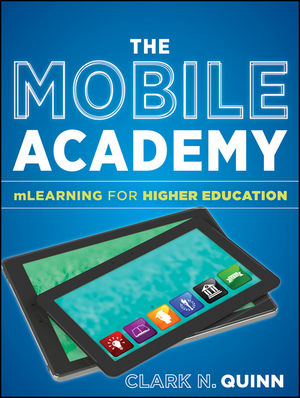 A fundamental revolution in higher education is being sparked by the ubiquity of mobile devices used by students, faculty, and administrators. The opportunity is ripe for institutions, instructors, and instructional designers to take advantage of mobile technology to enhance the learning experience. To do this, we need to understand the power on tap, examine fundamental principles, review illustrative examples, and ultimately think through ways to improve the learner experience.
The Mobile Academy contains theoretical and practical guidance on the ways mobile devices can be used most effectively in higher education. It is a guide for systematically integrating mobile devices into courses and other academic and student support services in order to facilitate learning outcomes and student success.
The book covers a wealth of topics, including the use of text messages, mobile web, e-books, and mobile apps, as applied to:
Administration: How mobile devices can be used to enhance enrollment, registration, alert messaging, surveys, and more
Classroom Content: Suggestions for using mobile devices audio, video, documents, and other content
Assessment: Guidance for applying mobile technology to portfolios, quizzes, simulations, and more
Communication: Guidance on the various mobile communication options and social networks used for student-teacher interactions and social activities that foster learning
The Future: Covers the next wave of mobile learning including virtual field trips, augmented reality, alternate reality games, and more.
See More
List of Figures vii
Preface ix
Acknowledgments xi
About the Author xiii
1 TheMobile Revolution 1
Context 1
Related Experiences 3
Why Higher Education Needs to Pay Attention 4
The Rest of This Book 5
Practice 6
2 Foundations: Mobile 7
Devices 7
Of Platforms and Processing Power 17
Four C'S and Thinking Differently 17
Definition 21
Summary 22
Practice 22
3 Foundations: Learning 23
Making Learning Work 26
Beyond the Basics 33
Summary 37
Practice 37
4 Administration ''To Go'' 39
Principles 41
Delivery 44
Summary 46
Practice 47
Task Checklist 47
5 Content Is King 49
Media 49
Media Specifics 56
Accessing 58
Summary 61
Practice 61
Content Form 61
6 Practice: Interactivity and Assessment 63
Design 63
Interactions 67
Meta-learning 73
Summary 74
Practice 74
Category Checklist 75
7 Going Social 77
Learning Interactions 78
Social Media 81
Meta-learning 83
Summary 84
Practice 85
Channel Checklist 85
8 Going Beyond 87
Augmented Reality 87
Alternate Reality 89
Adaptive Delivery 91
Moving Forward 93
Practice 94
9 Getting Going: Organizational Issues 95
Design 95
Development 96
Implementation 98
Policies 100
You Gotta Be in It to Get It 102
Practice 104
Bibliography 105
Index 111
See More
Clark N. Quinn is a recognized leader in learning technology strategy and the executive director of Quinnovation, an independent consultancy focusing on organizational learning strategy and the design of learning technology solutions. He is the author of numerous books including Designing mLearning: Tapping into the Mobile Revolution for Organizational Performance and Engaging Learning: Designing e-Learning Simulation Games, both from Pfeiffer.
See More
Learn more about