E-book
Teaching for Critical Thinking: Tools and Techniques to Help Students Question Their Assumptions
ISBN: 978-1-118-14671-2
304 pages
October 2011, Jossey-Bass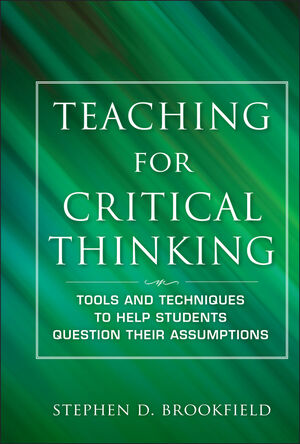 According to AAC&U's 2013 employer survey, 93% of employers agree that a candidate's "demonstrated capacity to think critically, communicate clearly, and solve complex problems" is more important than their undergraduate major. Likewise, more than three in four employers say they want colleges to place more emphasis on helping students develop critical thinking skills.

In Teaching for Critical Thinking, Stephen Brookfield builds on his last three decades of experience running workshops and teaching courses on critical thinking to explore how student learn to think this way, and what teachers can do to help students develop this capacity.  He outlines a basic protocol of critical thinking as a learning process that focuses on uncovering and checking assumptions, exploring alternative perspectives, and taking informed actions as a result. Written to address the broad range of disciplines, this book fosters a shared understanding of critical thinking and helps to various constituencies adapt general principles to specific disciplinary contexts.
See More
Preface vii
About the Author xvii
1 What Is Critical Thinking? 1
2 Critical Thinking Across the Disciplines 27
3 How Critical Thinking Is Learned 53
4 Introducing Basic Protocols of Critical Thinking 77
5 Developing Critical Complexity: Intermediate and Advanced Protocols 105
6 Reading and Writing Critically 129
7 Integrating Critical Thinking Across the Curriculum 155
8 Making Discussions Critical 179
9 Misunderstandings, Challenges, and Risks 205
10 Modeling Critical Thinking 233
References 261
Index 269
See More
Stephen D. Brookfield is Distinguished University Professor at the University of St. Thomas in Minneapolis, Minnesota. For forty years he has taught in the United States and abroad. A four-time winner of the Cyril O. Houle Award for Outstanding Literature in Adult Education, he is the author of numerous books on teaching, including The Skillful Teacher and Developing Critical Thinkers.
See More
Learn more about