Complete B2B Online Marketing
ISBN: 978-1-118-14784-9
288 pages
August 2012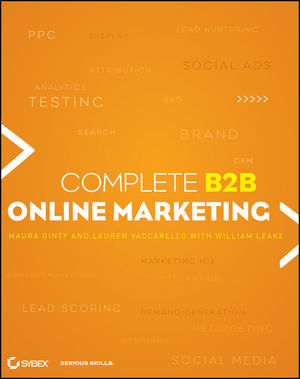 Learn to take full advantage of search and social media for B2B marketing
Business-to-business marketers have been slow to enter the online marketing arena, but now that the impact of search and social media marketing in the consumer marketplace is clearly documented, B2B marketers are ready for a complete guide to making the most of the medium. Written by experts with first-hand knowledge of the field, this book clearly explains how to leverage today's search engine marketing and social media technologies to get, nurture, and convert leads. Topics include strategy, branding, monitoring, resource allocation, and much more.
B2B marketers need detailed, practical guidelines and strategies for how best to gain, nurture, and convert leads using today's Internet technologies and strategies
This ultimate how-to guide examines strategic and branding considerations, search engine optimization techniques, and how to maximize the impact of banner ads and landing pages
Explains how to use social media listening and monitoring tools, how to engage visitors, and how to allocate resources to ensure success
Covers measuring results, improving web site usability, using metrics, and nurturing leads
Skilled B2B marketers who are ready to take advantage of all that online marketing has to offer will find this guide provides exactly the know-how they need.
See More
Introduction xxi
Chapter 1 Understanding B2B Online Marketing 1
Why Online? 2
B2B Is Different 5
Developing Your Strategy 11
and Measurement 13
Chapter 2 Building a B2B Brand Online 17
Understanding Online and Using Digital to Build a Brand 18
Tactical Guide to B2B Branding Online 21
Go Identify Your Audience 29
Determining Your Content Strategy 32
Chapter 3 Search Engine Optimization: Outranking Your Competitors 37
What Is SEO? 38
The Wagging Tail of Keywords 41
Squeezing the Juice Out of Links 48
Designing for Optimal Results 52
Chapter 4 Using Paid Online Media in the B2B Marketplace 57
Search Engine Marketing 58
B2B Strategies for Paid Search 62
Display Advertising for B2B 69
Social Media Advertising 74
Chapter 5 Search and Social Media for Online PR 81
Overview of Traditional B2B PR 82
How Online PR Is Different 84
Three B2B Online PR Case Studies 90
Chapter 6 Social Media 101
Social Media Listening 102
Exploiting Your Resources 108
Social Engagement 115
Chapter 7 Optimizing with Metrics 121
Aligning Analytics with the Goals of Your Site 122
The Basics of Analyzing Metrics 122
Key Performance Indicators and Other Meaningful Reports .125
Wash, Rinse, and Repeat to Improve Your Site 126
Testing for Ongoing Optimization 133
Should It Stay or Should It Go? 135
Social Media Metrics 136
Chapter 8 Conversion Rate Optimization and Usability 141
Web Usability and CRO: Similarities and Differences 142
Where to Start: Stages for Usability and CRO 142
Key B2B Conversions 149
Getting Started with Usability Practices 152
Building Blocks for Usability 156
Chapter 9 Integrating Online with Offl ine Marketing 159
Can Events and Online Marketing Ever Join Forces? 160
Using Online Marketing to Track, Measure, and Understand Traditional Marketing 174
Chapter 10 Managing Your Leads: Automation and Nurturing 181
Basics of Marketing Automation 182
Lead Nurturing 183
Basics of B2B Email Marketing 198
Chapter 11 Integrating Marketing with CRM 203
Understanding Your CRM 204
Types of Data Integration 205
Marketing Automation and CRM 208
Must-Have CRM Metrics 215
Chapter 12 The Overall Marketing Mix 217
Marketing Mix Framework 218
Digital vs Traditional Investments 220
What Mix Is Most Effective? 221
Sometimes You Can't Predict the Future 227
Integrating New Forms of Marketing into the Mix 232
Glossary 241
Index 247
See More
Maura Ginty is a digital-era word geek with deep expertise in search, content strategy, and social media programs at Fortune 500 companies as well as small businesses. Lauren Vaccarello is the Senior Director of Online Marketing at Salesforce.com, where she focuses on developing cross-channel strategies that bridge the gap between awareness and demand-generation. William Leake is CEO and founder of the Apogee-branded marketing companies Search, Results, and Campaigns. Bill has guided them all from inception to success, with Apogee Search becoming one of the 20 largest independent search engine marketing firms in North America. All three authors are frequent speakers at leading industry events such as Search Engine Strategies, SMX, eMetrics, and others.
See More
Learn more about