E-book
Common Core Curriculum Maps in English Language Arts: Grades 6-8
ISBN: 978-1-118-14804-4
240 pages
October 2011, Jossey-Bass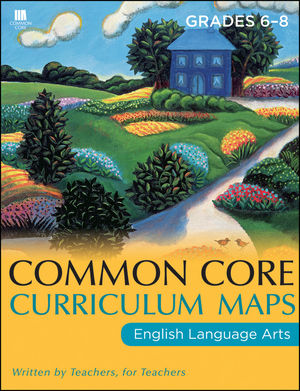 The first books to present specific guidance for teaching the Common Core State Standards
Forty-three states plus D.C and the U.S. Virgin Islands have signed on to adopt the Common Core State Standards (CCSS). The need for curriculum guides to assist teachers in helping students meet these standards has become imperative. Created by teachers, for teachers, the research-based curriculum maps in this book present a comprehensive, coherent sequence of thematic units for teaching the skills outlined in the CCSS for English language arts in Grades 6-8. Each grade is broken down into six units that include focus standards, suggested works, sample activities and assessments, lesson plans, etc.
Teachers can use the maps to plan their year and craft their own more detailed lesson plans
The maps address every standard in the CCSS, yet are flexible and adaptable to accommodate diverse teaching styles
Any teacher, school, or district that chooses to follow the Common Core maps can be confident that they are adhering to the standards.
See More
Foreword by Carol Jago
vii
Written by Teachers, for Teachers xi
Introduction by Lynne Munson xiii
How to Use the Common Core Curriculum Maps xvii
Grade 6 1
Unit 1 I Won't Grow Up 3
Unit 2 Folklore: A Blast from the Past 13
Unit 3 Embracing Heritage 23
Unit 4 Courageous Characters 33
Unit 5 Figure It Out 43
Unit 6 Winging It 53
Grade 7 61
Unit 1 Characters with Character 63
Unit 2 Perseverance 73
Unit 3 Courage in Life and in Literature 85
Unit 4 Survival in the Wild 99
Unit 5 Science or Fiction? 107
Unit 6 Literature Ref lects Life: Making Sense of Our World 117
Grade 8 125
Unit 1 Urban Settings in America: ''It Happened in the City'' 127
Unit 2 Rural Settings in North America: ''It Happened in the Country'' 137
Unit 3 Looking Back on America 149
Unit 4 Authors and Artists 161
Unit 5 Dramatically Speaking 173
Unit 6 ''The Road Not Taken'' 183
About Common Core 193
Acknowledgments 195
Index of Suggested Works 197
See More
Common Core is a non-profit organization formed in 2007 to advocate for a content-rich liberal arts education in America's K-12 schools. To improve education in America, Common Core creates curriculum tools and also promotes programs, policies, and initiatives at the local, state, and federal levels that provide students with challenging, rigorous instruction in the full range of liberal arts and sciences. Common Core is not affiliated with the Common Core State Standards Initiative. For more information, go to www.commoncore.org.
See More