E-book
Retail Analytics: The Secret Weapon
ISBN: 978-1-118-14832-7
176 pages
September 2011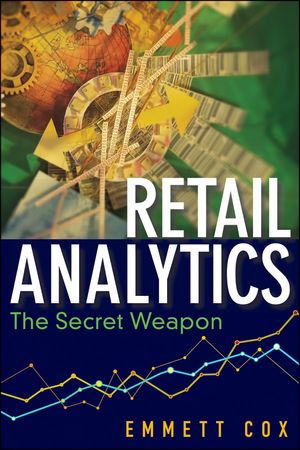 The inside scoop on boosting sales through spot-on analytics
Retailers collect a huge amount of data, but don't know what to do with it. Retail Analytics not only provides a broad understanding of retail, but also shows how to put accumulated data to optimal use. Each chapter covers a different focus of the retail environment, from retail basics and organization structures to common retail database designs. Packed with case studies and examples, this book insightfully reveals how you can begin using your business data as a strategic advantage.
Helps retailers and analysts to use analytics to sell more merchandise
Provides fact-based analytic strategies that can be replicated with the same success the author achieved on a global level
Reveals how retailers can begin using their data as a strategic advantage
Includes examples from many retail departments illustrating successful use of data and analytics
Analytics is the wave of the future. Put your data to strategic use with the proven guidance found in Retail Analytics.
See More
Preface ix
Acknowledgments xi
Chapter 1 Retailing Analytics: An Introduction 1
Retailer Goodwill 2
The Inside Scoop: Retail Power Brokers 2
Retail Organization 3
Real Estate Marketing 5
Creative Advertising Marketing 6
Operations Marketing (Research) 6
Direct Marketing 7
Strategic Marketing 7
Communicating to the Retail Organization 8
Point of Sale versus Market Basket Data 9
Data Is Gold 10
Data as Revenue: The Price of Retail Data 12
Chapter 2 Retail and Data Analytics 15
Hard-Core Data Terms: Now We're Talking about the Fun Stuff 15
Market Basket 16
Data Storage 101 17
Data without Use Is Overhead 19
Case Studies and Practical Examples of Data-Related Retail Projects 20
Trade Area Modeling 20
Real Estate Site Selection Modeling 21
Competitor Threat Analytics 22
Merchandise Mix Modeling: Combining Multiple Data Sources 23
Celebrity Marketing: Tracking Effectiveness 26
House Brand versus Name Brand 28
E-Business: Clicks and Mortar 29
Affinity Merchandising: Merchandise Cross-Sell Case Study 33
Market Basket Analysis: Examples 35
Store Departmental Cross-Selling 40
Single Category Affi nity Analysis: Paper Towels 43
Best Checkout Register Impulse Items for Christmas Season: Case Study 45
Chapter 3 The Apparel Industry  47
Many Types of Apparel Businesses 47
Retailer Building and Location, Location, Location 48
Who Is My Customer? Size Up the Opportunity and Show Me the Money! 49
Evolution of a Brand: Not Your Father's Blue Jeans 50
Diversifi cation: Spread Risks over Multiple Businesses 51
Critical, Need-to-Know Information in Apparel Analytics 52
Seasonality: Styles Change like the Wind 52
Seasonal Counterpoint 54
Merchandise Placement and Presentation: From Racks to Riches 54
Accessories 55
Next Best Offers 55
Promotions: Lifeblood of the Apparel Business 57
Retail in General: Impulse Buying 57
Chapter 4 Importance of Geography and Demographics  59
Understanding the Tools and the Data Requirements 60
How Geographic Information Systems Work: Science behind the Tools 60
GIS Layers of Information: Building a Map, Layer by Layer 61
How Geography Fits into Retail: Location, Location, and Location! 61
Retail Geography: Data and Lots of It 61
Retail Data: Internal Data Collection 63
Retail Trade Areas: Differing Methods for Debate 63
Zip Code Data: Forecasting Application Volume by Store 66
Now That We Understand the Tool and the Data, What Do We Do? 66
Card Preference Opportunity by Zip Code: Case Study 66
Example of Sales Penetration Map 71
Market Observations: Additional Uses of the GIS Tool 72
Chapter 5 In-Store Marketing and Presentation  75
Understanding the Different Store Designs 76
Old Theories of Merchandise Placement 77
New Theories of Merchandise Placement 77
Mass Merchandisers Were Slow to Catch On: Does Convenience Translate into Sales? 78
All about Pricing 78
Everyday Low Price 79
Loyalty Discount Philosophies 82
Tiered Pricing 82
Types and Sizes: Retail Store Strategies 84
Store in a Store: Make Shopping Convenient 84
What's in a Store: Convenience Stores to Hypermart Stores 85
Hypermarts: When Is Big Too Big? 86
Warehouse Clubs: Paying for the Privilege to Shop 87
Shopping by Design: Traffi c Patterns 88
Category Management: Science behind the Merchandise Mix 91
Merchandise Placement: Strategy behind the Placement 93
Specialty Departments: Coffee, Breakfast, and Pizza 95
Other Specialty Departments 95
Receiving Dock 97
Stocking the Counters 98
In-Store Media: Advertising or Just Displays? 99
Receipt Messages 103
In-Store Events 104
Holidays 104
Analytics: Tracking a Moving Target 104
Marketing Outside of the Store 105
Chapter 6 Store Operations and Retail Data  107
Setting Up the Store for Success: Strategic Uses of Data 107
Labor Forecasting 108
Importance of Accurate Labor Forecasting: The Cost of Doing Business 109
Consumer Differentiation at the Point of Sale Register 111
Heating and Cooling: Centralized Thermostats 112
Intrastore Communication 112
Replenishment and POS Sales: Cause and Effect 114
In-Store Career Path: Stockperson to Store Manager 115
Chapter 7 Loyalty Marketing  117
Loyalty Programs 117
Who Is the Sponsor for the Program? 122
Questions to Answer before You Begin 123
Total Program Incentive: Are You Loyal? 125
From the Consumer Finance Credit Card Retail Perspective 127
Loyalty Segments: Develop Them Early 128
Loyalty at POS: Different Stages and Levels of Loyalty 130
Kmart's School Spirit Loyalty Program 133
Australian Loyalty 135
FlyBuys Rewards and Loyalty: Australia 136
Additional Loyalty Programs 137
The Retail World Is Changing 138
Social Media 139
Glossary 143
About the Author 157
Index 159
See More
Emmett Cox is Senior Vice President of Consumer and Business Intelligence at BBVA Compass Bank, where he uses his retail experience in the development of strategic-based consumer programs. He has also worked for Walmart Financial Services, GE Money Global, and Kmart. He has lectured in many CRM and marketing conferences and seminars, including the Paris Loyalty Forum, Czech Republic Loyalty Management, ACNielsen Category Management, Spectra Marketing and Intelligent Targeting, Teradata NCR Partners, and others in the United States; Coolum, Australia; and Vienna, Austria.
See More
More in this series