E-book
Institutional Money Management: An Inside Look at Strategies, Players, and Practices
ISBN: 978-1-118-14876-1
416 pages
October 2011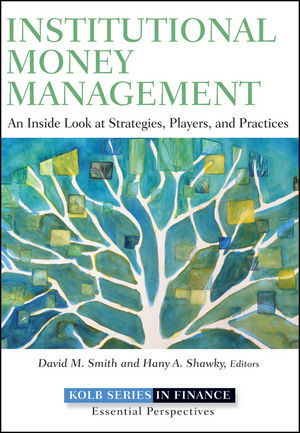 An informative look at institutional investment management methods and practice
The policies, practices, and decisions of institutional investment managers worldwide affect the economic health of not only the institutions themselves, but of countless individual clients as well. Overall, this area of finance has great impact on the capital markets. Filled with in-depth insights and practical advice, Institutional Money Management is an important basis of knowledge regarding both the theory and practice of this ever-evolving area of finance.
Part of the Robert W. Kolb Series in Finance, this book on institutional investment management showcases contributed chapters from professional and academic experts in banking, insurance companies, mutual funds, pension funds, and endowments. Along the way, issues covered included everything from the role of institutional investors within the financial system and the structures that have emerged and evolved to industry standards of ethical practice and investment performance presentation.
Provides a detailed examination of the objectives, constraints, methods, and stakeholders for the dominant types of institutional investors
Focuses on the portfolio management strategies and techniques used by institutional investors
Contains contributed chapters from numerous thought-leaders in the field of finance
The practice of institutional investment management presents a diverse set of challenges. But with this book as your guide, you'll gain a better understanding of how you can overcome these challenges and manage your portfolio more effectively.
See More
Acknowledgments xi
PART I Foundations: Market Regulation and Performance Evaluation and Reporting
1 Institutional MoneyManagement: An Overview 3
David M. Smith and Hany A. Shawky
2 Regulatory Issues in Institutional Investment Management 13
David McCaffrey
3 Indexes: Purpose, Construction, and Performance 35
Vijay Singal
4 Performance Reporting Standards and Verification 55
Karyn D. Vincent
PART II Key Individuals to the Investment Process
5 The Chief Investment Strategist/Economist 73
Timothy G. Dalton Jr.
6 The Portfolio Manager, the Analyst, and the Trader 89
John Walthausen
7 The Institutional Investment Consultant 99
William H. Desormeau Jr.
PART III Major Investment Approaches
8 Investment Buy and Sell Decision Making 115
Hany A. Shawky and David M. Smith
9 Index Investing 129
Albert S. Neubert
10 Quantitative Techniques and Risk Management 143
Ross M. Miller
11 Active Equity Portfolio Strategies: Dynamic Quantitative Models 161
Marc R. Reinganum, Ying L. Becker, and Chen He
12 Fixed Income Securities 181
Matthew T. Buckley, Scott H. Page, Thomas H. Luster, Susan Schiff, Payson F. Swaffield, and Michael W. Weilheimer
13 Fixed Income Strategies 205
Thomas M. Metzold, Cynthia J. Clemson, Christine M. Johnston, James H. Evans, Marc R. Moran, Evan C. Rourke, and Adam A. Weigold
14 Asset Allocation and Life Cycle Investing 217
Edgar A. Norton
PART IV Types of Institutional Investors
15 Mutual Funds 239
Ying Wang, Matthew P. Reiner, and Gregory A. Roeder
16 Hedge Funds and Funds of Hedge Funds 263
Paul Zummo
17 Endowment and Foundation Funds 295
Hany A. Shawky and David M. Smith
18 Pension Funds 309
Steven M. Harding
19 Insurance Companies: A Practitioner's Perspective 327
Richard A. Witt
20 SovereignWealth Fund Investment and Risk Management Practices 349
Christopher Balding
21 Venture Capital Funds 359
Na Dai
22 Wealth Management Firms as Institutional Investors 375
Dan Trosch
About the Editors 391
Index 393
See More
DAVID M. SMITH, PHD, CFA
, is Associate Professor of Finance and Director of the Center for Institutional Investment Management (CIIM) at the University at Albany, SUNY. He has published more than twenty refereed articles on various topics in corporate finance and investments. Smith has served on boards or major committees for CFA Institute, the Institute of Certified Management Accountants, the Indexing Association, and the Information Management Network. He received BS and PhD degrees in finance from Virginia Tech and holds the Chartered Financial Analyst (CFA), Certified Financial Manager (CFM), and Certified Management Accountant (CMA) designations.
HANY A. SHAWKY, PHD, is Professor of Finance and Economics at the University at Albany, SUNY. He is the founder of the Center for Institutional Investment Management at the University at Albany and served as its director from September 2002 through December 2007. Shawky specializes in investment management and portfolio performance evaluation and is widely published in academic and applied journals on issues dealing with asset pricing, stock market behavior, international financial markets, and electricity markets. He has published over fifty refereed scholarly articles in finance and economics journals, and was the recipient of the School of Business Research Award in 1996, 2001, and 2004. Shawky received his PhD degree in finance from The Ohio State University.
See More
More in this series