E-book
The Everyday Entrepreneur
ISBN: 978-1-118-14997-3
224 pages
September 2011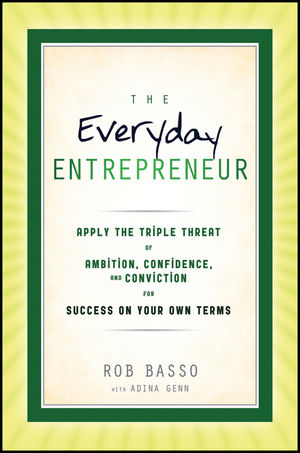 A primer for pursuing entrepreneurial ambitions and achieving success
Filled with strategies and powerful anecdotes about defining and setting goals and pushing for entrepreneurial success, The Everyday Entrepreneur reveals how readers can apply the ambitions of a go-getter in their own lives, position themselves ahead of the pack, examine how to calculate risk, and understand the mindset necessary to venture forward on their own.
Unlike other books on the market, The Everyday Entrepreneur looks at tangible strategies for business owners to build wealth and financial freedom at any age and inspires those who think they may not have what it takes to get out and put plans into action.
Filled with valuable lessons about driving business growth and honing your entrepreneurial instincts to the fullest
Includes thoughtful interviews of successful individuals from diverse backgrounds
The Everyday Entrepreneur imparts meaningful stories and offers a guide to find your own success.
See More
Foreword Jeff Hoffman ix
Acknowledgments xiii
Introduction 1
1 Lemonade Stands Are Just Too Static 5
2 Take the Blinders Off 21
3 Image and Reputation Matter 39
4 Is That a Leprechaun in Your Pocket, or Are You Just Happy to See Me? 53
5 Foster Bold Dreams, Bolder Actions 69
6 Humble Beginnings 87
7 Diving without a Shark Cage 103
8 Fun with Risks 119
9 The Corporate Game 133
Entrepreneurial Insights 151
Afterword 159
About the Author 161
Index 163
See More
Rob Basso is an everyday entrepreneur with a mission and a passion to help small businesses navigate their way to success. A recognized business leader and sought-after speaker, he has built a reputation as a successful entrepreneur who is committed to helping others achieve their entrepreneurial dream. His list of achievements includes: founder of Advantage Payroll Services, founding investor in Empire National Bank, co-creator of the BusyFit DVD, and creator of BassoOnBusiness.com, a destination for business owners to get tools, strategies, and real-world information vital to success. Rob also hosts a web program that features innovative entrepreneurs and businesses, where each episode includes Working Lunch With Rob, a supportive and motivating forum for small businesses.
See More