E-book
Beginning Android Tablet Application Development
ISBN: 978-1-118-15077-1
256 pages
July 2011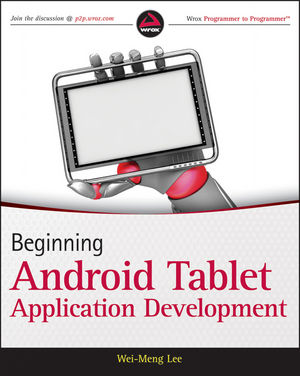 A full-color, fast-paced introduction to developing tablet applications using Android
The new release of Android 3 brings the full power of Android to tablet computing and this hands-on guide offers an introduction to developing tablet applications using this new Android release. Veteran author Wei-Meng Lee explains how Android 3 is specifically optimized for tablet computing and he details Android's tablet-specific functions. Beginning with the basics, this book moves at a steady pace to provide everything you need to know to begin successfully developing your own Android tablet applications.
Serves as a full-color, hands-on introduction to developing tablet applications with the new Android 3
Offers a helpful overview of Android 3 programming for tablets
Details the components of Android tablet applications
Highlights ways to build the Android user interface for tablets, create location-based services, publish Android applications, use Eclipse for Android development, and employ the Android emulator
Beginning Android Tablet Application Development is an ideal starting point for getting started with using Android 3 to develop tablet applications.
See More
INTRODUCTION xiii
PART I: QUICK TOUR OF ANDROID 3 FOR TABLETS.
CHAPTER 1: GETTING STARTED WITH ANDROID PROGRAMMING FOR TABLETS 3
CHAPTER 2: COMPONENTS OF AN ANDROID TABLET APPLICATION 29
CHAPTER 3: ANDROID USER INTERFACE 65
PART II: PROJECTS.
CHAPTER 4: CREATING LOCATION-BASED SERVICES APPLICATIONS 109
CHAPTER 5: SMS MESSAGING AND NETWORKING 151
CHAPTER 6: PUBLISHING ANDROID APPLICATIONS 205
PART III: APPENDICES.
APPENDIX A: USING ECLIPSE FOR ANDROID DEVELOPMENT 229
APPENDIX B: USING THE ANDROID EMULATOR 243
APPENDIX C: ANSWERS TO EXERCISES 259
INDEX 263
See More
Wei-Meng Lee is a technologist and founder of Developer Learning Solutions (www.learn2develop.net), a technology company that specializes in hands-on training in the latest Microsoft and Apple technologies. He writes extensively for online publications and magazines and is the author of Beginning iOS 4 Application Development, Beginning Android Application Development, and many other technology books and articles.
See More