E-book
The Innovative Team: Unleashing Creative Potential for Breakthrough Results
ISBN: 978-1-118-15084-9
256 pages
November 2011, Jossey-Bass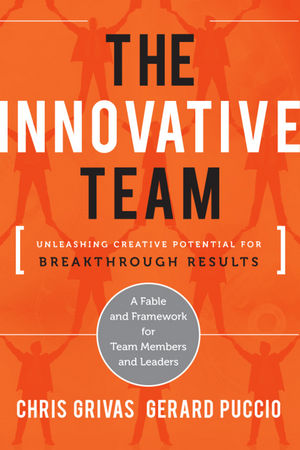 New tools for tapping the creativity of teams and achieving breakthrough results
The Innovative Team is an engaging business fable that reveals the impact our underlying work style preferences have on our teams and their results. The authors present a breakthrough thinking process for developing successful teams. They introduce a uniquely effective set of tools built on FourSight, a measure of problem-solving preferences field-tested by top consultants, which can help anyone from professionals to novices solve problems and achieve performance breakthroughs. FourSight enables teams to understand their patterns of thinking and manage themselves more deliberately toward accomplishing a goal.
Written as a business fable that recounts the story of a team's journey from dysfunctional to high functioning
Outlines a new and effective set of tools for enhanced team performance
Details the four stages of a dynamic breakthrough thinking process
The Innovative Team offers a great resource for management and leadership development professionals, team leaders, and anyone interested in kick-starting innovation in their workplaces and lives.
See More
Acknowledgments ix
About the Authors xi
Foreword xv
Introduction 1
Part 1 The Story
Chapter 1 We Have a Problem 13
Chapter 2 JustWhat Kind of Duck AreWe Dealing with Here? 27
Chapter 3 The Sum of the Parts 33
Chapter 4 The Need and theWay Out 41
Chapter 5 Thinking About Thinking 59
Chapter 6 Mapping a Minefield 67
Chapter 7 The Power of a Good Question 77
Chapter 8 FromWild toWorkable 89
Chapter 9 Combining the Unlikely 99
Chapter 10 Be CarefulWhat YouWish For 109
Chapter 11 Preserving the Novelty 121
Chapter 12 Priming the Pump 127
Chapter 13 The Pieces Come Together 139
Chapter 14 What's the POINt? 153
Chapter 15 Assisting Acceptance 163
Chapter 16 Sealing the Deal 181
Epilogue Where Are They Now? 187
Part 2 Exploring the Four Creative Thinking Styles
Chapter 17 Applying the Framework 193
Chapter 18 Clarifying the Situation 195
Chapter 19 Generating Ideas 205
Chapter 20 Developing Solutions 215
Chapter 21 Implementing Plans 225
Chapter 22 The Combination of Preferences Within People 231
Chapter 23 Creating Conditions for Success 237
See More
Chris Grivas
is an organizational and leadership development consultant focused on increasing the creative capacity of individuals, teams, and organizations. His clients have included Ernst & Young, Connecticut Children's Medical Center, and New York University, among others.
Gerard J. Puccio is department chair and professor at the International Center for Studies in Creativity at Buffalo State College and partner in FourSight, a training company and publisher of FourSight: Your Thinking Profile. He is an accomplished writer, speaker, and consultant to Fisher-Price, British Broadcasting Corporation, Blue Cross Blue Shield, Kraft, and others.
See More