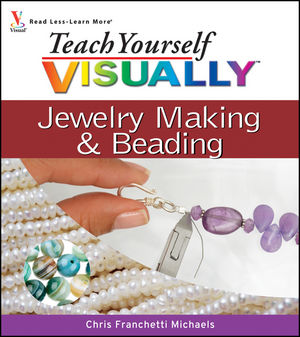 E-book
Teach Yourself VISUALLY Jewelry Making and Beading
Buy this e-book from:
ISBN: 978-1-118-15311-6
E-book
304 pages
June 2011
You've probably coveted jewelry you've seen in artsy boutiques and fashion magazines or envied friends who have the perfect bling to accent everything. With this book, you'll learn to craft designs that are chic but inexpensive. With hundreds of detailed photos, this book covers tools and supplies, bead stringing and weaving, wire wrapping, and more. Terrific projects will get you started and inspire you to create your own jewelry and beadwork designs.
Concise two-page lessons show you all the steps to a skill and are ideal for quick review
Each skill or technique is defined and described

Detailed color photos demonstrate each step

Step-by-step instructions accompany each photo

Helpful tips provide additional guidance

Teach Yourself VISUALLY Jewelry Making and Beading
Buy this e-book from: