Zennovation: An East-West Approach to Business Success
ISBN: 978-1-118-15339-0
Hardcover
226 pages
May 2012
US $24.95

Add to Cart
This price is valid for United States. Change location to view local pricing and availability.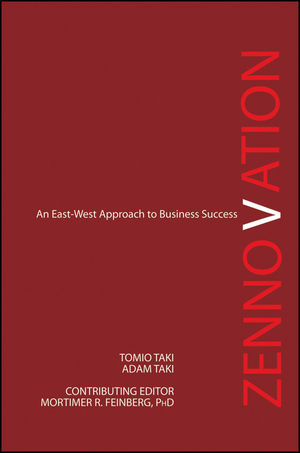 Other Available Formats:
E-book
April 06, 2012
The Man Behind Anne Klein and Donna Karan
Connect with Wiley Publicity
Over the past 50 years, Tomio Taki has consulted for, financed or directly managed both private and public companies on nearly every continent. His approach to business, and the root of his success, is Taki's unique ability to transcend cultural differences and use his curiosity to find common ground and achieve business success.
Taki's new book, ZENNOVATION, is part memoir, part management tome. Its lively narrative describes the major events of the international business leader's personal and professional life and the lessons he learned along the way. Divided into two parts, the book first examines Taki's early life in WWII Japan and the beginning of his career, navigating his family's then 200-year-old kimono fabric manufacturing company through tough economic times. The second half of the book details Taki's influence on the U.S. fashion industry through his work building two iconic American brands: Anne Klein Company and Donna Karan International.
Born into privilege, Tomio Taki was the eldest of four sons and the likely candidate to succeed his father at the helm of Takihyo Company, the family textile manufacturing business. At the age of 10, Allied bombing forced him and the other children from his home town to evacuate to a relocation camp outside the city. This experience indelibly altered Taki's life, teaching the boy self-reliance and the need for optimism. These skills would prove essential when Taki's father died unexpectedly, leaving his eldest son, then only 26 and with little business experience, head of the Taki family and its business empire.
Taki rose to the challenge. He began by questioning the future of the kimono manufacturing business and looking for ways to grow the company by introducing Western-style fashion brands in Japan. It was during this period that Taki pioneered the concept of the bridge line. Today, almost all major fashion designers employ this concept, designing both a high-end collection and a more affordable line for mass distribution. Here, readers learn the fundamental importance of being able to chart the future and persuade others to get onboard.
Taki continued to reinvigorate the family enterprise in other ways as well: From envisioning, planning and building a new flagship Takihyo Company headquarters to expanding distribution channels and developing strategic pricing and merchandising techniques. As the business and life lessons in ZENNOVATION unfold, Taki draws from both Japanese values and his appreciation of Western culture and efficiency to stabilize and further build Takihyo. He concludes this portion of the book by reflecting on the past, present and future prospects of Japan, its automobile industry, declining population, educational system, foreign trade policies and taxes.
In Part Two, Taki describes the impact that the political and economic landscape of the 1970s had on the family business and the difficult choices he was compelled to make to safeguard it from failure. Here, ZENNOVATION begins to compare and contrast Eastern and Western business philosophies and management practices in fascinating detail.
Using his knowledge of the textile and fashion industries and leveraging connections he had made through the then recently created Young Presidents' Organization (YPO), of which he was a founding member of the Japanese chapter, Taki began approaching U.S. fashion houses in search of business opportunities. Having identified the Anne Klein Company as a possible partner, he explains how he evaluated the U.S. ready-to-wear market as a whole as well as the company and its growth opportunities. Here Taki shares his thoughts on managing the four employee "types" he has encountered and how the Japanese culture influenced his involvement with the Anne Klein Company, helping him to extend and reinforce the brand's success.
When Anne Klein died unexpectedly, four months after Taki had purchased a 50 percent stake in the company, he and his business partners were compelled to quickly decide on a successor. In ZENNOVATION, Taki delves into the process by which, at his urging, former Design Assistant Donna Karan was selected to succeed the legendary Anne Klein. Later, Taki employed both his natural curiosity and intuition to persuade Anne Klein executives to go against prevailing industry wisdom and manufacture the bridge line that later became Anne Klein II. Once produced, the line was an immediate hit.
After ten years as lead designer for Anne Klein, Taki knew Karan was growing restless. She had dreams of starting her own brand but was apprehensive about the risk involved. Sensing this, Taki made the decision to fire Karan in order to unleash her full potential as a designer. In the next breath he told her to report to work the following Monday on the fourth floor of 205 West 39th Street, the new home of the future Donna Karan New York Collection. Using his knowledge of the fashion retail market and his ability to effectively manage creative people, Taki and Karan went on to create the wildly successful DKNY diffusion line.
Although the new company was enjoying great success, the involvement of Karan's husband complicated the business relationship between Karan and Taki, ultimately leading to dissolution of the partnership. Here Taki shares lessons learned on how equity impacts business and the ways in which going public can influence the future of a brand. The case studies on the sale of both Anne Klein Company and Donna Karan International provide insight into Taki's astute business acumen and the axiom that no matter how smart or prepared one is, there are never any guarantees. Closing out the second part of the book is a chapter reflecting on Taki's international achievements and his projections for the future of U.S. business, economy and government.
Each compelling chapter of ZENNOVATION concludes with an observation from distinguished psychologist and corporate consultant Dr. Mortimer Feinberg. Drawing from his professional experience and long-time friendship with Taki, Dr. Feinberg provides additional analysis and concrete advice on such topics as detecting and understanding cultural nuances, overcoming leadership challenges and surviving the loss of a loved one. Tomio Taki's son, Adam Taki, adds another perspective to the book, as the main writer collaborating with his father on the book. In "Zennovation in Retrospect," Adam Taki reveals how he got to know his very private father through interviews with Taki's friends and associates, as well as the entrepreneurial lessons Adam has absorbed and applied in his own business endeavors.