No Thanks, I'm Just Looking: Sales Techniques for Turning Shoppers into Buyers
ISBN: 978-1-118-15340-6
240 pages
January 2012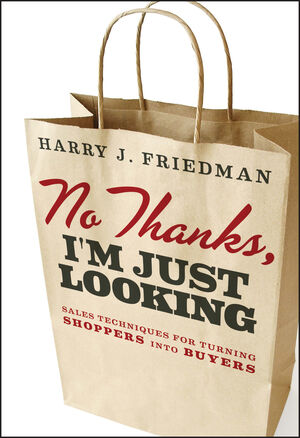 Secrets of the trade from the master of retail selling and sales training
No Thanks, I'm Just Looking gives anyone the inside scoop on how to skyrocket their selling career with a system of easy-to-learn practical money-making steps. By saving countless hours of trial-and-error experience, readers will be able to focus on the things that really work. Considered to be retail guru Harry J. Friedman's personal collection of proven selling techniques, No Thanks, I'm Just Looking includes all the tips and humorous anecdotes that have made him retail's most sought-after consultant.
No Thanks, I'm Just Looking delivers the tricks of the trade from an international retail authority.
Author is the most heavily attended speaker on retail selling and operational management in the world
These groundbreaking high-performance training systems have been used by more than 500,000 retailers, from small independents to the likes of Neiman Marcus, Cartier, Billabong, La-Z-Boy and Godiva, to routinely deliver more sales
Friedman created the number one retail sales and management system used by more retailers than any other system of its kind in the world
Get proven techniques that will increase sales and elevate your staff to a high-performance sales team.
See More
Foreword Richard Erhart x
Acknowledgments xii
Introduction xiii
Chapter 1 Getting Your Act Together before You Take It to the Selling Floor 1
The Not-So-Fun Stuff 4
Customer Service Points 5
The Four Occupations of the Professional Retail Salesperson 19
The Daily Precheck 24
Hot Tips and Key Insights 31
Chapter 2 Opening the Sale 33
People Behave Reactively 35
Causing a Negative Reaction from the Beginning 36
The Primary Goal of Opening the Sale Is to Get
Past Resistance 37
Opening Lines 37
Opening Moves 41
Getting into Business: The Transition 44
Working Two Customers at Once 52
How Have You Been Opening? 54
Hot Tips and Key Insights 54
Chapter 3 Probing 59
Opening as Many Doors as Possible 61
Knowledge Is Power 62
Probing Questions 66
QAS 73
Logical Sequence 74
Logical Sequence Guide Chart 78
Switching—Or Selling What You Have First! 78
Hot Tips and Key Insights 82
Chapter 4 The Demonstration 85
The Demonstration Follows What You Learned in Probing 87
Selling the Value That the Customer Wants 90
Creating the Desire for Ownership 94
Covering All the Bases 97
The Ultimate Demonstration Tool 101
Avoiding the Comparison Trap 109
The Expert Kills the Deal 112
Hot Tips and Key Insights 115
Chapter 5 The Trial Close (Otherwise Known as the Assumptive Add-On Close) 119
The Dreaded Close 121
Adding On 125
Constructing a Trial Close 131
Hot Tips and Key Insights 136
Chapter 6 Handling Objections 139
The Trial of Trial and Error 141
Why Objections Occur 143
Work with the Customer 146
The Smoke-Out 150
Handling the Price Objection 153
Hot Tips and Key Insights 159
Chapter 7 Closing the Sale 161
Intent Is Everything 163
Getting Started 164
Basic Closing Techniques 166
Handling Requests for Discounts 175
Turning Over the Sale 178
Buying Signals 182
Hot Tips and Key Insights 184
Chapter 8 Confirmations and Invitations 187
Buyer's Remorse 189
The Confirmation: Cementing the Sale 192
The Invitation: Requesting Another Visit 194
Building Personal Trade 200
Hot Tips and Key Insights 206
Final Thoughts 209
Appendix: Retail Training Resources 211
About the Author 217
Index 219
See More
HARRY J. FRIEDMAN, founder and CEO of The Friedman Group, is an inter??national retail authority, consultant, and the most heavily attended speaker on retail sellingand operational management in the world today. More than 500,000 retailers have used his groundbreaking high-performance sales andmanagement training systems, includingNeiman Marcus, Cartier, Hallmark, La-Z-Boy,Billabong, and Godiva. One of retail's true thought leaders, his vision and unique ability to see what's right and wrong on a retail floor—and how to fix it—have made him a sometimes controversial but always passionate friend to the world of retail. You just can't get enoughof Harry!
See More
Learn more about