The Retailer's Complete Book of Selling Games and Contests: Over 100 Selling Games for Increasing on-the-floor Performance
ISBN: 978-1-118-15341-3
266 pages
January 2012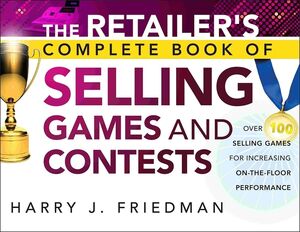 One hundred ways to motivate your sales teams to outsell each other and grow your profits
In most retail stores, salespeople arrive at work with little enthusiasm to sell. The truth is that retail selling can be a little boring. It's up to owners and managers to provide the spark and motivation that inspires people to excel, even when store traffic is slow. One of the best ways to accomplish that is with selling games and contests. The Retailer's Complete Book of Selling Games & Contests contains more than one hundred selling games and contests that any retailer can use to motivate their staff, improve their sales skills, and generate extra sales during slow traffic periods.
Geared toward retailers of all industries and all sizes, from single stores to mega chains, this book will appeal to those with a vested interest in improving the performance of their salespeople and driving sales higher.
Details how to use games to sell specific merchandise, increase add-on sales, and sell higher priced merchandise and groups of merchandise
Outlines how to structure games and contests, when to run them, and for how long
Helps managers build their sales staffs' confidence and abilities through fostering a competitive spirit and rewarding high sellers
Harry J. Friedman is an international retail authority, consultant, and the most heavily attended speaker on retail selling and operational management in the world today
When you inspire your sales team to improve their skills and outsell each other, you'll boost your profits and outdo your competition
See More
Introduction
When something is rewarding, it gets done. xiii
Chapter 1 Why Have Games? 1
The only reason to run a game or a contest is to improve a sales metric or a selling behavior.
Chapter 2 Elements of a Game 7
Begin with the end in mind.
Chapter 3 Selling the Game to Your Staff 15
You can't light a fi re with a wet match.
Chapter 4 Making Your Case and Establishing a Reward System 23
Make an offer they can't refuse.
Chapter 5 Fun and Games! 41
And the winners are . . . (See the following page for a list of games and page numbers. Each game may have one or more variations.)
Appendix A Rewards 257
Appendix B Retail Training Resources 261
LIST OF GAMES WITH PAGE NUMBERS
Individual
"21" 46
Save the Sale 48
Up, Up, and Away 50
Sell Them All 52
Buried Treasure 54
Pot o' Gold 56
Treasure Chest 59
Strung on a Line 61
Pass the Buck 63
Selling High and Low 65
The Big Drawing 67
Save a Dog 69
Item du Jour 71
Mystery Prizes 73
Clue! 75
Beat Last Year 78
And They're Off! 80
Let's Play Golf 83
Miniature Golf 86
A Contest at Christmas 88
No Fun to Lose 91
Sales Poker 93
Guess and Get 95
Points per Transaction 97
Hangman 99
Make the Match 101
The Auction 103
Grab-Bag 105
Promote a Category 108
The Money Pin 110
BINGO! 113
Sabotage 116
Win the Lottery! 118
Profi tmakers 121
Wheel of Fortune 123
Let's Make a Deal 126
Secret Squares 128
The Puzzle Game 130
Secret Item 132
Monopoly 136
H-O-R-S-E 138
Hidden Words 141
A Day at the Races 145
Tour de Sales 148
10K 151
Items-per-Sale Pennant 153
A Winning Pitch on a Losing Item 155
The Bowling Game 157
First In, First Out 160
Count-Down 162
Tic-Tac-Toe 164
Add-on Madness 166
Scrabble 169
Group
Follow the Yellow Brick Road 171
Moonwalk 175
Ghost 178
Store Challenges 181
Batter Up! 183
Tug of War 186
Feed 'Em Beans! 188
Touchdown! 191
Sold by the Yard 193
Combat 196
Making Connections 200
Selling Around the World 202
Championship Series 205
Items-per-Sale Contest 207
Go for the Gold! 210
Skill
Scavenger Hunt 214
Opening the Sale Game 216
The Probing Game 218
Probing Questions 222
Guess the Item 224
Prices by Memory 226
The Product-Feature Game 228
Name that Product 230
The FABG Game 232
FABG Scramble 235
The Add-on Game 240
Adding-on-to-Close! 242
The Personal Trade Game 245
Question-and-Answer Game 247
Retail Jeopardy 249
See More
HARRY J. FRIEDMAN is aninternational retail authority,consultant, and the most heavilyattended speaker on retail selling and operational management in the world today. More than 500,000 retailers have used his groundbreaking high-performance training systems, including Neiman Marcus, Cartier, Hallmark, Billabong, La-Z-Boy, and Godiva. He created the number-one retail sales and management system—used by more retailers than any other system of its kind. For more information on other Friedman Group retail training products, webinars, seminars,e-learning, or on-site training and consultingservices, visit www.TheFriedmanGroup.com.
See More