Passport to Profits: Why the Next Investment Windfalls Will be Found Abroad and How to Grab Your Share, Revised and Updated
ISBN: 978-1-118-15384-0
Paperback
372 pages
February 2012
US $24.95

Add to Cart
This price is valid for United States. Change location to view local pricing and availability.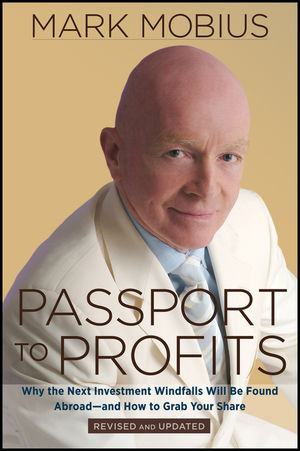 Other Available Formats:
E-book
February 09, 2012
Passport to Profits, Revised & Updated
Connect with Wiley Publicity
Mark Mobius is the father of Emerging Markets investment and has been profiting from investments in the developing world for decades. In the Revised and Updated Edition of Passport to Profits, he'll show you the four keys that determine if a country is investment friendly, how to play the IPO game, and how to gauge the political climates for great investment opportunities.
Besides that, Mobius has also been proclaimed 'the King of the Emerging Market Funds' by Wall Street Journal and "the ultimate road warrior" by USA Today. In a globe-trotting tour from the Baltic coast to Brazil, he reveals his own experience-tested guidelines for investing abroad. Analyzing companies and new markets, searching for booby traps and overlooked values, crunching numbers and meeting the local players, Mobius shows us how to put money where true growth is. And it's not all that difficult, because his investment philosophy is based on one central, indisputable fact which is explained in Passport to Profits, Revised & Updated.
Dr Mark Mobius, Executive Chairman of Templeton Emerging Markets Group, joined Templeton in 1987 as managing director of its Far East Division in Hong Kong, with responsibility for supporting the Templeton group's research expertise in emerging market countries. He directs the analysis for fifteen global locations including Hong Kong, Singapore, Vietnam, India, South Africa, Argentina, Poland and Russia with a total of over $1.3 billion under his supervision. Dr. Mobius has spent over 20 years working in Asia and has extensive experience in economic research and analysis.
Passport to Profits:
Why the Next Investment Windfalls Will be Found Abroad and How to Grab Your Share, Revised and Updated
By: Mark Mobius
ISBN: 978-1-1181-5384-0
Published by: Wiley
Paperback; 352 pages; January 2012; US$24.95
For more information, go to: http://www.wiley.com/buy/9781118153840.